Travel Guide for the Ferry to Picton, New Zealand - New Zealand Purple Travel Guide
Wellington is the capital of New Zealand and the starting point for the ferry to Picton on the south island. Most rental car agencies do not allow you to take their cars on the ferry. We explain how to return your car and the watch-outs.
Table of contents
Wellington
Wellington is the capital of New Zealand since 1865. In 2021, Wellington was tied with Tokyo as fourth for quality of life in the Global Livability Ranking by the Economist Intelligence Unit.
Wellington itself is worth two or three days of your time, but this will need to wait for your second trip to New Zealand. On this trip we will only go to Wellington in order to take the ferry to Picton on the South Island.
Ten top attractions in Wellington are (in alphabetical order):
Cuba Street
Mount Victoria
Museum of New Zealand Te Papa Tongarewa
Old St Paul's
Oriental Bay
Wellington Cable Car
Wellington Museum
ZEALANDIA Ecosanctuary
Wellington Botanic Garden
New Zealand Parliament
Ferry to Picton in the South Island
The Interislander ferry between Wellington and Picton is a convenient way to travel between the North and South Islands.
Here are some important things you need to know:
Most rental car agencies do not allow you to bring their car onto the ferry. When you book your rental car in Auckland, make sure to tell them when you will take the ferry so that there is a rental car waiting for you in Picton. Otherwise you may be stuck in Picton and out of a car for a day or longer. Unfortunately, some rental car agents in Auckland will tell you that you don't need to give them a date. This is absolutely wrong.
Returning your rental car (from the large rental car agencies) is easy. Drive to the building where the check-in is for passengers with cars and then continue on this dead-end road for another 150 ft (50 m). You will then be on the parking lot where the rental cars for all rental car agencies are parked (map) – it is located directly under the highway.
If you don't pay close attention, you will likely even miss the sign that states that this is the rental car parking lot. Each parking spot is assigned to a specific rental car agency. Just park your car in an appropriate spot and return your key to the rental car building at the entrance of the lot - there are drop boxes for the car key if nobody is there. Now walk back 150 ft (50 m) to the check-in building, go to the counter and tell the agent that you have a reservation or that you want to buy tickets.
The building where you check in is a nice and clean building. It has a big waiting area, some power outlets to charge your cell phones, restrooms, and you can buy some food.
The ferry ride normally takes 3:30h, but it will take longer if the sea is rough.
The ferry is clean and the seats comfortable. We ate breakfast on the ferry, and it tasted really good. Of course, it was more expensive than on land, but this is to be expected.
Here is an important watch-out: If you have a reservation, check our emails the day before your departure frequently. If they don't have enough passengers, then they will cancel individual sailings. Our 8:45am sailing was cancelled and replaced with a 6:15am departure on the same day with a final check-in at 5:15am!
We could have opted for a later departure, but that could have made us rush through New Zealand's Wine Country and would have brought us to our hotel very late. We did not want that to happen.
There are mnore watch-outs when you get to Picton. Please continue reading here.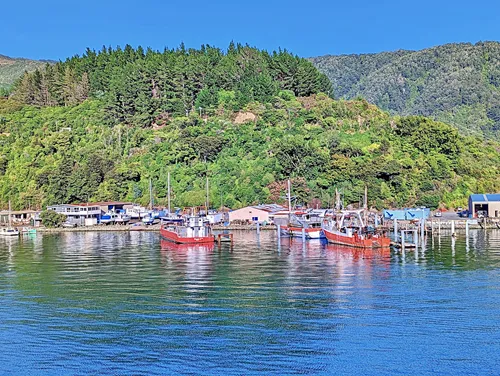 Which part of New Zealand do you want to visit now?
Other popular Purple Travel Guides you may be interested in:
Like this Backpack and Snorkel Purple Travel Guide? Pin these for later: