Backpack and Snorkel Guide for One Day in Anguilla - Anguilla Purple Guide
Anguilla is an off-the-beathen-path island in the Caribbean sea, which is known for its fantastic turquoise waters and white sand beaches. This Backpack and Snorkel Travel Guide for Anguilla (Anguilla Purple Guide) provides the highlights of Anguilla that you can see during a cruise.
The information on this page and much more (google maps locations, more reviews, website links, etc.) is available in our Cruising the Caribbean Guide.
People in Anguilla speak English and the US dollar is accepted.
GENERAL INFORMATION ABOUT ANGUILLA
Anguilla is believed to have been named by Christopher Columbus for its shape, with Anguilla being Italian and meaning "eel" or Latin meaning "snake".
Anguilla was under British rule for much of its European settlement. In 1825, the island was placed under administrative control of Saint Kitts. When Great Britain granted Saint Kitts and Nevis full autonomy in 1967, Anguilla was part of the new Saint Christopher-Nevis-Anguilla. Many Anguillians did not like this and two revolutions in 1967 and 1969 led to a brief independence from St. Kitts and the formation of the independent "Republic of Anguilla" so that Anguilla could return back under British authority. In 1980, Anguilla finally seceded from Saint Kitts and Nevis and became a separate British Crown colony and is now a British overseas territory.
HOW TO GET TO ANGUILLA?
Anguilla has no cruise port. Getting there from the cruise port in St. Maarten/Saint Martin involves taking a taxi to the port of Marigot on the French side of St. Martin and taking the ferry. The ferry lands at Blowing Point in Anguilla and there are taxis waiting to bring you wherever you want on Anguilla.
Make sure you have enough cash with you when exiting Anguilla as the departure tax is paid in cash only and there are no ATMs in the port in Anguilla.
At the time of writing, the departure tax was US$5 per person.
BEACHES IN ANGUILLA
As Anguilla is a fairly remote and high prized island, even popular beaches will likely never be overcrowded.
Anguilla is known for its many gorgeous and tranquil beaches. Here is a list of the seven best beaches in Anguilla:
Shoal Bay (East) Beach in Anguilla
Anguilla's most famous beach is Shoal Bay Beach, which is often included in the top 10 beaches on the planet. With its beautifully turquoise water and pure and soft white sand, the 1.2 mile (2 km) long Shoal Bay Beach is a fantastic way of spending a day. There is also decent snorkeling by the rocks near the Shoal bay Villas. Depending on the weather and current, swimming the 200-300ft (60-90m) to the rocks may only be for good swimmers, so please be careful.
Since Anguilla's beaches are never too busy, you will easily be able to find a spot for you. If you want more solitude, go eastwards until the beach makes a turn to the right and continue on until you find your perfect spot. This part of Shoal Bay Beach only sees occasional visitors as the beach is narrower and the waves here are higher than in the western part of the beach.
Anguilla has two Shoal Bays. The famous Shoal Bay East in the northern part of the island and Shoal Bay West in the southwestern part of Anguilla. Because Shoal Bay East outshines its counterpart in the west and is much more famous, almost everybody refers to Shoal Bay East as Shoal Bay.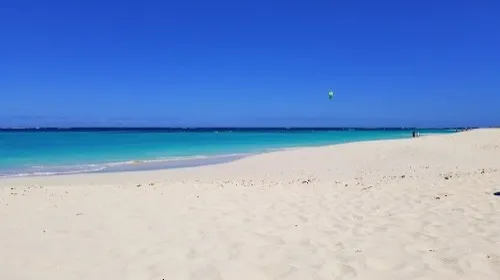 Snorkeling at Shoal Bay in Anguilla
Snorkeling was good at some of the rocks 100ft off-shore, but the current was strong and this may not be for everyone.
Meads Bay Beach in Anguilla
Meads Bay Beach and Shoal Bay Beach are the two top beaches on Anguilla. Like the ladder, the water is wonderfully turquoise and the sand is white and soft. There are more resorts here and the only decent snorkeling spot is at the rocks to the west towards Barnes Bay.
Meads Bay Beach is 0.8 miles (1.3 km) long and about as wide as Shoal Bay Beach and you will be able to easily find your perfect spot on the beach.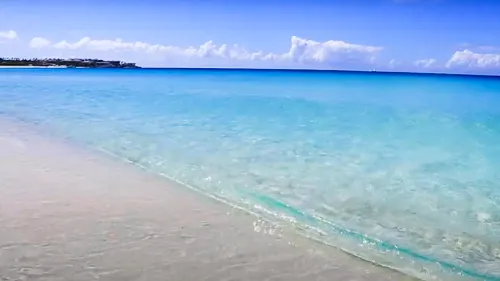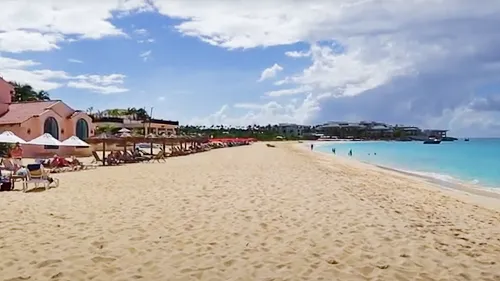 Rendezvous Bay Beach in Anguilla
Rendezvous Bay Beach is another stunning beach. It is 1.2 miles (1.9 km), but not fully walkable over the entire distance. As with Shoal Bay and Meads Bay, the turquoise water water and soft white sand beach here is absolutely stunning. There is some snorkeling and swimming here is good as the bay is nicely protected.
Rendezvous Bay Beach is also known as the location of the Dune Preserve, which is a beach bar that legendary reggae star Bankie Banx has built from driftwood and old boats. The bar is famous for excellent live music. If you go there, maybe try their signature drinks Dune Shine and High Shine.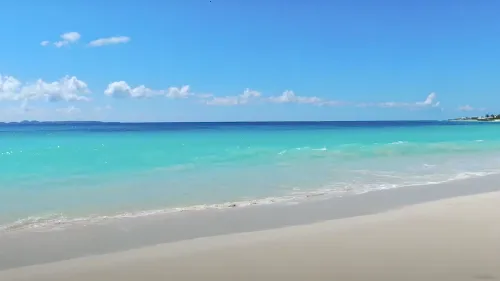 Maunday's Bay Beach in Anguilla
Located in a protective cove, Maunday's Bay Beach is basically a smaller version of nearby Rendezvous Bay Beach. The incredibly turquoise water here is calm and good for swimming, and there is some snorkeling. As with the other top beaches in Anguilla, the soft white sand is just gorgeous.
Little Bay Beach in Anguilla
Little Bay Beach is a small pristine beach that is flanked by steep cliffs and that can only be reached by boat. Chances are that you will be the only ones on this beach.
Little Bay is one of the best snorkeling spots on the island and the water is crystal clear.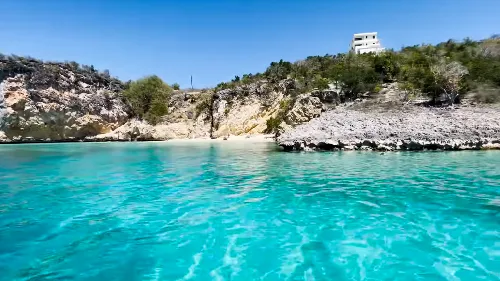 Sandy Ground Beach in Anguilla
While most beaches in Anguilla have a tranquil feeling, Sandy Ground Beach is the party spot on the island. Some of the best beach bars and restaurants are located here and you will find many yachts anchoring in the bay.
You will also notice local fishermen arriving with their catch at the dock.
Other than that, Sandy Ground Beach has the usual white sand and irradiant turquoise waters that you can see all over Anguilla.
Barnes Bay Beach in Anguilla
Barnes Bay rounds off the list of the seven best beaches in Anguilla. It is located west of Meade Bay and, while not as nice as Meade Bay Beach, it is a perfect spot for those looking for solitude. Barnes Bay has some nice soft white sand, but also rocky terrain on its central and eastern side.
The water is beautifully turquoise and there is some snorkeling by the rocks.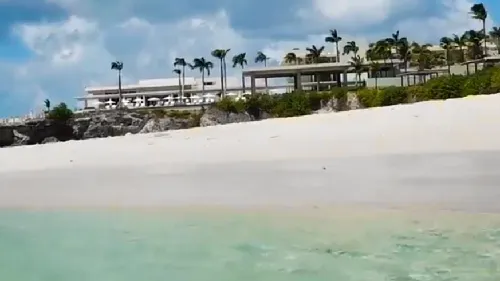 ARE YOU INTERESTED IN MORE WHITE SAND BEACHES AND TURQUOISE WATER DESTINATIONS?
Check out our reviews of other Caribbean islands and Rudy's Cruise Guide.
Other popular Purple Guides you may be interested in:
Like this Backpack and Snorkel Purple Guide? Pin these for later: