Backpack and Snorkel Travel Guide for two wonderful weeks in Australia - Australia Purple Travel Guide
This Australia Purple Travel Guide provides a 2 week itinerary for a relaxing vacation in Australia. We provide lots of photos in this Backpack and Snorkel Travel Guide for Australia and the best things to see and do in Austalia so that you can start Makring Memorable Moments in Australia. We have lots of photos so you know what you will see.
Table of contents
Introduction - Backpack and Sorkel Travel Guide for Australia
Australia is a dream destination for many people and, because it is so far away from the rest of the world, often a once-in-a-lifetime vacation trip. Our Backpack and Snorkel Travel Guide for Australia will help you create a memorable and relaxing vacation in Australia.
Australia is the oldest, flattest, driest continent on our planet and has the least fertile soils. Because it separated from other major land masses millions of years ago, much of the flora and fauna in Australia is unique.
Indigenous Australians inhabit the continent for about 65,000 years. Dutch explorers spotted Australia for the first time in 1606 and England claimed Australia's eastern half in 1770.
Since ancient times, the name Terra Australis (Southern Land) was used for a hypothetical continent south of the equator. After the land was discovered and drawn on maps, the name Terra Australis was consequently used. Due to the Dutch influence, the name Nieuw-Holland or New Holland became more popular, however.
After his circumnavigation and mapping of the continent, British navigator and cartographer Captain Matthew Flinders used the name Australia because it was "more agreeable to the ear" than Terra Australis. In 1817, the name Australia was used officially for the first time.
And, of course, there are more modern unofficial names like "Oz", "the Land Down Under" and "Down Under".
Since Australia is separated from other countries by oceans, many diseases and pests that are common in the rest of the world simply do not occur in Australia. And the Australian government makes sure that it stays that way. All planes that travel to Australia are disinfected on the inside before passengers board – until 2015 this was done after the planes arrived in Australia and while passengers were still inside the plane. And it is prohibited to bring most foods into the country and fines for violations are stiff. Please consult this website for up-to-date information.
Other interesting tidbits:
Australia is the world's 6th largest country by area

Population: 26 million

Capital: Canberra

Largest city: Sydney (population: 5.2 mio people)

Political system: federal parliamentary constitutional monarchy

Currency: Australian Dollar - exchange rate

World's 13th largest economy

Cars drive on the left, like in England and Japan

Country code: +61

Internet: .au
Australia is divided into 5 time zones which follow the state borders. Only 2 of the time zones follow daylight savings time and two of the time zones are shifted by 30min instead of entire hours.
Best time to visit Australia
Australia is a large country with different climate zones and there is no single best time for every region. So, if you only plan to travel to Sydney, or the Gold Coast or Uluru (Ayers Rock), then then select the time of year that is best for this region.
If, however, you are like many other travelers for whom Australia is a once-in-a-lifetime vacation in which you want to see the highlights of this beautiful country, then you will need to compromise.
Please remember that Australia is located in the Southern hemisphere and that means that summer in Australia is when there is winter in the Northern hemisphere. Spring and fall are also reversed.
White Christmas is something that people in North America and Europe long for. In Australia, Christmas happens in summer, so spending a day at a white sand beach will give you a different type of White Christmas.
Here is an overview of the best travel times for Australia and detailed information on the temperatures and rainfall in different regions:
The high season for travel is June-August, when it gets cold in the South and is comfortably warm in the North.

Generally, April through September is a good time to travel in the Northern part.

The Southern part of Australia has its best weather from October through March. Unless you love scorching heat, avoid the interior of the country during that time.

The best overall times to tour the country are the months of May, September and October.
Below is the climate you can expect for different regions in Australia: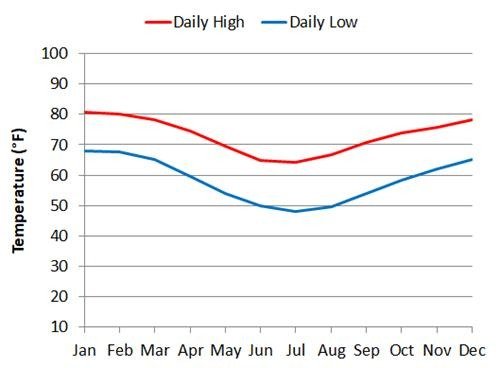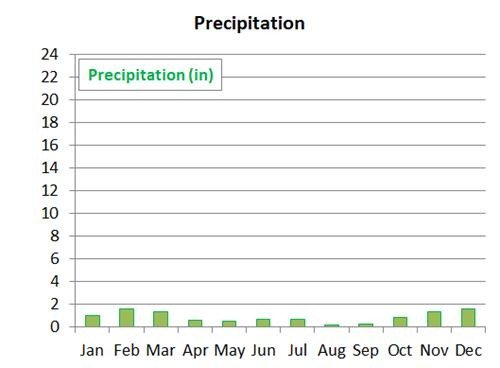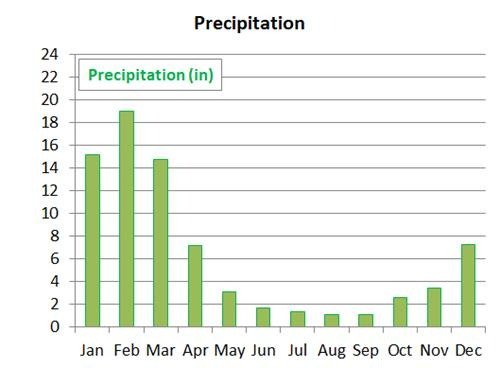 Climate in Perth
Two week itinerary for Australia
It is simply impossible to see everything in just two weeks. The itinerary below brings you to the top three major highlights:
Sydney and Blue Mountains

Uluru (Ayers Rock) and Alice Springs

Great Barrier Reef and Daintree National Park
If you have more then two weeks to explore Australia, then you may want to add Australia's main beach destinations (e.g. Gold Cost, Whitsunday Islands), wine regions near Adelaide and Perth and the "dugouts" or cave dwellings in Coober Pedy.
What part of Australia do you want to expolore now?
Other popular Purple Travel Guides you may be interested in:
Like this Backpack and Snorkel Purple Travel Guide? Pin these for later: