Backpack and Snorkel Travel Guide for Tahiti - Tahiti Purple Guide
This Tahiti Travel Guide tells you what the best things to see and do are in Tahiti in French Polynesia. It tells you what the best beaches are, where the best snorkeling is, what the best historic and scenic sites are and what else you can do in Tahiti. And we have lots of photos so you can decide what you want to see.
Unlike other French Polynesian islands, Tahiti shows its volcanic origins by having mostly black sand beaches and only few beaches where white sand mixes with various amounts of black sand and creates different shades of grey.
Tahiti has the highest population in French Polynesia and therefore has by far the most things to see and do, especially when it comes to non-beach activities.
Table of contents
General information about Tahiti
With a population of almost 190,000 people, Tahiti accounts for 69% of French Polynesia's population. It is the most developed island in French Polynesia and has by far the most things to see and do, especially when it comes to non-beach activities.
It is also the largest island in French Polynesia and the tallest and the only international airport is located here.
The highest peak, Mont Orohena, is 7,352 ft (2241 m) tall.
Tahiti was formed through volcanic activity between 1.4-0.87 mio years ago. The island consists of a larger northwestern volcanic part which is called Tahiti Nui (big Tahiti) and a smaller southeastern volcanic part which is called Tahiti Iti (small Tahiti). Both are connected through an isthmus which is named after the town of Taravao which is located here.
The rugged interior of the island is covered with dense vegetation and is almost entirely uninhabited.
The infamous mutiny on the Bounty took place three weeks after the HMS Bounty under Captain William Bligh left Tahiti, on 28 April 1789. The mutineers seized the ship and set captain Bligh and his loyal crew members adrift in a boat. Afterwards, some of the mutineers went back and settled in Tahiti.
In 1791, the HMS Pandora under Captain Edward Edwards landed in Tahiti and arrested 14 of the mutineers. Four drowned when the Pandora sank on her homeward voyage, three were hanged, four were acquitted, and three were pardoned.
The climate in Tahiti and the rest of French Polynesia can be found here and the best time to visit Tahiti and the rest of French Polynesia can be found here.
How many days should you spend in Tahiti?
Our recommendation is to spend 1 day exploring Papeete, share one day to explore the area east of Papeete and relax on Point Venus Beach, and one day south of Papeete and relax on Vaiava Beach. That makes at least 3 days.
Getting around in Tahiti
Visitors either rent a car, use the bus, or hire a taxi to get to their destinations. Because Papeete has a lot of cars and traffic and distances can be great, renting a scooter is not a good idea unless you are experienced and know what you are doing.
Taxis in Tahiti
Taxis are plentiful in Tahiti and not too expensive. Only cash is accepted.
As in most places in the world, you can flag taxis down in the streets. The biggest taxi stands are at the airport (near the McDonalds) and near the Vaima Shopping Center in Papeete.
At the time of writing, these were the government-set prices:
Base fare: 1,000 CFP

Luggage in trunk: 100 CFP per piece per 5kg

Bulky luggage: 500 CFP per piece

Animals: 100 CFP per animal

Wait time: 625 CFP up to 15min; 1,250 CFP up to 30min; 2,500 CFP up to 60min

Rate per km: 130 CFP (from 6am-8pm) and 230 CFP (from 8pm-6am)
Rental car companies in Tahiti
There are multiple car rental agencies in Tahiti. At the international airport, you will find counters of three of the big global players: Avis, Europcar and Hertz. Besides the big rental car companies, Tahiti has several local rental car companies that we have not tried.
It is important to note that you have the choice to either pay per km driven or to have unlimited km. The unlimited km rates are significantly higher and only make sense when you plan to drive a lot. Our advice is therefore to estimate how many km you will drive before you sign the rental agreement.
If you drive your rental car in downtown Papeete, be advised that parking can be difficult to find, and you will often need to pay for parking.
In the official map, streets in green and red have paid parking Mondays through Fridays from 8am to 4pm. Parking from 4pm to 8am and on weekends is free.
The maximum time allowed to park in the green streets is 2h, in the red streets 30min.
On all other streets, parking is free in theory, but unfortunately there is typically either no parking or only private parking.
At the time of writing, parking was 25 CFP per 10 min.
The best things to see and do in Tahiti
Self-Guided Walking tour of Papeete
Papeete is very walkable and quite safe. This walking tour can be done at a leisurely pace and there are multiple restaurants and stores that you can relax in. Paofai Gardens (4) and the Tahiti Pearl Museum (5) are a bit of a walk from the other destinations, and they are nice-to-see destinations and not must-sees.
Before we start our self-guided walking tour of Papeete, we like to mention that Papeete has lots of beautiful murals. Here are some of the most beautiful ones we have seen:
Papeete Market
The Papeete Market is also called Le Marché de Papeete or Papeete Municipal Market. It is one of the must-sees in Papeete. If you have time, then go there on a weekend morning when this place is buzzing much more than it normally is. Papeete Market is located in a large two-story hall, but on Sunday mornings the streets outside the building will be crowded with vendors selling everything from meats, produce and pastry to clothes and souvenirs. This is also the time when many Tahitian families shop here.
Inside the building on the first floor, you will find a section that sells mostly souvenirs, but the majority is dedicated to vendors that sell fresh meats and lots of fish, produce and flowers. There are also several food booths that sell everything from pizza to Chinese or Thai or Polynesian food.
The upstairs section is less busy. It is reserved for local artisans selling their handicrafts including some beautiful paintings.
Cash is king in the Papeete Market.
The Papeete Market is open daily from 7:30am to 6pm, except Sundays when it closes at 9am. Do not expect too many stalls to still be open by closing time.
We did not see it but were told that fresh fish is brought in from the ships at around 4pm.
Notre Dame Cathedral
With construction completed in 1875, the Notre Dame Cathedral in Papeete is the oldest Catholic church in Tahiti and one of Papeete's last remaining buildings built in early colonial architectural style.
What we especially liked are the incorporation of Tahitian people and dresses into the paintings of biblical stories on the walls.
In front of the church, you will find the way marker PK0.
Papeete Townhall (Mairie de Papeete)
The Papeete Townhall is located in a beautiful colonial building. You can either enter through the main entrance or the northeastern police station entrance. Discover the wedding hall on the main level (where the grand staircase brings you) and go up to the top floor for nice views on Papeete.
Go to the basement and exit the building to see some beautiful traditional stone statues.
Paofai Gardens
This waterfront park was opened in 2010. On 11 acres (4.5 ha) Paofai Gardens shows plants from each of French Polynesia's archipelagos, two waterfalls, four large pergolas, several entertainment areas, playgrounds for kids as well as picnic and restaurant areas, restroom buildings and large grassy areas.
There are canoes on the beach in honor to the Hokule'a which made a 1976 voyage from Hawaii to Tahiti exclusively using traditional navigation techniques.
You will see locals celebrating children's birthdays or picnicking in the park.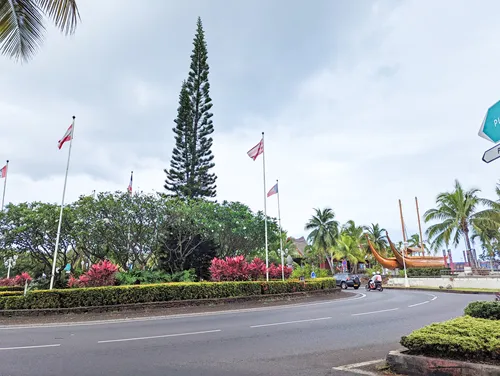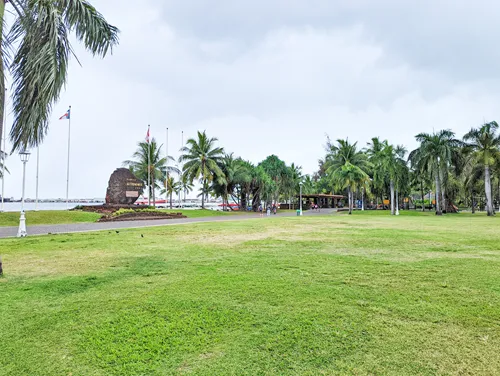 Tahiti Pearl Museum (Robert Wan Pearl Museum)
Robert Wan is a well-known pearl producer and the Pearl Museum is located in his pearl store in Papeete. This small museum informs guests and prospective customers about the process of pearl farming and everything you need to know about the pearls themselves.
Opening times are Monday through Saturday from 9am to 5pm. We were there during normal business hours, but the store and museum were closed, so that's why I can only point you to the reviews and video above.
Place Vaiete
There is not much to do here during the day, but it comes to life in the evenings. Specifically from around 6pm on, food trucks, called Roulottes, open and serve dinner. Food ranges from fairly authentic Chinese food to Crepes and other mostly Asian cuisines. Each food truck has their own tables and chairs, and the prices are below what you would pay at a sit-down restaurant.
We consider the Roulottes in Papeete, but also on the other islands, are a must-do experience.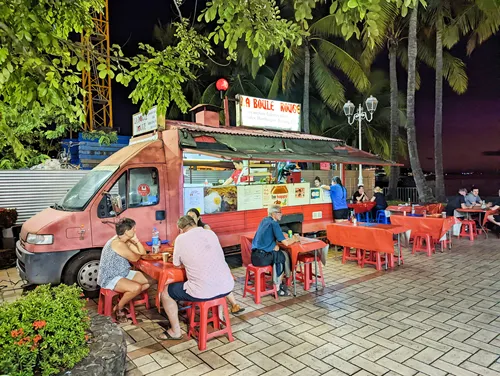 The six best beaches in Tahiti and the best snorkeling in Tahiti
can be found here.
Nine must-see sites and landmarks in Tahiti
Tahiti is the most developed island in French Polynesia. The island has established good access to:
manmade sites like ancient marae that were beautifully restored and botanical gardens

natural wonders that are easily accessible. Some of the more inaccessible sites can be seen on a guided cross-island tour.
Map of nine must-see sites and landmarks in Tahiti
Arahoho Blowhole
When you visit Arahoho Blowhole, be advised that the parking lot entrance is directly south of the only tunnel towards the ocean. Then you travel southbound, you will not be able to make the left turn to get in, so you will need to turn around later.
From the parking lot, it is a 5min walk to the blowhole which you may hear when the conditions are right. There are no signs, but you will see the perfectly round hole in the black volcanic rock from the cemented walkway that turns into a dirt path.
Don't expect too much. Blowholes in other parts of the world spew water a lot higher than this one.
Faarumai Three Waterfalls (Cascades de Faarumai)
The parking lot for the Faarumai Waterfalls is a little farther down the road than what google maps tells you.
Most people only go to the first of the three falls, but our advice is to see all three.
Before you start your hike, apply mosquito repellant, especially if you plan to hike to all three waterfalls.
The legend how the FaarumaI Valley got its name
There once was a chief called Marurai who lived in this valley and whose daughter Fauai was the prettiest girl in the valley. To protect her, Marurai announced that he would not allow her to have contact or even talk to any boys her age. The punishment for the boys would be that he would put them to death.
One day, Fauai decided to go and pick flowers in the valley, and this is where she met a young man named Tua. Tua grabbed her flowers and ran. Fauai was taken by surprise and screamed. This alerted her guards who pursued Tua and killed him, making Fauai incredibly sad.
A short time later, the mother from Fauai fell ill and the healer who was called needed certain medical plants that Fauai was then asked to pick.
Fauai went out to find the plants with her two guards. During the search, Fauai met Ivi, a young man of her age. Ivi told her that he was also looking for medical plants. To avoid that Ivi will meet the same fate as Tua, Fauai pulled Ivi behind a bush and told her guards to stay away.
Whispering to each other, Ivy told Fauai that he wanted to take her with him into the valley to which she agreed. So, they snuck out.
When the guards realize that Fauai was gone, they began searching for her. At one time during the pursuit, Ivy ask Fauai to split ways, but she refused and said: You have to hide me, and we will live together ever after.
Hearing this. Ivy revealed that he was the Wizard of the Valley and that he sometimes turned himself into the young man that Fauai was seeing.
Right before the guards were going to catch them, Fauai said: I will stay by your side whatever happens.
Then, a deafening sound filled the air and water started running down the hillsides enveloping them by forming two waterfalls. Fauai and Ivy are said to have lived behind the two waterfalls happily ever after.
It is said that sometimes at full moon, two fluorescent figures appear on the rocks behind the waterfalls. That is the reason the two falls are named Haamaremare Rahi and Haamaremare Iti, meaning: to make fluorescent.
On their way back, a new waterfall came into existence and enveloped the two guards. This waterfall is called Vaimahuta, meaning: water that surprises or passes over.
As a result of this, the valley was named Faarumai, meaning: to bear, to endure.
How to get to the waterfalls
The walking path to the first waterfall starts at the bamboo forest and is only 450ft (150m) long. After a few feet on this path, you will see a path branching off to the left – this trail goes to the other 2 waterfalls.
Keep going straight on this easy trail and you will come to the first waterfall in 2 or 3 minutes. This waterfall is called Vaimahuta, and you can get all the way to the small pond in front of it. The water drops 300ft at Vaimahuta.
On your way back, you will come to the trail that brings you to an overview of the other two waterfalls: Haamaremare Rahi and Haamaremare Iti.
This trail is a dirt path with rocks, and it goes up and down a lot. Close to the end, you will need to cross the river on a solid metal footbridge. After the footbridge, the path goes up. This can be a challenge when the ground is wet after rainfall has muddied the trail.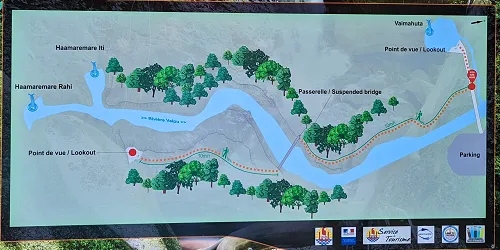 You will pass some impressive Tahitian Chestnut trees and come to a viewpoint from which you can see Haamaremare Rahi and Haamaremare Iti.
There are a lot of free roaming chickens in Tahiti, so don't be surprised to even find them up here.
Marae Taata à Paea
Marae are spaces reserved for ceremonial, social, and religious activities of ancient Polynesians. Marae Taata in the town of Paea is one of the biggest maraes in Tahiti that has survived until today.
What makes it special is that it is actually three maraes in one. Each built at different times in different styles for different chiefs.
After the Christianization of Tahiti, this and other marae fell into disrepair and what you see today is a restored version of the ancient marae.
Map of Marae Taata à Paea
The following description is taken from one of the signs and slightly changed:
Marae Taata à Paea consists of three maraes (A, B and C), a small enclosure (D) attached to marae C and a platform (E). Excavations have revealed modifications that show a lengthy occupancy.
Each marae is enclosed by a stone wall surrounding an interior courtyard where various implanted stone elements are still visible. The wooden structures have weathered away or were confiscated by Christian missionaries.
Marae A is characterized by a kneeling stone located in the middle of the courtyard and a highly sacred altar, called ahu, at its extremity. This altar is a paved platform, with a first course made of coral and basalt blocks. Three upright stones are erected in front of its facade, in memory of the ancestors.
To the right of the ahu, the small platform with an upright stone is called an avaa iti. It served as a stand for figurines, symbols of the gods during ceremonies.
In front of enclosure A, excavations uncovered one oven, two pig skeletons, and various objects such as a pestle and two adzes, remnants of ancient activities and ceremonies dedicated to the gods and ancestors.
Marae B and marae A share a common wall. There are seven stone piles in the courtyard (4), one of them containing pieces of coral and shells. Their function remains hypothetical.
Three significant milestones have marked the evolution of this marae:
First period: The courtyard of the marae is smaller because the left wall is distinct from marae A. The first Course of this original wall, revealed during excavations is still visible.

The ahu is a paved platform, bordered by a pavement, except on its rear section. The front wall sits on a course of squared volcanic and coral stones, topped by five rows of round stones. Three stones stand in front of the ahu.

Second period: The ahu platform is extended and raised. The former left wall of marae B is destroyed, and marae A and B share a common wall. The front wall of the enclosure with its beautiful round-faced stones (coastal type facing) could date from this period. The presence of these round-faced stones is significant of certain arii marae, which according to Teuira Henry, would be linked to the cult of the god Oro.

Third period: a new ahu, consisting of three terraces, was built over the earlier ones. At a height of 2.40 min 1925, it was largely destroyed in 1973.
A transversal wall links Marae C to marae B. On the outside, in front of the enclosure, are two upright stones. In the courtyard, stands a kneeling stone on a small pavement, where the arii stood during the ceremonies.
Next to the right wall, three upright stones are aligned. In their immediate vicinity, just outside the enclosure, the graves of six adults and of a newborn were unearthed. Skeletal remains of adults were gathered, their skulls missing, which would testify of a funeral practice for high-ranking officials, whose bodies were exposed and dried outdoors, some of their long bones buried. Representing the most sacred part of the body, the skulls were kept or hidden by the family.
The ahu is a space surrounded with coral blocks. A basalt slab is erected at the back. The excavation of the ahu has uncovered the remains of an earlier occupation: an oven, an ancient pavement and two stones alignments set on edge, still visible.
Enclosure D is adjoined to marae C. This type of structure, backed to the main monument, is common to the Windward Islands. This could be a small marae or an annex whose function is unknown.
Paepae E is a paved platform that could have served as a meeting place for chiefs, priests and warriors representing the three allied chefferies.
Marae Arahurahu
Marae Arahurahu is one of the most beautifully restored maraes in Tahiti.
The original name of this marae was Tu-Matamata-Hia. Acoording to legend, it was renamed to its current name after a bloody fight.
Legend of Marae Arahurahu
Hundreds of years ago, a young chief named Tu-mata-ira (the one with the mole in his face) ruled this part of Tahiti. He was handsome and a great singer and storyteller but only a mediocre warrior.
Then one day a neighboring chief named Tutu-ai-aro told Tu-mata-ira that he was the king. Tu-mata-ira quietly called for his warriors and, as soon as they approached, Tu-mata-ira's best warrior was killed by a spear.
Tu-mata-ira then ordered a large pit to be prepared with the body of the warrior with his broken spear in the center, everything be covered with yellow leaves and then set on fire and to wait two days and two nights.
After 2 days and 2 nights, his other warriors told Tu-mata-ira: O our king, the oven is well heated, and only coal remains!
Tu-mata-ira then placed the coal on the ahu of the marae as an offering and declared that: From that day on, this marae will no longer be called the marae Tu-Matamata-Hia, but will bear the name of marae Arahurahu until the end of time.
Arahu = coal.
Tu-mata-ira then decided to attack his enemy using the Hina Potea (goddesses of clear nights). The Hina Potea were eight young girls who were, for three nights, supposed to stretch invisible nets around the people of Tutu-ai-aro's settlements that would capture the souls of his warriors making them unable to fight.
With most of Tutu-ai-aro's warriors being soul-less, Tu-mata-ira was expecting an easy victory.
Unfortunately, one of the girls told Tutu-ai-aro about this plan thus the plan was spoiled.
Now without this option, Tu-mata-ira's publicly declared that he would fight Tutu-ai-aro.
Tu-mata-ira put up all his weapons, walked towards Tutu-ai-aro and got scared after seeing all of Tutu-ai-aro's well-armed warriors.
Collecting all his courage, he threw his spear at Tutu-ai-aro, but missed. Unfortunately for him, one of Tutu-ai-aro's guards caught the spear, threw it back at Tu-mata-ira and killed him.
Legend says that the remaining seven faithful Hina Potea still try to capture the souls of men who approach the marae on moonless nights.
Map of Marae Arahurahu
1 = stone wall marking the entrance to Tefaaiti Valley and Marae Arahurahu
2 = sculpture produced on Raivavae in 1983
3 = paved terrace
4 = small marae with one upright stone
5 = paved platform
6 = round-ended house
7 = recent construction
8 = recent construction easing access to the marae during cultural events
9 = Marae Arahurahu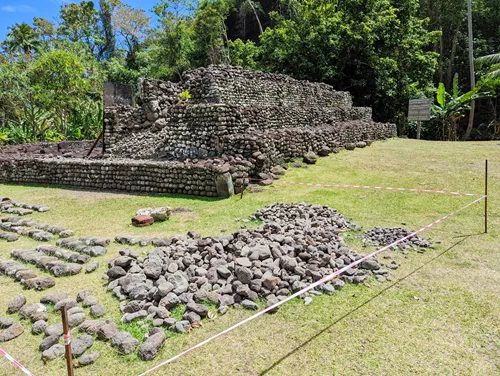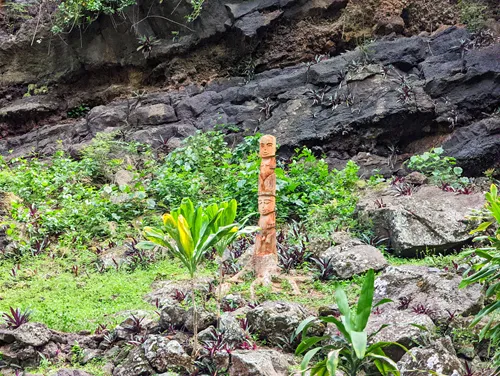 The site was restored in 1953 and opened to the public in 1954 with was a reenactment of the consecration ceremony for an Arii (Supreme Chief). The ceremony was so well received by the locals that the same reenactment is performed every year during the Heiva festival in July.
Maraa Grottos
The Maraa Grottos are actually three grottos that are within easy walking distance of each other.
There is a tiny parking lot on the side of the road where the grottos are and a larger on the opposite side next to the ocean.
The largest grotto is Ana-Vai-poiri (dark water grotto). This is what most people call Maraa Grotto. It is the largest and westernmost grotto which can be accessed by a 100 ft (30 m) trail from the souvenir store.
Its arch-shaped ceiling lowers and plunges into the depths of the cave giving the optical illusion that the cave is not very deep when in reality, it is 260 ft (80 m) long.
A trail leads to the east where you will reach the other two grottos after 250ft (70 m).
The first grotto that you can see from the trail is grotto Ana-Mata-vaa and at the eastern end of the pond is grotto Teanateatea, also called Ana-vai-patoto (=grotto where water trickles down with a knocking sound). Both are significantly smaller than Ana-Vai-poiri and less deep.
It is forbidden to go into the water at either grotto.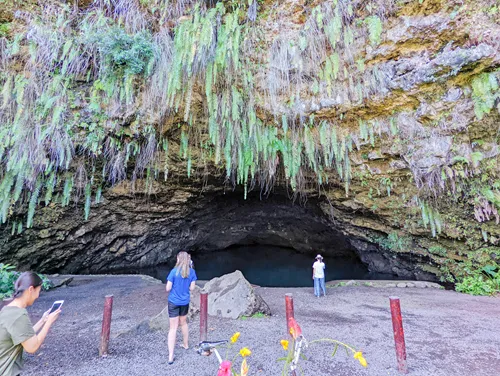 Vaipahi Gardens (Bain de Vaima)
Vaipahi Gardens provide two very different experiences. You can either stay in the manicured gardens which have beautiful indigenous and foreign plants and animals, or you can go hiking.
The manicured gardens have about 75 different plant species, a small river with a waterfall and a lake with lots of different fish. The water gardens attract lots of birds and waterfowl.
For the hikers, there are 3 trails that are interconnected. Please bring mosquito spray as they go through forested areas.
The green trail is 3.2 miles (5125 m) long and gains 942ft (287 m) in elevation. The hiking time is 2h 10min round trip.

The red trail is 1.7 miles (2736 m) long and the elevation gain is 591 ft (180m). The hiking time is 1h 15min round trip.

The blue trail is 0.6 miles (1000 m) long and the elevation gain is 394 ft (120 m).
The hiking time is 35min one way.
Admission is free. There is a souvenir store and there are restrooms close to the parking lot.
We visited the manicured gardens: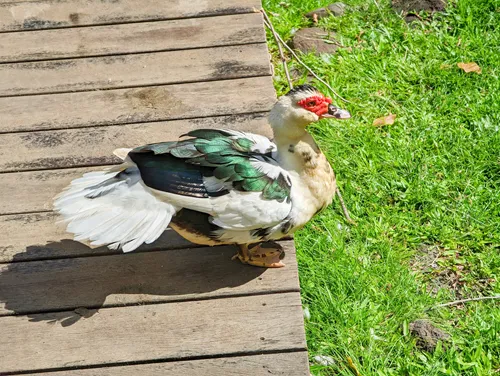 Harisson Smith Botanical Garden
Yes, your GPS has brought you to the right place. The entrance to Harisson Smith Botanical Garden is at the metal gate near the entrance of the large parking lot and not at the metal gate at the far end of the parking lot. That gate leads you to a popular recreational area with public restrooms.
From 1920-1925, Harrison Willard Smith, who was born in Boston, Massachusetts, bought land in this area to fulfill his dream of creating a tropical garden. He planted lots of the plants that you can see today. Upon his death in 1947, his friend Jean-Marie Boubée, who was the head of the Tahitian Agricultural Service, took ownership. In 1952, the gardens were purchased by another American, Cornelius Crane, who owned them until his death in 1962. The Polynesian government then took ownership. After unsuccessful attempts to grant the land protected status in 1964 and 1999, the gardens went into disrepair. After the Service du Tourisme took over in 2017, the gardens were restored to the beauty that you see today.
Harisson Smith Botanical Garden is divided into different botanical zones that you find in the French Polynesian islands and that you can explore via well-marked the trails. There are explanatory panels, and many trees have labels and descriptions.
The big loop trail is only a 15-30min walk depending on how fast you walk, and it is flat and easy to walk on.
The botanical zones are:
Orchard

Arboretum

Wetland

Palm Grove

Shoreline

We really enjoyed the monumental root systems of the wetland trees.
Make sure to bring mosquito repellant.

If you come here from Monday-Saturday, then you will be able to enter the Galapagos tortoise enclosure. There is a single tortoise living here after the second was killed by wild dogs several years ago.

Belvedere de Taravao

The Taravao Lookout is easy to reach by car. Once you turn off the main loop road, you will need to make quite a few turns. These roads are paved and one lane in each direction. There are a couple of potholes, but the road is generally in very good condition. At one point, when you drive up the hill, the road will turn into a one-lane road, which is fully paved and in excellent shape. In most places, there is a soft shoulder that you can drive on if you need to avoid oncoming traffic.

There are signs at the lookout, so you cannot miss it. Come here on a clear day so that you have good views on Tahiti Nui (big Tahiti) via the isthmus that connects it with Tahiti Iti (small Tahiti).
The landscape driving up the hill is said to resemble that of New Zealand with rolling hills and green pastures with occasional horses and, of course, chickens, on them.

Vaima Shopping Center

This is a nice up-scale shopping center on two levels where you can buy clothes, pearls, wine, etc. and there are some nice restaurants too. The food court also has fast food.

Papenoo Valley Tour

There are different companies that offer 4WD tours on the only road that crosses Tahiti Nui (the big island of Tahiti).
We used Moana Voyages, and they use converted 4WD trucks that seat 8 people per truck. Pickup from hotels or specific locations in the Papeete vicinity is included.

It had rained the day before and there were some short rain showers on the day of our full day Papenoo Valley Tour, which turned out to be fantastic as we saw somewhere between 100 and 200 waterfalls. Most of them only come to live if there is recent rainfall. Also, we say a wonderful rainbow during our trip.

Even though the tour stops often so that you can see the scenery and take photos, be advised that you will spend much of the day sitting on a bench in the truck bed and that the truck is driving on a road with more potholes than you can count. Since your sitting position is elevated, there will be a lot of shaking going on.
If you cannot take this, then this tour is not for you.
I did not mind the shaking, but there is one negative thing that I need to mention. We smelled exhaust gases during the whole trip. Our driver explained that, to make the truck more powerful, they had to reroute the air intake and somehow that leads to an exhaust gas smell where you are seated.
From a drive through the jungle with occasional rain showers in French Polynesia, I would have expected to inhale some of the cleanest air on the planet. But unfortunately, that was not the case. But I did not let this ruin my experience.

On the drive our truck crossed 3 rivers and we stopped multiple times to take in the gorgeous mountainous scenery. On one stop, we had the option to bathe in a river.
Lunch was not included, but the tour stops at the Relais de la Maroto hotel in the middle of nowhere where you can order good food and pay cash or credit.
There was either very weak or no internet connection at the hotel or elsewhere during the trip once you get inland.

Accommodation in Tahiti

Tahiti has it all. From competitively priced Airbnbs to luxury resorts there is something for anyone. And what is even better: There is a lot of accommodation available in Tahiti, so if you come on short notice or look for rock bottom priced rooms, you will likely find something easily.
Tahiti is the best choice in French Polynesia for budget travelers.
We have stayed in three Airbnbs on Tahiti. Two were in the same condominium complex in downtown Papeete and one was southwest of Papeete in Punaauia.

Studios Painapo 24 - Airbnb in downtown Papeete

Please note that google maps has the location of Studios Painapo across the street from where they really are.
Studios Painapo are modern and competitively priced studios located in downtown Papeete. They are located on a green street, meaning that parking here is free from 4pm to 8am and free on weekends. Monday through Friday from 8am to 4pm, parking is allowed for max. 2h per parking ticket. At the time of writing, parking was 25 CFP per 10 min.

Apartment Painapo 24 is on the 3rd floor (only stairs, no elevator) with a nice view on Rue Charles Vienot. It was modernly furnished and had a fully equipped kitchen with utensils and cookware. The great room serves as kitchen, living and dining room.
The bathroom had a shower with good water pressure and a laundry machine.
The air condition was quiet and effective and wifi was the fastest we have seen in all of French Polynesia.

The apartment is less than a 5min walk to the Papeete Market, many stores including a supermarket and a couple of restaurants.
Please see our self-guided walking tour of Papeete for ideas what you can see and do.

Studios Painapo 6 - Airbnb in downtown Papeete

Please note that google maps has the location of Studios Painapo across the street from where they really are.
Studios Painapo are modern and competitively priced studios located in downtown Papeete. They are located on a green street, meaning that parking here is free from 4pm to 8am and free on weekends. Monday through Friday from 8am to 4pm, parking is allowed for max. 2h per parking ticket. At the time of writing, parking was 25 CFP per 10 min.

Studio Painapo 6 is on the 3rd floor (only stairs, no elevator) with a nice view on Rue Charles Vienot. It was modernly furnished and had a fully equipped kitchen with utensils and cookware. The great room serves as bedroom, kitchen, living and dining room and felt a bit crammed.
The bathroom had a shower with good water pressure. There was no laundry machine in the studio.
The air condition was quiet but fairly weak. Wifi was fast. All in all, it was a good place to stay, but apartment Painapo 24 was a better value for us.

Airbnb in Punaauia

Punaauia is located southwest of the international airport and a good place to explore the island and Papeete.
The apartment was located on the third floor. Parking is in a parking garage below the building.
The apartment had three bedrooms, a large room that serves as kitchen, dining room and living room, a large balcony with a beautiful view on Moorea. This view can get spectacular at sunset.
The kitchen was fully equipped and there were a washer and dryer in the apartment.
Air conditioning was quiet and efficient and wifi was fast. The décor was very modern.

You can hear the traffic from the nearly busy road on the balcony.
There are two supermarkets and a restaurant in close proximity. The U Express supermarket is only a 2 min walk away.

Across the street is a black sand beach with shallow water, healthy corals and many small fish. The corals start about 10ft (3m) off the water's edge.

Find hotels in the Punaauia area

What part of French Polynesia do you want to expolore now?

Other popular Purple Guides you may be interested in:

Like this Backpack and Snorkel Purple Guide? Pin these for later: