Travel Guide for Japan - Japan Purple Travel Guide
Japan is a country of contrasts. It merges super modern high-tech with very traditional customs and buildings. Our 2-week Japan itinerary shows you both sides and, as always, we provide lots of photos so you can decide where you want to go.
Besides the contrasts, some things you will, however, find everywhere: The people are kind, polite and friendly; the food is good and beautifully presented, and everything is very clean.
Japan has many temples, shrines, and palaces. No visit to Japan is complete without visiting a good number of them as they are indeed some of the country's main highlights. But beware, Japan has so many superb temples and shrines that you may get templed out quickly. This travel guide seeks to strike a balance between temples and shrines, and other attractions, by only focusing on the major temples and shrines.
Generally, getting around in Japan, for somebody who cannot speak or read Japanese, has some challenges, but is doable. And best of all, you don't need a car in Japan as public transportation is superb, clean, and reliable.
Japanese people are very friendly and polite, but many either don't speak English or are too shy to speak English. If you need to ask for directions, it is always helpful to have the Japanese spelling of the attraction you are visiting with you. In this guide, we have you covered.
Also be advised that Street addresses in Japan are not necessarily logical or in chronological order. The good thing is, however, that google maps is reliable, just make sure that you download the maps in advance if you will not have a local data plan.
Table of contents
General Information
Japan is spelled 日本 in Japan and pronounced Nippon or Nihon.
日 means sun or day and 本 means origin; adding both words together gives 日本 the meaning of 'the origin of the sun' and not, as often believed in the western world 'land of the rising sun.
The English word Japan likely comes from "Japun" or "Japang", which is an old Malay word for Japan.
Japan is an archipelago of 6852 islands, but the five main islands Hokkaido, Honshu, Kyushu, Shikoku, and Okinawa make out 97% of the country's land area of roughly 146000 square miles (3870000sq km). More than 99% of its population of 126 million people live on those 5 islands. That makes Japan one of the most densely populated countries in the world and, as more than 90% of its population live in urban areas, Japan is also one of the most urbanized countries in the world.
Japan is located on the Pacific Ring of Fire, which can cause earthquakes at any time. Due to the constant threat of earthquakes, historically high death tolls, Japan is probably the one country on the planet that is best prepared to deal with them. Buildings need to pass stringent building codes; trains will automatically stop and the population is trained to deal with the threat. Sadly, even the best preparedness did not prevent the Fukushima catastrophe in 2011.
In what time zone is Japan?
The whole country of Japan is on Japanese Standard Time (JST) and does not observe daylight savings time (DST). You can find the current time here.
What is the voltage in Japan – do I need an adapter?
Electricity is 100V and 50/60Hz.
Power plugs and sockets are the same Type A (2-prong) and Type B (3-prong) as in the USA, Canada, and Mexico.
What is the climate in Japan?
Japan has a mostly temperate climate, which varies strongly from the North to the South. I have included detailed climate information in the individual destination pages.
Generally, the rainy season starts in early May in Okinawa (South) and then slowly travels north until it reaches Hokkaido (North) by the end of July. Typhoons often hit Japan in late summer and early fall and can bring drenching rain.
The average temperature is 77F (25°C) in summer and 42F (5°C) in winter.
What is the best time to visit Japan?
Japan is a year-round destination.
The best time to visit Japan is in Spring (March – May), especially during cherry blossoms. Cherry blossoms start in southern Japan (Okinawa) as early as late January and then slowly go northwards and finish in May in northern Japan (Hokkaido). The places that are part of this Japan Purple Travel Guide typically experience cherry blossom in the second half of March through the first half of April, but that changes every year. Timing your Japan vacation to coincide with cherry blossoms, which lasts only max. 2 weeks in each region, is extremely difficult.
May through October bring the threat of typhoons, while mid-June through mid-July are considered the rainy season.
The dry season in Japan is from December through February – November and March are shoulder months. Visiting Japan during winter for skiing or visiting the snow monkeys can be magical. Winter activities are not part of this Japan Purple Travel Guide.
The climate that you can expect when you visit Tokyo is shown here: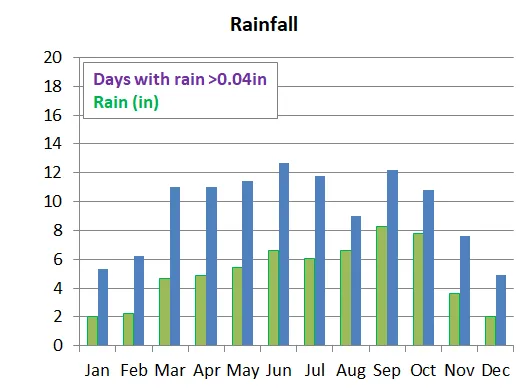 The climate that you can expect when you visit Nikko is shown here:
The climate that you can expect when you visit Hakone is shown here:
The climate that you can expect when you visit Takayama is shown here:
The climate that you can expect when you visit Kyoto is shown here:
The climate that you can expect when you visit Himeji is shown here: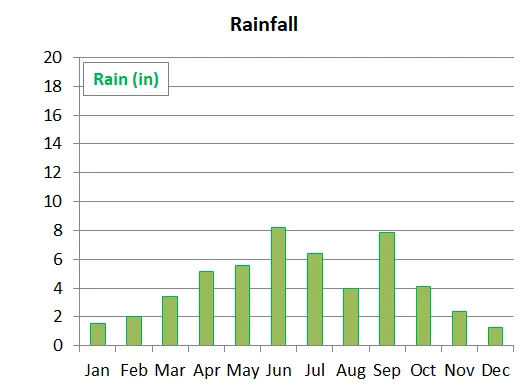 The climate that you can expect when you visit Nara is shown here:
Very brief history of Japan
Japan has a long history which is rich in highlights and lowlights. Here is a very brief look at Japan's history with special attention to the places in this Japan Purple Travel Guide:
30,000BC: first known habitation

111AD: Japan first mentioned in the Chinese "Book of Han"

Asuka period (592–710): widespread acceptance of Buddhism

Nara period (710–784): Japanese state centered on the Imperial Court in Heijō-kyō in Nara

Heian period (794–1185): Emperor Kanmu moved the capital from Nara to Heian-kyō (Kyoto) in 794; lyrics of Japan's national anthem "Kimigayo" written

Feudal Era: 1185: samurai Minamoto no Yoritomo appointed shōgun by Emperor Go-Toba; begin of Feudal Era; established a feudal military government in Kamakura in 1192; Zen school of Buddhism introduced from China; Mongol invasions repelled in 1274 and 1281

16th century: Portuguese traders and Jesuit missionaries reach Japan, initiate first commercial and cultural contact with the West; two unsuccessful invasions of Korea in 1592 and 1597

Modern Era: March 31, 1854, Convention of Kanagawa: Commodore Matthew Perry and 'Black Ships' of the US Navy force opening of Japan to the outside world; Japan adopts Western cultural, judicial, military, and political, institutions; victories in First Sino-Japanese War (1894–1895) and the Russo-Japanese War (1904–1905) give Japan control of Taiwan, Korea, and the southern half of Sakhalin (Russian island)

WWI: Japan joins allies and advances into China

1931 Japan invades Manchuria

WWII: 1937: Japan invades other parts of China e.g. Nanjing, commits Nanjing Massacre and starts the Second Sino-Japanese War (1937–1945); 1940: Japan signs Tripartite Pact with Germany and Italy and becomes one of the Axis Powers; 1940: Japan invades French Indochina; December 7–8, 1941: Japanese surprise attacks on Pearl Harbor, British forces in Malaya, Singapore and Hong Kong and declares war on the USA and the British Empire, this starting WWII in the Pacific; August 6 & 9, 1945: USA detonate atomic bombs over Hiroshima and Nagasaki; August 15, 1945: Japan announces unconditional surrender, which was formally signed on September 2, 1945.

Post-war Shōwa period: 1947: Japan adopts new constitution emphasizing liberal democratic practices

Treaty of San Francisco in 1952: ends allied occupation of Japan

Article 9 of the Japanese Constitution renounces Japan's right to declare war or use military force in international disputes

1956: Japan becomes a member of the UN

Japanese post-war economic miracle from the 1960s to the mid-1990s: average economic growth: 1960s: 7.5%; 1970s: 7.5%, 1980s until 1991: 3.2%

Lost Decade: Japanese asset price bubble bursts in late 1991 and early 1992 leads to economic stagnation; global economic slowdown in 2000 leads to another lost decade until 2010

2011: one of the largest recorded earthquakes hits off the Japanese coat and triggered a large tsunami which caused the Fukushima Daiichi nuclear disaster which is one of the worst disasters in the history of nuclear power.

May 1, 2019: historic abdication of Emperor Akihito ends the Heisei Imperial Era. His son Naruhito becomes the new Emperor and begins the Reiwa Era
Should I rent a car in Japan?
Japan has an excellent public transportation system and there is really no need to rent a car. The tour that we describe in this Japan Purple Travel Guide, does not require a car – it makes intensive use of local buses and long-distance trains (Shinkansen).
If you feel you must rent a car, please consider this:
driving is on the left-hand side of the road like in England and Australia

parking is often impossible to find

because there are so few parking spaces, cars are parked extremely close to each other and may require a lot of maneuvering from you to get in and out of parking spots
Do I need a visa for Japan?
At the time of writing, nationals from 69 countries do not need a visa for stays up to 90 days in Japan. You can check if you need a visa here.
Can I drink tap water in Japan?
Yes, tap water is of high quality and safe to drink in Japan.
How can I call Japan?
The country calling code is: +81
Internet in Japan?
Wifi is usually available in airports, train stations, hotels, and ryokans, many stores, and some restaurants and cafes. Sometimes you will need to ask for the wifi password. The chance of finding free wifi hotspots is bigger in the cities than in the countryside, but those free wifi hotspots are sometimes slow as too many people try to connect to it.
There are more paid wifi hotspots than free ones, but unfortunately, their registration pages are often only in Japanese or only accept Japanese credit cards.
If you have an unlocked phone, then you can buy a Japanese SIM card or come use an international call and data plan from your provider at home. International roaming can be very expensive.
Japanese internet sites end with: .jp
Japan Rail Pass
Unless you only stay in one city, plan to drive a car or have somebody to chauffeur you, you will likely take some of the excellent long-distance trains in Japan. Unfortunately, rail travel in Japan can be expensive. For foreign visitors, however, there is an excellent option to reduce cost on rail travel and that is the Japan Rail Pass. We got our Japan Rail Pass from this website (https://www.japan-rail-pass.com/) and we could not have been happier with it. They even include a free booklet with useful information when they mail you the passes. Please visit this website to get all the details and prices.
In short, here is how the Japan Rail Pass (JR Pass) works:
The JR Pass gives foreigners free access to almost all trains on the JR railway network as well as JR Kyushu, JR Shikoku, JR West, JR Center, JR East and JR Hokkaido, and some JR operated ferries and buses and the Tokyo Monorail connecting Haneda Airport to Hamamatsucho Station, but not to private rail companies for the duration of either 7 days, 14 days, or 21 days. The normal 'Hikari' or 'Sakura' Shinkansen are included, but not the super high speed 'Nozomi' and 'Mizuho' Shinkansen. Sleeper cars are excluded, too.
How to decide if it makes sense to buy the Japan Rail Pass
Look up the trains and fares for all your eligible rail travel on http://www.hyperdia.com/en/

Compare the price to the cost of the 7, 14 or 21-day JR Pass
Restaurants in Japan
We were so amazed that Japanese restaurants:
• had colorful menus with beautiful photos of their dishes

• had all this super real looking plastic food that showed their dishes

• the real-life food actually looked exactly as in the photos or the plastic models

• that we just had to add these photos to give you an expression of what to expect.
Enjoy!
Your 2-Week Japan Itinerary
Seeing all the highlights of Japan in two weeks is impossible.
This itinerary seeks to provide a wholesome combination of the highlights of:
high-tech Japan (Tokyo)

Japan's imperial history (Kyoto, Nikko, Nara)

rural and historical Japan (Takayama, Himeji)

scenic and artistic beauty of Japan (Hakone)
It does exclude important World War II sites of Hiroshima and Nagasaki, which you can add to your itinerary, if you like. You can do that by cutting out Himeji and taking the train to either city, and adding an additional day.
| | | |
| --- | --- | --- |
| | Day | Night |
| Day 1 | Depart your home country | Plane |
| Day 2 | | |
| Day 3 | | |
| Day 4 | | |
| Day 5 | | |
| Day 6 | | |
| Day 7 | | |
| Day 8 | | |
| Day 9 | | |
| Day 10 | | |
| Day 11 | | |
| Day 12 | | Narita |
| Day 13 | Flight home | |
Which part of Japan do you want to visit now?
Other popular Purple Travel Guides you may be interested in:
Like this Backpack and Snorkel Purple Travel Guide? Pin these for later: