Backpack and Snorkel Travel Guide for Providenciales on Turks and Caicos - Providenciales Purple Guide
Providenciales in the Turks and Caicos Islands is a beach goers paradise. Grace Bay Beach is consistently named one of the best beaches in the world - tripadvisor named it #1 (again) in 2022, but the other beaches are spectacular too. So spectacular, as a matter of fact, that we actually preferred them over Grace Bay beach. Join us to explore the best things to see and do in Providenciales.
We have made some videos about Providenciales. Please check them out.
This Providenciales Purple Guide covers:

the most spectacular beaches including Grace Bay beach
the best snorkeling beaches
some hidden beaches where you may be the only person around
other things to see and do in Providenciales
And, of course, we provide lots of information about Providenciales Island and tips to help ensure that you will make Make Memorable Moments on a Relaxing Vacation!
Table of contents
General information about Providenciales
The Turks and Caicos Islands are a British Overseas Territory. The western islands are called the Caicos Islands and they are separated from the much smaller Turks Islands by the deep Turks Island Passage which is up to 7,200ft (2.2km) deep.
The word Turks comes from the bright red cephalium (structure of wool and bristle at the growing tip of the native cap cactus, Melocactus intortus) which looks like the fez hat Turkish men in the Ottoman Empire used to wear. The word Caicos comes from the native Lucayan language in which "caya hico" means "string of islands".
Providenciales is the most populated island of the Turks and Caicos Islands. Locals and many visitors call Providenciales Island: Provo. About ¾ of the 58,000 Turks and Caicos residents live in Provo. The total land mass is 366 square miles (948 km2) and the highest elevation is 157ft (48m).
Annually, the Turks and Caicos Islands see roughly 1 million visitors of which ¾ come from the US and ¾ come by cruise ship to Grand Turk (see our Grand Turk Purple Guide here), which lies 75 miles (120km) to the east. Grand Turk is much smaller than Provo and only has a population of about 5,000 people. But it is home of the capital city of the Turks and Caicos Islands: Cockburn Town.
The main industries of the Turks and Caicos Islands are tourism and offshore financial services. Fishing is another important industry and there is some agriculture mostly on North Caicos, where beans, cassava, citrus fruits and corn are grown. Almost everything else that you see in the stores was imported and may therefore be significantly more expensive than what you pay at home.
Even though Turks and Caicos are a British Overseas Territory, you will find them to be more Americanized than British. The local currency is the US dollar, the electricity is 110V, the same power outlets as in the US are used, lengths and volumes are measured in miles and gallons, and when you call, the country code is +1. Here is a more detailed overview:
Currency: US dollar
Time: the local time in Providenciales can be found here
Language: English
Driving side: left (like in England and much of the Caribbean)
Speed limit: 20 mph (32km/h) in residential areas, 40 mph (64km/h) otherwise
Gasoline is sold in gallons
Electricity: 110V, 60Hz
Power outlets: the same "Type B" three-pronged outlets as in the US
Internet code: .tc
Calling code: +1-649
History of the Turks and Caicos Islands
The islands were first settled somewhere between 500-800AD by Arawakan-speaking Taino people from Hispaniola. It was then either Christopher Columbus who saw the islands on his voyage to the Americas in 1492 or, more likely, the Spanish conquistador Juan Ponce de León who was the first European to set foot on Turks and Caicos in 1512. Ponce de León began enslaving the natives and imported diseases to which the natives had no immunity, wiped out the remaining population a year later in 1513.
It took another 100-150 years until salt collectors from Bermuda brought their African slaves to harvest sea salt on the islands. First, this was only a seasonal activity; later some of them settled here. During the early 18th century, the islands became popular pirate hideouts. In 1783, towards the end of the Anglo-French War (1778–1783) the islands were captured by France, but they were assigned to the British with the Treaty of Paris. After the United States became independent from England, the islands experienced an influx of British loyalists from the US who brought their African slaves with them. At that time, cotton plantations became an important export good and today you can visit the remnants of the Cheshire Hill plantation that was built during that time. Cotton was later replaced by salt generation as the most important industry.
1799: England annexes the Turks and the Caicos islands and makes them part of the Bahamas.
1807: Britain prohibits slave trade.
1833: Britain abolishes slavery in its colonies.
1848: Britain designates the Turks and Caicos as a separate colony.
1874: England makes the Turks and Caicos Islands part of the British Jamaica colony.
1917: England rejects the Canadian Prime Minister Robert Borden's suggestion that the Turks and Caicos Islands join Canada.
1959: The Turks and Caicos Islands become a separate British colony, but are still under the rule of the Jamaican governor.
1962: Jamaica becomes independent. The Turks and Caicos Islands become a British Crown colony.
1965: The Turks and Caicos Islands are under rule from the governor of the Bahamas.
1973: The Bahamas become independent and Turks and Caicos Islands have their own governor, but remain a British territory.
1976: The Turks and Caicos Islands have their own government, but remain a British territory.
2002: The Turks and Caicos Islands are re-designated a British Overseas Territory, and islanders gain full British citizenship.
2009 Corruption charges lead to the resignation of Premier Michael Misick and England takes direct control of the government.
2010: Leaders of The Bahamas and the Turks and Caicos Islands discuss the possibility of forming a federation.
2012: A new constitution was enacted and a new Turks and Caicos Islands government was elected. The Turks and Caicos Islands remain a British Overseas Territory.
Providenciales Weather - Providenciales Weather by Month
The Turks and Caicos Islands have relatively consistent temperatures throughout the year with summer temperatures rarely exceeding 91°F (33°C) and winter nightly temperatures rarely falling below 64°F (18°C). Compared to other Caribbean islands, the Turks and Caicos Islands are drier, and only rarely suffer hurricane hits. The weather that you can expect during your Turks and Caicos vacation is shown here: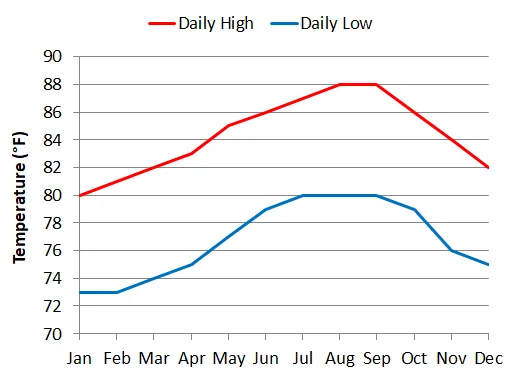 The best time to visit Providenciales
The high season is from mid-December through April. December is at the end of the rainy season and January through April have some of the lowest precipitation.
The low season coincides with the Atlantic hurricane season and goes from June through November. The While Grand Turk still sees cruise ships during that time, Providenciales is much quieter and some tourist businesses even shout down. As mentioned earlier, the chance of Providenciales taking a direct hurricane hit is very low, but there can still be significant rainfall at time from passing tropical storms or hurricanes.
How to get to Providenciales?
Providenciales International Airport (airport code PLS) is the most convenient way to get to Providenciales. It has multiple flights per day from the US and other countries. If you have your own private plane, you must enter Turks and Caicos either at PLS or Grand Turk JAGS McCartney International Airport (GDT) as these are the only official ports of entry by air.
Inter islands flights within Turks and Caicos land at and depart from PLS. Grand Turk has a cruise port, but it is 75 miles (120 km) away and thus too far away for cruise ship passengers.
If you have your own private yacht, Providenciales has several marinas that are points of entry into the country.
VISA entry requirements for Turks and Caicos
Turks and Caicos offer Visa-free admission to citizens of many countries, e.g. the USA and Canada. Check your entry requirements here.
Getting around in Providenciales
There is no public transportation in Providenciales. Unless you stay in a resort or in walking distance to shops, you will need a rental car. Taxis are available, but they are expensive. Most taxis are shared taxis. Some taxis do private transfers too, but they are even more expensive.
Taxies are not metered. Fares are set on a point A to point B basis and you should confirm the fare before you get into the taxi.
Examples are listed below –they are for the first 2 people and each additional passenger will pay half:
Airport to Grace Bay: $28
Airport to IGA Graceway Supermarket: $20
Airport to Chalk Sound: $36
Airport to Leeward: $43
Airport to Amanyara Resort (North West Provo): $86
Please be advised that there are unlicensed taxis that often do not even have license plates. Riding with them is at your own risk and robberies or accidents are not unheard of.
Providenciales Car Rental
Renting a car is the best way to get around in Providenciales. Most roads are paved and in good condition. Gas stations are plentiful, but gas is about 50% more expensive per gallon than in the eastern US.
Most beaches have ample free parking and I have never seen a parking lot at Grace Bay that was full.
Most of the big global rental car agencies are located near the airport and provide a free 2-3min shuttle ride to their lots. There are also some local rental car agencies elsewhere in Provo.
Keep in mind, you are on island time – renting a car can take 30min or longer. Make sure that the name on your credit card is the same as on your driver license (middle names can be omitted), otherwise you may not get a rental car.
Most rental cars are real small and cost less than $50 per day to rent. Check with your Credit Card Company and car insurance at home if they cover your rental car in case of an accident.
Driving a car in Providenciales
As in much of the Caribbean, cars in Turks and Caicos drive on the left hand side of the road like they do in e.g. England. Providenciales has no traffic lights, but many roundabouts.
The way roundabouts work is that cars in the roundabout have the right of way. So, be careful when you enter one.
Cars on the Leeward Highway may enter the roundabouts way above the 40 mph (64 km/h) speed limit, so be careful when you come from one of the side streets and yield to those cars.
The speed limit on the Leeward Highway and most rural roads is 40 mph (64 km/h). In residential areas, the speed limit is typically 20 mph (32 km/h). Speed limit signs are frequent and easily visible.
You will find that the speed limit is almost never obeyed. That is probably, because Turks and Caicos police do not appear to enforce the speed limit.
Most cars have license plates, but quite a few cars do not. Police do not appear to crack down on these unlicensed cars, and we have observed that several had poor driving habits. Our advice is to stay away from those cars and use extra caution as I doubt that you will get any positive resolution in case of an accident.
There are quite a few gas stations on Providenciales and the vast majority is on the Leeward Highway. Gas costs about 50% more than in the eastern US and a gas station attendant will pump the gas for you.
Gas is measured in gallons.
Most gas stations have similar prices, but we found that Grant's Gas Station had the lowest price when we were there.
Is tap water safe to drink in Providenciales?
Yes, tap water is safe to drink almost everywhere in Turks and Caicos. If you don't like the taste, we have good experience using a standard Brita water filter to make lots of drinkable water without an odd taste.
Are credit cards accepted in Providenciales?
We have not used any cash in Providenciales, as pretty much everything can be paid by credit card (VISA or MasterCard). We have not tried other credit cards.
Small street or beach vendors will, of course want to be paid in cash. It is always good to have some small denomination US dollar bills for tips with you.
Will my cell phone work in Providenciales?
Most US cell phones will work in Providenciales without problems, but you may need to activate international roaming or buy a local sim card, if your phone supports sim cards. Check with your cell phone provider. The big US carriers AT&T, Verizon, T-Mobile do not operate in the Turks and Caicos Islands.
Kayaking in Providenciales
There are several companies that offer kayak trips at the small islets off the north eastern end of Providenciales. The easiest and least expensive way to go kayaking on your own is to kayak on Chalk Sound.
(A) - Chalk Sound
(1) - Las Brisas Restaurant and Bar
Kayaks can be rented right next to Las Brisas Restaurant and Bar. At the time of writing, tandem kayaks rent for $35 per hour and $10 for every additional hour. They also have single kayaks and clear kayaks.
Here are some photos that we took:
If you don't want to kayak, then you can join a 2h motor boat tour of Chalk Sound or just relax at the restaurant and bar.
Grocery shopping in Providenciales
(4) - Sunny Foods
(5) - IGA Graceway
There are many grocery stores in Providenciales. We only visited two of them.
Sunny Foods
Sunny Foods has two locations in Providenciales. One is north and the other one is south of the airport. You can easily distinguish them from other buildings because of their bright green color.
While IGA Graceway is the modern and super clean supermarket, Sunny Foods are older and smaller stores that focus on a small selection of foods and offer them at rock bottom prices. We found that prices at Sunny Foods were less than twice of what we typically pay in the US and, in some cases, almost the same price.
If IGA Graceway would compare to Kroger's in the US, then Sunny Foods would be more like an older version of Costco without the membership.
IGA Graceway
IGA Graceway is part of the Turks and Caicos branch of the Independent Growers Alliance (IGA) supermarket chain that has stores in almost 30 countries on all continents but Antarctica.
This is probably the busiest and likely best supermarket on Providenciales. Besides groceries, you can buy all kinds of household items here. It is a clean and well maintained store and the selection is excellent. It is very much comparable to a supermarket that sells alcohol in the US.
Since there is only little food production in Turks and Caicos, almost everything has to be imported. This is reflected in the prices. You will typically pay 2-3 times of what you pay in the US.
Gas stations in Providenciales
Providenciales has no shortage of gas stations and the vast majority of them are located on the Leeward Highway. Gasoline costs about 50% more than in the eastern US. You are not allowed to pump your gas, but need to wait for a gas station attendant to pump it for you. Gasoline is measured in gallons.
Most gas stations have similar prices, but Grant's Gas Station had the lowest price when we were there. The price difference was about $0.20 per gallon and they accept credit cards.
Lakes in Providenciales and Lagoons in Providenciales
Providenciales has several lakes and lagoons and most of them are protected.
(A) - Chalk Sound
Turtle Lake, Flamingo Lake, Juba Point Salina and Pidgeon Pond
Chalk Sound
Chalk Sound is the largest, most accessible and the most stunning of them all. With its unbelievably turquoise waters and myriads of small islets, it is one of the most beautiful lagoons we have ever seen.
Chalk Sound is a protected National Park – which is almost landlocked and only connected to the ocean through a long winding channel. The larger islands are inhabited by Turks and Caicos Rock Iguanas and if you are lucky, you may see bonefish and barracudas in the shallow waters.
Motor boating and fishing are prohibited and no designated lookouts exist. Your best options to see Chalk Sound in all its beauty are: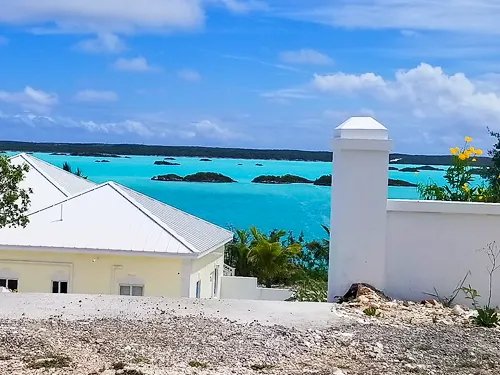 Turtle Lake, Flamingo Lake, Juba Point Salina and Pidgeon Pond
Juba Point Salina is a salt marsh wetland which is partially covered with mangroves. It has one narrow connection to the ocean and is connected to Flamingo Lake in the west. Flamingo lake is not as shallow and thus offers better opportunities for bonefishing (license required).
Separated from Flamingo Lake to the west is Turtle Lake. While Turtle Tail Dr offers good views on Flamingo Lake and Juba Point Salina, Flamingo Lake is more difficult to access unless you stay in one of the houses at its shore. Generally, Flamingo Lake and Turtle Lake are very similar lakes.
Even more difficult to access is Pidgeon Pond in Pidgeon Pond and Frenchman's Creek Nature Reserve. Access is difficult, because there are only few roads and 4-wheel drive is needed.
Pigeon Pond is a very shallow lake with a high salinity as it has no outlet. During the dry season, the lake often turns into mud flats. Due to its remoteness, you will find an abundance of wildlife and have may even see some flamingos.
This area was settled from the pre-Columbian Lucayan period to the post-Loyalist period traces of their occupation can still be found here today.
Other popular Purple Guides you may be interested in:
Like this Backpack and Snorkel Purple Guide? Pin these for later: