Travel Guide for New Zealand - New Zealand Purple Guide
New Zealand is known for its diverse and stunning natural beauty. With breathtaking landscapes, including snow-capped mountains, rolling hills, deep fjords, pristine beaches, geysers, crystal-clear lakes, several amazing top instagrammable attractions, and about 70,000 endemic species such as kiwis, and Hector's dolphins, New Zealand is a land like no other. Our detailed 3-week itinerary shows you the best things to see in New Zealand and has lots of photos.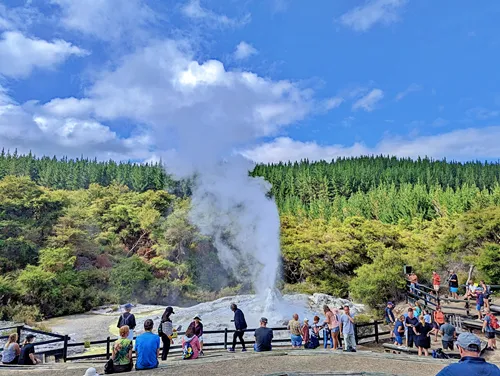 New Zealand has some amazing top instagrammable attractions on the planet.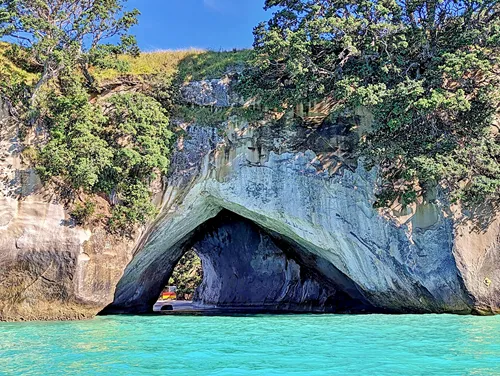 Table of contents
General Information about New Zealand
How much time do you need to visit New Zealand?
Our Backpack and Snorkel New Zealand Travel Guide provides you with a 3-week tour of the North and South Island of New Zealand, an 11-day tour of the North Island and a 12-day tour of the South Island. In case that you have only one or two weeks, we provide lots of photos and attraction reviews so that you can decide which attractions to skip.
If you have two weeks or less in New Zealand, then you should concentrate on either the North or the South Island.
What is the best time to visit New Zealand?
New Zealand has a temperate maritime climate, with mild temperatures and relatively high rainfall year-round. However, due to the country's geographical diversity, there are significant regional variations in weather and climate.
Summer (December - February): This is the peak tourist season in New Zealand, with long days, warm temperatures, and plenty of outdoor activities to enjoy. Prices for accommodation and tours are typically at the highest, and some popular attractions will be crowded.
Fall (March - May): This is a great time to visit New Zealand, with mild weather, fewer tourists, and stunning fall foliage in many parts of the country.
Winter (June - August): New Zealand's winter is generally a quieter time for tourism, with fewer crowds and lower prices. The South Island, however, is a particularly popular destination for winter sports like skiing and snowboarding.
Spring (September - November): This is a good time to visit if you want to see New Zealand's famous wildflowers and baby animals. The weather can be unpredictable during spring, but temperatures are generally mild and crowds are still relatively low.
If you want to explore New Zealand's famous lavender farms, lavender typically blooms from October to December.
New Zealand's famous lupine blooms in the Lake Tekapo area and the riverbeds in the Mackenzie Region of the South Island occur typically from Mid-November to December with the peak in late November.
The climate in the North Island and the South Island of New Zealand can be quite different, due to their different latitudes and topography.
The North Island generally has a subtropical climate in the north, while the southern regions have a cooler, temperate climate. The North Island experiences higher average temperatures and more rainfall than the South Island, particularly in the summer months. The northern parts of the North Island, such as Northland and Auckland, are the warmest and most humid areas in the country, with average temperatures ranging from 15-24°C (59-75°F) in winter and 20-28°C (68-82°F) in summer.
In contrast, the South Island of New Zealand has a cooler, temperate climate, with colder winters and milder summers than the North Island. The South Island is also more mountainous, with the Southern Alps running down the length of the island. This means that the South Island is generally drier and sunnier than the North Island, particularly on the eastern side of the island. The southernmost parts of the South Island, such as Fiordland and Southland, are the coldest areas in the country, with average temperatures ranging from 8-12°C (46-54°F) in winter and 14-18°C (57-64°F) in summer.
It's important to note that the climate can vary widely within each island, depending on factors such as altitude, latitude, and proximity to the coast. Visitors to New Zealand should always be prepared for a range of weather conditions, regardless of where they are in the country.
Below is the climate that you can expect on your trip to New Zealand. The cities are listed from the north to the south.
The climate of Cape Reinga, the northernmost point of the North Island of New Zealand: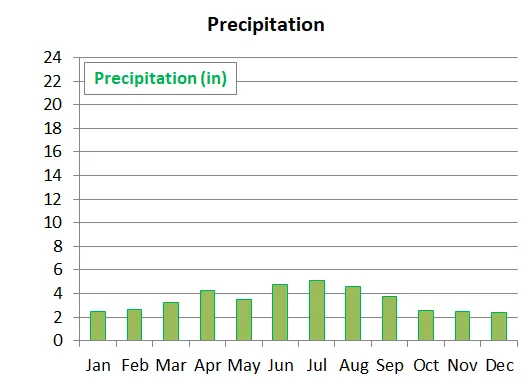 The climate of Auckland in the North Island of New Zealand:
The climate of Rotorua in the North Island of New Zealand:
The climate of Wellington in the North Island of New Zealand: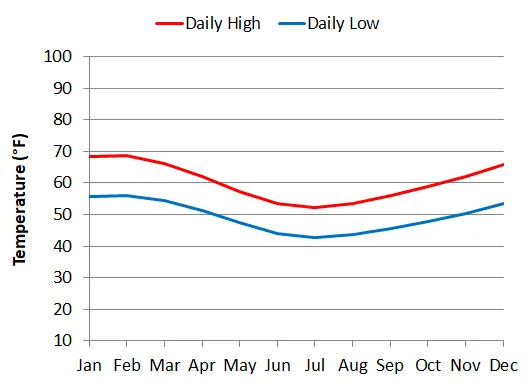 The climate of Greymouth in the South Island of New Zealand near Paparoa National Park: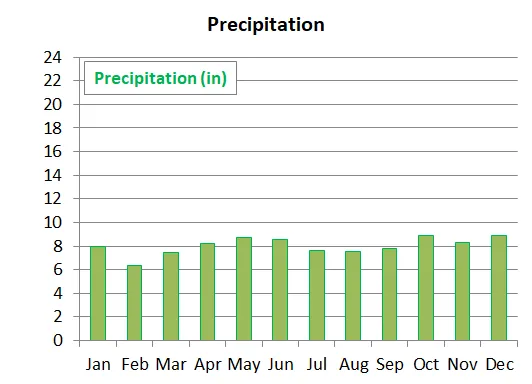 The climate of Christchurch in the South Island of New Zealand: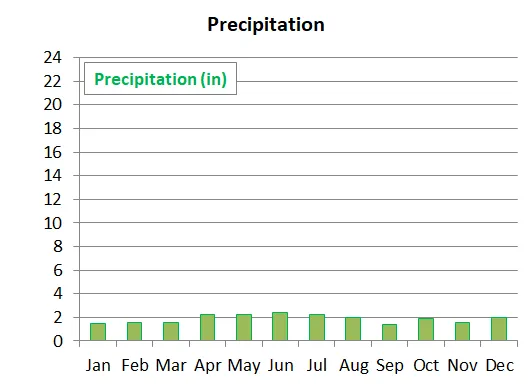 The climate of Queenstown in the South Island of New Zealand:
The highlights of the history of New Zealand
1280-1300 AD: Arrival of the Māori people in New Zealand, which makes it one of the last major land masses to be settled
1500: Māori from New Zealand settle the Chatham Islands and form the Moriori culture
1642: hostile encounter between a Dutch ship and the Māori
1769: First European visit since 1642; Captain Cook maps almost the entire New Zealand coastline. Subsequently, European and North American ships start trade with the Māori and introduce muskets and potatoes to the Maoris
1801-1840: Newly introduced muskets used extensively in over 600 battles Māori tribes where 30-40,000 Maoris are killed
Early 1800s: Christian missionaries settle in New Zealand and eventually convert almost the entire Māori population to Christianity
1835: announcement of impending French settlement; in response, the Māori confederation United Tribes of New Zealand sends a Declaration of Independence to England and asks for protection
1835-1860s: Moriori genocide: Two tribes from North New Zealand invade the Chatham Islands and kill or enslave the entire Moriori population - in 1862 only 101 Moriori survived
1840: Signing of the Treaty of Waitangi, which established a British Governor of New Zealand and considered Maori ownership of their lands, forests, and other possessions, and gave Maoris the rights of British subjetcs
1841: New Zealand becomes the British Colony of New Zealand
1843: Wairau Affray: first serious clash of arms over land and disagreements over sovereignty between British settlers and Māori after the signing of the Treaty of Waitangi
1845-1872: New Zealand Wars, fought between the New Zealand colonial government and allied Māori on one side and Māori and Māori-allied settlers on the other initially triggered by tensions over disputed land purchases. At the peak of the conflict, about 18,000 British Army troops and New Zealand government founded militias that also included 2,500 Australians, fought approx. 4,000 Māori warriors
1861: Discovery of gold in Otago leads to a significant influx of immigrants. Up to 18,000 miners worked here in 1864
1863: Under the New Zealand Settlements Act, the New Zealand government confiscated large areas of land (more than 6,200 square miles or 16,000km2) from loyal and rebel Māori tribes. About half of it was later either paid for or returned to their original owners or Māori control
1893: Introduction of women's suffrage, making New Zealand the first self-governing nation to grant women the right to vote
1894: New Zealand becomes the first country to set a minimum wage
1901: New Zealand annexes the Cook Islands
1907: New Zealand becomes a self-governing Dominion within the British Empire
1914: World War breaks out and New Zealand contributes soldiers to the Allies
1933: the last known full-blooded Moriori died
1948: most Cook Island citizens become New Zealand citizens
1965: New Zealand grants the Cook Islands self-governing status
1975: Waitangi Tribunal established; it investigates alleged breaches of the Treaty of Waitangi and historic grievances and leads the government to negotiate settlements
1980s: New Zealand becomes a nuclear-free zone in the anti-nuclear movement, which strains the country's relationship with the USA
1997: Jenny Shipley becomes New Zealand's first female Prime Minister
2010: The 7.1 magnitude Canterbury earthquake and a severe 6.3 magnitude aftershock in 2011 (Christchurch earthquake) cause significant damage to Christchurch and its surrounding areas. A total of 187 people were killed in both earthquakes and total damages were estimated to be around 40 billion New Zealand dollars
Driving a car in New Zealand
Cars are driven on the left side of the road like in Australia and Great Britain. The speed limit is typically 50 km/h (31 mph) in urban areas and 100km/h (62 mph) on open roads.
Keep in mind that Gas Stations are called Petrol Stations in New Zealand and gas pumps are called Bowsers after the American Sylvanus Bowser who invented the gas pump in 1885.
In most gas stations, you pump the gas and then you go inside the station and pay the attendant. There are some gas stations where you can pay at the pump (those are often found at unattended 24/7 open gas stations), but they never worked with our US credit and debit cards. Interestingly, we found that some gas stations in rural areas are cheaper than in larger towns. Others charge about the same price.
Be advised that cyclone Gabrielle wreaked havoc on New Zealand's north island in February 2023 and significantly damaged many roads. Repairs will likely take well into 2024 and some major roads that you plan to take may be closed. Updated road closure information can be found here. Google maps knows many of the road closures but not all – we have experienced that first-hand.
Many parts of the north island have only a few roads, so detours can easily add an hour to your itinerary.
Also, be advised that New Zealanders (Kiwis) like to drive 5-10 km/h below the speed limit outside the cities and that there are hidden speed cameras especially near large cities. Typical highways in New Zealand are one lane in each direction. Close to the large cities (up to about 100km away), you will find a few divided highways with two lanes in each direction.
Unless you drive to very rural areas, you will likely always drive on good quality asphalt roads. Our New Zealand Purple Guide has only one 10km area where you will drive on a good quality compacted dirt road.
Money and Credit Cards in the New Zealand
The currency used in New Zealand is the New Zealand Dollar. You can find the current exchange rate here.
Credit cards (MasterCard and VISA) are widely accepted. You will only need cash to pay street vendors, or if you make small purchases that fall under the minimum credit card threshold that vendors may have – which never happened to us.
Parking is often free, except for the larger cities where you pay at the meter with your credit card.
It is possible to get around without any cash.
Tap water in New Zealand
Tap water is safe to drink in New Zealand.
In which Time Zone is New Zealand
New Zealand is one of the first countries to welcome a new day. It is located in UTC+12 for standard time and UTC+13 for Daylight savings time.
As an example, at 4am in New York City (Eastern Time) in winter, it is 10pm in Auckland, New Zealand who have Daylight Savings Time at that time as it is winter.
Daylight savings time is observed in New Zealand. You can find the current local time here.
Please be advised that it is 45min later in the Chatham Islands and the Cook Islands are on the other side of the date line.
Visa requirements for New Zealand
You can check if you need a visa to enter New Zealand here.
Biosecurity requirements for New Zealand
Like Australia, New Zealand is far away from the rest of the world and numerous pests that exist in other parts of the world do not exist in New Zealand. Importing them can have catastrophic consequences for the local flora and fauna and agricultural industry. Therefore, biosecurity is a top priority for the New Zealand government.
Please review the following website to find out what you can bring into New Zealand and what is prohibited. Violations can get very expensive for you and put New Zealand's agricultural industry at risk.
We had some cookies and candy with us, declared them and a biosecurity officer asked us a couple of questions and then allowed us to bring them into the country. This entire process took less than 3 minutes.
Why are there so many Glowworms in New Zealand?
Glow worms are the larvae of a species of fly known as Arachnocampa luminosa. They typically live in damp and dark environments like caves, where they can spin sticky threads, which hang down from vertical surfaces, to capture their prey.
New Zealand's limestone caves provide the perfect environment for glow worms, because they are typically damp, and offer consistent temperatures and humidity levels.
Many glowworm habitats are found in remote areas without human light pollution as glowworms need absolute darkness for their lights to be seen by their prey.
Itineraries for your New Zealand visit
The best way to experience New Zealand is on a 3-week or longer trip.
A three-week itinerary can be found here.
If you only have two weeks or less, then concentrate either on the North or the South Island of New Zealand.
An 11-day itinerary for the North Island can be found here and a 12-day itinerary for the South Island can be found here.
Three-week itinerary for New Zealand
The itinerary allows you to discover New Zealand's north and south islands in three weeks. You can use it as it is or modify it to fit your interests and travel style.
Please be advised that New Zealand's glow worm caves are one of the major highlights of any New Zealand itinerary. The itinerary above has you visit the Charleston GlowWorm caves on a cave rafting experience on the south island. If you are not of medium physical fitness, or hate somewhat confined spaces or river rafting on an inner tube then you may want to either do the regular Charleston GlowWorm cave walking tour or substitute this experience for the more well-known Waitomo Caves on the north island.
Please be advised that if you, like me, weigh more than 250 lbs (110 kg) and the river is experiencing low water levels (e.g. in mid and late summer) then you may need to walk on the rocky river banks maybe a quarter of the way that lighter people will float down. This takes some fun out of it, but still makes the whole experience worthwhile in my opinion.
The necessary changes for visiting the Waitomo Caves on the north island can be found here:
| | |
| --- | --- |
| Day 5 | drive to Waitomo Cave (6h); Waitomo Cave tour; drive to Hahei (3:30h) |
| Day 12 | |
There are other glow worm caves that you can visit, but these two are probably the ones with the most glow worms.
Eleven days itinerary for the North Island of New Zealand
This itinerary allows you to discover New Zealand's North Island in 11 days. If you have more time, then we suggest driving to Wellington on Day 10 or Day 11 and spending two or more days in Wellington. You can then fly from Wellington to Auckland and then home.
You can use the itinerary below as it is or modify it to fit your interests and travel style.
Twelve days itinerary for the South Island of New Zealand
This itinerary allows you to discover New Zealand's South Island in 12 days. If you have more time, then we suggest adding Abel Tasman National Park and Franz Josef Glacier to your list.
Which part of New Zealand do you want to visit now?
Other popular Purple Guides you may be interested in:
Like this Backpack and Snorkel Purple Guide? Pin these for later: