Travel Guide for Auckland, New Zealand - New Zealand Purple Guide
Auckland is the most populous city in New Zealand and a great place to start your New Zealand vacation. Our detailed itinerary provides the best things to see in Auckland and has lots of photos so you can decide what you want to see.
Table of contents
Auckland
With its 1.4 mio inhabitants, Auckland is the most populous city in New Zealand. The greater metropolitan area has approx. 1.7mio people, of which 48% are of European origin, 32% have Asian heritage and about 2.5% are Māori.
In the local Māori language, Auckland is called Tāmaki Makaurau, meaning: Tāmaki desired by many, because of the plentiful natural resources and good geography.
Auckland is sometimes called the City of Sails because much of its borders are waterfront where you can find many sailboats.
Arriving at the Auckland Airport
Once you arrive in Auckland and have cleared customs and biosecurity, head to the rental car counters.
Important: There are rental car counters on the ground floor of the international terminal. Due to the devastation that Cyclone Gabrielle caused, those counters have been relocated to a location outside the terminal building. Follow the signs to get there.
Since the flights to Auckland are typically long flights, you will likely be exhausted, and you may not be used to driving on the left hand side of the road.
Our suggestion is to select a hotel near the airport. We particularly like the Heartland Hotel Auckland Airport.
Heartland Hotel Auckland Airport
This hotel is only a 5 min drive from the airport and therefore in an ideal location for an exhausted traveler. Check-in starts at 2pm and early check-in is subject to availability and, unfortunately, an additional fee.
Should you arrive early, our recommendation is to go shopping and have some lunch at nearby stores and restaurants.
From all the hotels we stayed in New Zealand in this price range, Heartland Hotel Auckland Airport was one of the nicest and it had the fastest wifi. Its breakfast buffet is enormous and yummy.
The rooms are clean and show very little wear. The hotel has a free airport shuttle.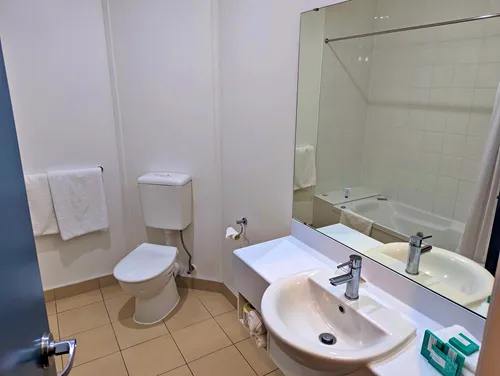 A short driving distance from the Heartland Hotel Auckland Airport are a couple of stores and restaurants.
Countdown
The Warehouse - Auckland Airport
Bakehaven café
Auckland Airport
Here are some recommendations:
Countdown is one of New Zealand's best grocery store chains and there is a good Countdown located close to the hotel.
Near Countdown is a The Warehouse - Auckland Airport store which carries mostly non-food items and also some packaged non-perishable foods.
For a late breakfast, early lunch, there are quite a few restaurants within easy driving distance. We like Bakehaven Cafe which is quite popular with locals and we even met some locals who sat only a few feet away from us on the plane that brought us from the US to Auckland.

Since you may still be exhausted or jetlagged, we propose to only visit one attraction today and that are the Auckland Botanical Gardens.

Auckland Botanical Gardens

The 160-acre (64 hectares) Auckland Botanic Gardens are a beautiful and well-maintained garden that showcases a diverse range of more than 10,000 plants from New Zealand and around the world. Every year, more than 1 mio visitors explore the themed gardens, including the Rose Garden, Herb Garden, Perennial Garden, Native Garden, etc. and the many statues they contain.
Admission and parking are free. The gardens are open daily from 8am to 6pm (April to September) and 8am to 8pm (October to March). The Visitor Centre is open daily from 8am to 4.30pm.

Self-guided walking tour of Auckland

There is plenty of paid and some free parking available in downtown Auckland. You can start your self-guided walking tour of Auckland at any of the stops below, in case you cannot find any parking near Sky Tower.
The following walking tour is about 3.1 miles (5 km) long.

Sky Tower

With a height of 1,076 ft (328 m), Auckland Sky Tower is the 2nd tallest structure in the southern hemisphere.
The entry to the Sky Tower is a bit confusing. You enter through the hotel entrance and then take the escalator to your right down into the basement where the ticket counters are. Should you take the escalator up, then you will come to a nice smoke-free casino.

At the time of writing, admission is NZD40 per adult. Discounts are available for two adult tickets, children, families and for tickets booked online.

Besides normal sightseeing from inside the observation deck, separate tickets are available for:
a guided walk around the outside of the 53th floor on a 4 ft (1.2 m) walkway
a jump from the 53rd floor
sliding down 610 ft (186 m) in clear tubes
lunch or dinner at the Orbit 360 degree Dining facility of the 52nd floor – the restaurant rotates 360 degrees
The elevator brings you to the 51st floor where you have great 360 degree views of Auckland. Another elevator brings you to the 53rd floor which is significantly less busy and has the same great views, but unlike the 51st floor, no explanations of what you can see are available. Stairs from the 51th floor lead to the café on the 50th floor, which also has great views.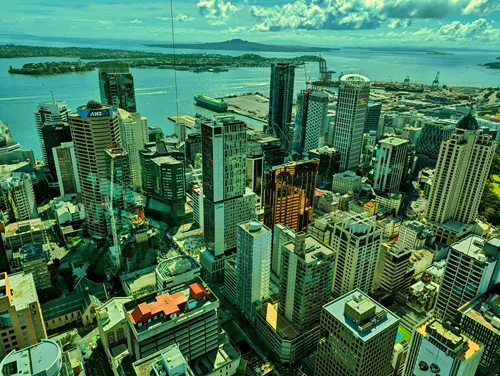 Exit the Sky Tower and turn right and go to Hobson Street. Make another right on Hobson Steet, follow it northbound for 2 blocks and then make another right and you will see your next destination.
Saint Patrick's Cathedral
The full name of this church is Cathedral of St Patrick and St Joseph, but it is usually called just called Saint Patrick's Cathedral.
It is the mother church of the Roman Catholic Diocese of Auckland and the cathedral of the Bishop of Auckland.
The British crown granted the land that the cathedral sits on to Auckland's first bishop in 1841, whose subjects were mostly Irish settlers.
The building that you see today dates from 1907. It replaced a stone church from 1848 that stood here, which itself replaced the original wooden church that was built on this site in 1842.
Exit the church and go back to Hobson Street and turn right. Walk north for three blocks and then turn left on Customs Street W. Follow Customs Street W westwards for one block and then turn right onto Market Place which will take you to your next destination.
Viaduct Harbour
Located at the site of a former commercial harbor, Viaduct Basin was redeveloped for the 2000 America's Cup which Auckland hosted and turned into Viaduct Harbour. The redevelopment created lots of upscale apartments, office space, bars and restaurants, many of which are quite expensive, and a beautiful waterfront. Viaduct Harbour attracts many tourists and locals, especially on beautiful sunny days and summer evenings.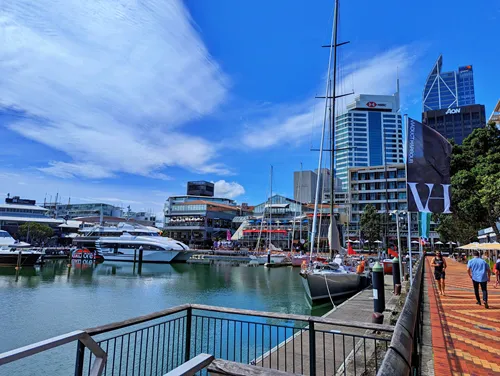 Follow the promenade to the right (east) and then left around the corner and you will see your next destination.
New Zealand Maritime Museum
The museum has a collection of 130 watercraft from model ships to fully operational ships focusing on ocean travel from Polynesians, Māori and European settlers to modern times.
I tells stories of different people who settled in New Zealand and has an interesting lighthouse exhibit.
At the time of writing, admission was NZD20 per adult with discounts for children, students, seniors and families.
There is also a 1h harbor sailing at 11:30am and 1:30pm on the Ted Ashby every Tue-Sun for an additional fee which includes museum admission.
Exit the museum and follow Quay Street to the east for a little over one block and you will see your next destination.
Ferry Building
The Auckland Ferry Terminal consists of the historic neo-baroque style Ferry Building and the modern Ferry Terminal building behind it.
The yellow historic building was built in 1912 and partly modeled after the San Francisco Ferry Building. Construction occurred on reclaimed land and the building was built using sandstone, brick and Coromandel granite.
It underwent an extensive renovation from 1986-1988 to bring it up to fire and earthquake safety codes.
Most ferry operations were moved to the new building when it opened in 1982.
Today, the ground floor of the building contains shops and cafes.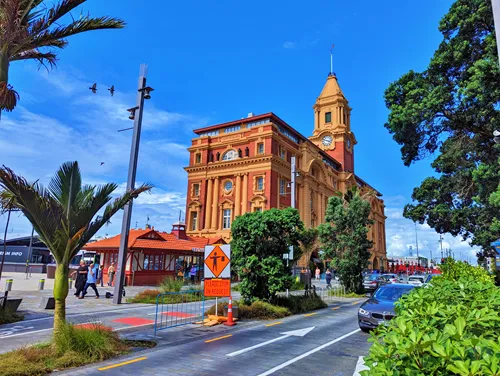 Across Quay Street is your next destination. To enter, backtrack to the traffic light and make a left on Lower Albert Street to access the Commercial Bay shopping mall.
Commercial Bay
By now, it is likely past lunch time and you may be looking for a place to eat. Directly south of the Ferry Building is a nice modern shopping mall with a large international food court on the second floor. Most of the restaurants are Asian, but you can also get real yummy Greek and non-Asian food.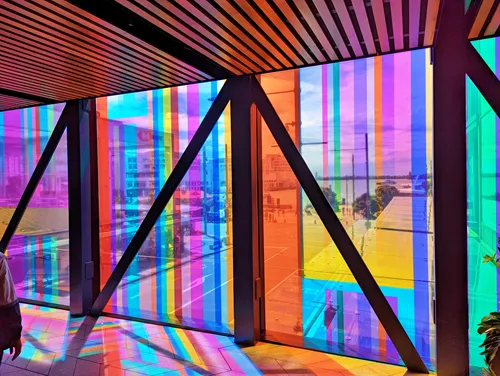 After you have enjoyed the food, exit the mall on the opposite (eastern) side on Queen Street. Enjoy people watching and street performers on the large plaza and then turn right onto Queen Street, which is your next destination.
Queen Street
Queen Street is Auckland's main shopping street. You can find lots of high-end to low-end stores, restaurants and cafes here. Stroll down Queen Street to get to the next destination on your self-guided walking tour of Auckland.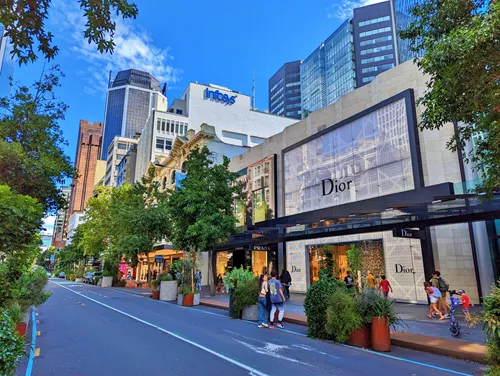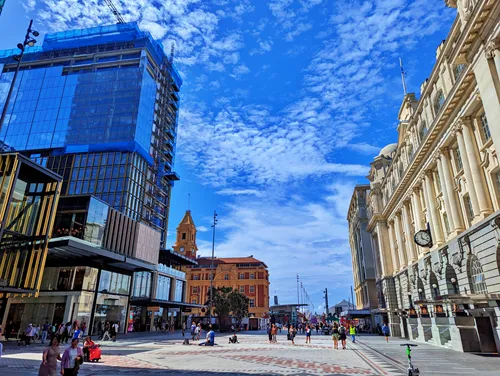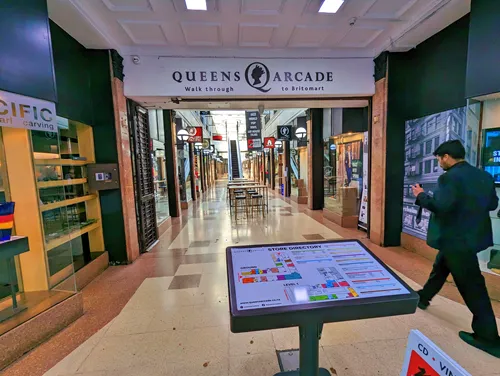 Follow Queen Street to the south until you come to Victoria Street E and turn left on Victoria Street E. The street ends after two blocks and from the traffic light you will see the path that goes uphill into the park. Follow it and don't worry, it is only a short walk up.
Albert Park
Albert Park was built in the 1880s on the site of the former Albert Barracks, which was one of Auckland's early European military fortifications. Remaining from this time is a rock wall made from volcanic stones. Two canons and statues are a reminder of the park's history. Before Albert Barracks, this site contained a Māori settlement and later Māori fortifications.
The layout of the park has not changed over the years and many of the trees date back to the time the park was created. Unfortunately, cyclone Gabrielle has uprooted some of them in February 2023.
The statue of Queen Victoria was cast in England and installed for her Diamond Jubilee celebrations in 1897.
Due to its proximity to the University of Auckland, you will likely see numerous students relaxing and learning in the park.
Underneath the park are the extensive Albert Tunnels which were built in 1941 as air raid shelters. Those tunnels were, however, sealed before the end of World War 2 and they remain sealed to this day even though there were some calls for their reopening over the years.
The park is on a hill, and you will need to climb up a paved path and stairs if you enter it from the west on Kitchener Street – the park itself, however, is fairly flat. From the north side of the park by the cannons, you will find some good views of Auckland.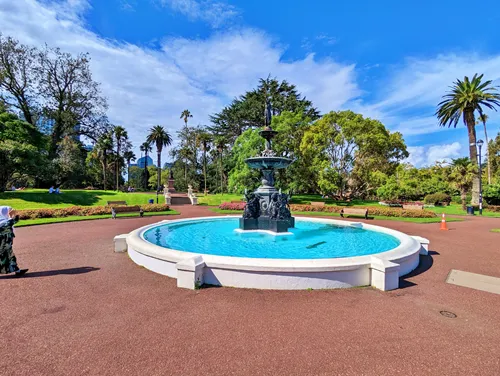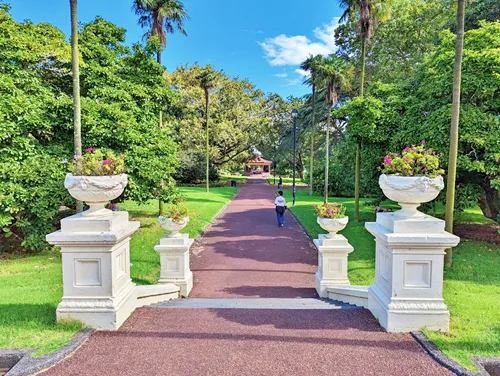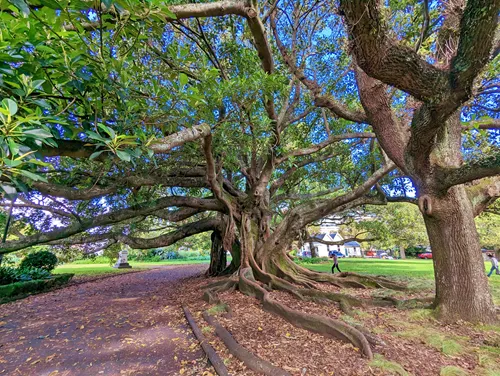 Exit the park where you entered it and trace your steps back to Queen Street. Turn left on Queen Street and walk for three blocks until you see your next destination.
Town Hall
The last stop on your self-guided walking tour and your second last stop in Auckland is the Auckland Town Hall.
Construction of the Neo-Baroque style Town Hall finished in 1911. It looks very similar to Lambeth Town Hall (Brixton Town Hall) in London which was built three years earlier, in 1908. The Great Hall, which seats up to 1,673 people and is said to have one of the finest acoustics in the world, is modelled after the Gewandhaus in Leipzig.
The Town Hall Organ is the largest musical instrument in New Zealand. It was built in 1911 and heavily modified in 1969 and 1970 to fit the musical style of that era. Unfortunately, several original parts were discarded. In 2008, it was dismantled and rebuilt to restore it to its original beauty and sound and once again made it the most powerful organ in New Zealand.
In 2016, Auckland Town Hall became the home of the Auckland Philharmonia Orchestra.
Unless you attend a performance inside the building, you can only see the building from the outsid
Now walk back to your car and drive to the next destination.
Mount Eden/Maungawhau
Maungawhau / Mount Eden is a dormant cinder cone volcano. Together with 13 other volcanic cones, it has important historic, spiritual, and cultural significance to the local Māori.
Māori legend says that the guardian of the earth's secrets and his brother, the god of earthquakes and volcanoes, created the volcanic field with the 14 volcanoes to punish a local tribe who used deadly magic from the earth to defeat an invading army.
Mount Eden formed about 28,000 years ago in a series of eruptions and its highest point is at 643 ft (196 m) above sea level, which makes it the highest natural point in Auckland. The crater is almost perfectly round with a diameter of approx. 490 ft (149 m) and a depth of 160 ft (50 m).
Because Mount Eden/ Maungawhau is of important spiritual and cultural significance to the Māori, the road that leads to the summit was permanently closed in 2011. Exceptions are only made for people with limited mobility. There is a parking lot with limited parking spots where you can park and then hike up the crater.
To protect the fragile fauna from the hordes of visitors, boardwalks on the crater rim and the access trails were established in 2020.
The view of Auckland and the crater from the boardwalk are spectacular and definitely justify your visit here.
Admission and parking are free.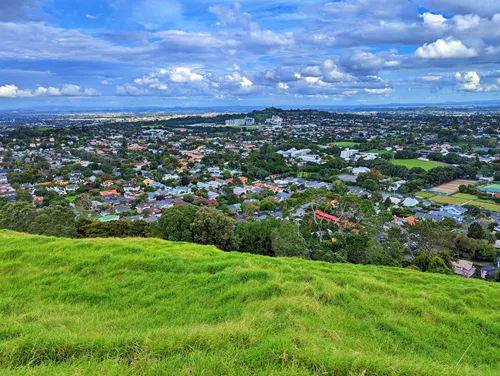 Which part of New Zealand do you want to visit now?
Other popular Purple Guides you may be interested in:
Like this Backpack and Snorkel Purple Guide? Pin these for later: