Travel Guide for Christchurch, New Zealand - New Zealand Purple Travel Guide
Christchurch is the second-largest city in New Zealand. We show you the best things to see in Christchurch and we provide lots of photos so you can decide what you want to see.
Table of contents
Christchurch
With a population of approx. 389,000 people, Christchurch is the second-largest city in New Zealand, after Auckland, and the largest city on New Zealand's South Island.
Maoris first settled here around 1250 AD and Christchurch became a city in 1856, which makes it the oldest established city in New Zealand.
The city's founder named the city after his alma mater, Christ Church College at the University of Oxford, England.
Christchurch is the fourth city in the world that was planned with a layout incorporating a central city square with four complementing city squares surrounding it and a parklands area that embraces the city center. The previous three cities that used this pattern are Philadelphia, Savannah and Adelaide.
Over the years, the city has suffered numerous earthquakes, but a series of earthquakes between September 2010 and January 2012 is forever engrained in the city's history and the minds of the people who live here. The most destructive of the quakes happened at 12:51pm on February 22, 2011 and resulted in the deaths of 185 people and the partial or complete destruction of thousands of buildings in Christchurch, turning the city into a gigantic construction zone for the following years - by late 2013, about 1,500 buildings were demolished.
Christchurch has one of the highest-quality water supplies in the world, which comes from naturally filtered water from the foothills of New Zealand's Southern Alps.
International Antarctic Centre
Christchurch has historically been an important location for the exploration of Antarctica. Robert Scott and Ernest Shackleton both used the port of Lyttelton, south of Christchurch, as a departure point for their expeditions.
The US Navy, US Air National Guard, and the air forces of New Zealand and Australia use the Christchurch Airport to supply the McMurdo and Scott Bases in Antarctica.
The International Antarctic Centre is a base facility for today's exploration of Antarctica, and it has a very good Antarctica museum that is open to the public.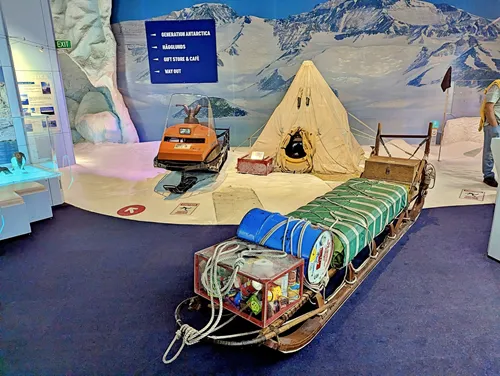 Besides the very good museum, which showcases the flora and fauna on the white continent and what is needed to survive, the cost of admission also includes:
360º HD Theatre
Right behind the entrance is a large dark room where continuously short films are projected on large and almost 360º encompassing screens. These short films are made primarily by filmmakers from New Zealand and they highlight Antarctica's natural beauty, importance, fragility and the climate science that is done here.

4D Theatre
You will get polarized 3D eyeglasses to watch a short film about Antarctica that will tingle your senses. Besides great 3D effects, you will be rocked in your seat, have mist and wind blown into your face, be snowed on, and feel something grabbing your legs. We thought this was an exciting and immersive 4D viewing experience.

Hägglund Field TripA short ride in an all-terrain amphibious Antarctic vehicle on a track that simulates the challenges of in Antarctica. While there is no ice and snow on this outdoor track, you will still feel what it is like to travel across the ice, up and down hills, over crevasses and through water.

Husky Zone
At Husky Zone you will meet two of these gentle and intelligent dogs and their owner. He will tell you about these dogs and you will be able to pet them.

Penguin Feeding
A main attraction of the International Antarctic Centre is the habitat for rescued penguins. A large board shows their names and their stories.
Feeding time is every day at 10:30am and 3pm. In our opinion, the best place to watch is from the downstairs pool auditorium as you can see the penguins from below the water's surface and above the water, if you are tall enough. There is also an outdoor viewing area that only allows you to see the above-water activities.

Storm Dome
You will be provided with winter jackets and show protectors before you go into a large snow-filled cold chamber that is cooled to 18F (-8C). There you can take photos in an igloo, on a snow mobile and a large thermometer.
All is good and then the wind picks, the lights dim a bit and the temperature drops to 0F (-18C), simulating an oncoming snowstorm. No snow will be blown at you, but the wind will chill you.
Self-Guided Walking Tour and Murals Tour of Christchurch
This Self-Guided Walking Tour of Christchurch also includes a short Murals Tour, as Christchurch has a large number of real beautiful murals.
Even though Christchurch has quite a few parking lots and street parking spots, it can be difficult to find parking. In the downtown area, almost all parking is paid parking. If you walk a few blocks away from downtown, then you will find free street parking.
You can start your self-guided walking tour of Christchurch at any of the stops below, if you cannot find any parking near Cathedral Square.
Cathedral Square
Cathedral Square is the geographical center of Christchurch and the heart of the city. In and around the square are numerous historical buildings and statues like the Christchurch Cathedral, Press Building, former Chief Post Office, Old Government Building, Citizens' War Memorial, Godley Statue, etc.
The square seems to always be busy and there are lots of vendors that sell everything from food to souvenirs.
Christchurch Cathedral
Christchurch Cathedral's cornerstone was laid in 1864, but budget restraints soon halted construction in 1865 and it took until 1881 for nave and tower to be consecrated. The chancel, transepts and apse were finished in 1904.
Over the years, the all-stone cathedral sustained damage in several earthquakes.
The disastrous earthquake in 2011, however, damaged Christchurch Cathedral badly – the spire was completely destroyed and the walls partially fell in. As a result, it was announced in 2012 that the church would be demolished.
Many locals objected to the demolition and in 2017, plans were changed to restore the ruins. More than ten years after the earthquake, this restoration work is still ongoing and the church is hidden behind a fence.
Murals (1)
Mural (2)
Chief Post Office
In 1863 it was decided that New Zealand's main post office would move from Lyttelton to Christchurch. Because Christchurch's post office, which was located at what is now Victoria Square, was too small, it was decided to build a new Chief Post Office at Cathedral Square.
The design that won and was subsequently built is Italianate with Venetian Gothic touches with pointed arches in the upper windows. A four faced clock turret clock with the coat of arms of the United Kingdom on the east face of the tower under the clock was added in the tower in 1879. The clock is an imitation of London's Great Clock of Westminster.
Like the Christchurch Cathedral, the Chief Post Office has suffered significant damage during the earthquakes in 2011. In 2018 it was announced that the building will be restored. This work is still ongoing.
Mural (3)
Bridge of Remembrance with Stone Arch
The Bridge of Remembrance is a stone bridge with an archway that was built to remember the fallen ANZAC soldiers. The bridge crosses the Avon river in the heart of Christchurch.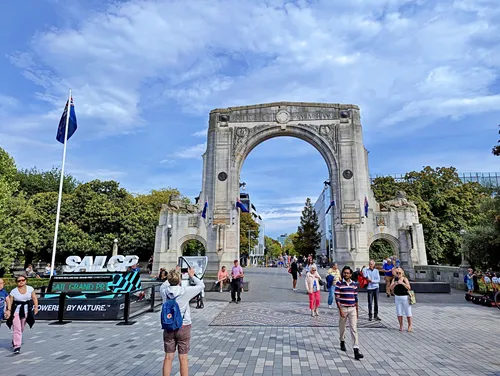 Riverside Market
Riverside Market is a fairly large and colorful food mall with lots of food stalls on the inside and several on the outside. This is a good place to eat lunch or dinner or just have an ice cream or people-watch.
Mural (4)
Mural (5)
City Mall / Cashel Mall
City Mall is a quarter mile (400m) stretch of Cashel Street that has been converted into a pedestrian street in downtown Christchurch.
Along City Mall are lots of stores, including souvenir stores, bars, and restaurants. Pedestrians share City Mall with the colorful Christchurch tram.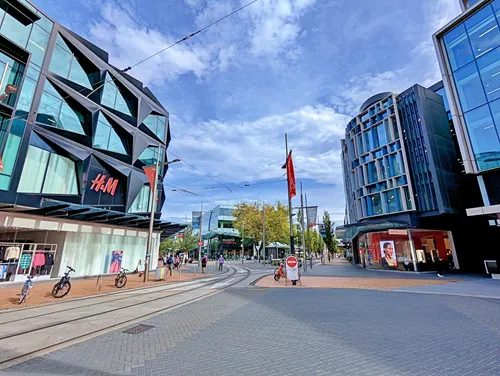 Mural (6)
Murals (7)
Piece of the Berlin Wall
This piece was donated to the city of Christchurch by the German embassy in Wellington. It is important to note that the wall piece is original, but the murals are recent creations by artists from New Zealand.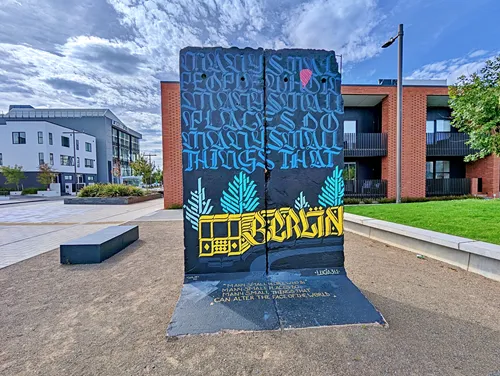 Cardboard Cathedral
After the 2011 Christchurch earthquake destroyed Christchurch Cathedral, plans were made to erect a temporary cathedral. A Japanese architect offered to design a sustainable cathedral for free and the result is the Cardboard Cathedral.
Materials used in the construction are wood, steel, ninety-six 24-inch diameter waterproof cardboard tubes, polycarbonate panels for the roof and a concrete slab as the foundation. The use of lightweight polycarbonate allowed for a lightweight and thus cheaper construction.
At the time of writing, it was the only cathedral in the world that was substantially made of cardboard. The environmentally conscious use of paper tubes as an architectural material has drawn praise from all over the world.
The cathedral holds up to 700 people.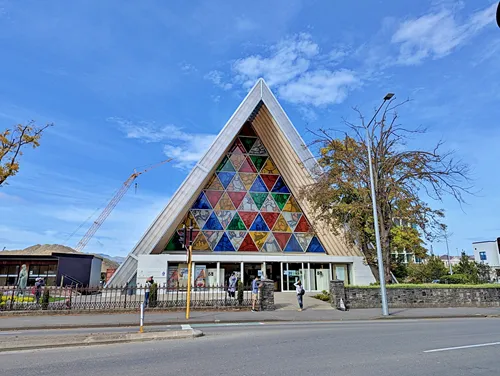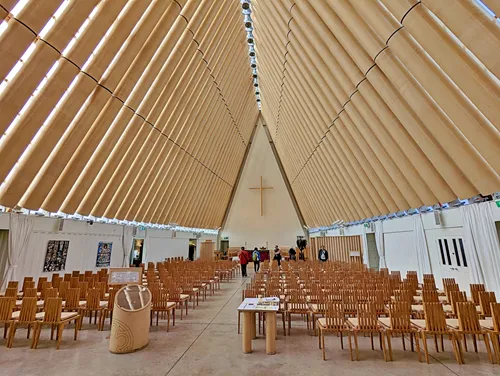 Latimer Square
The park right in front of the Cardboard Cathedral is Latimer Square. The park consists of a grassy area, tall shade-spending trees and a few walkways and benches. The interesting feature of the park is the Spires sculpture (map). This sculpture was created by the sculptor Neil Dawson in 2014, who was born in Christchurch in 1948. The sculpture is made of steel rods and seems to float weightlessly at tree height above the lawn.
Dawson designed the sculpture after the spire of Christchurch Cathedral which was destroyed in the 2011 earthquakes.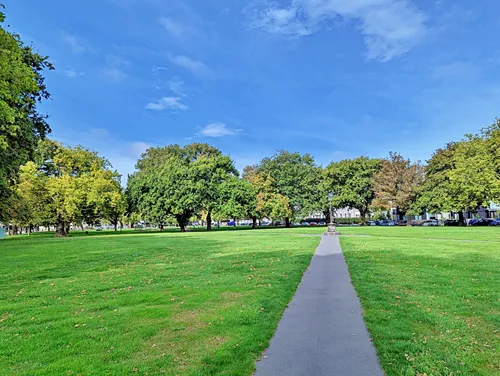 Edmonds Clock Tower
This design of the Edmonds Clock Tower was inspired by the older Diamond Jubilee Clock Tower (N), but the design really is a free style with a touch of Gothic. The foundation stone was laid in 1929 and, as building materials, volcanic rock and limestone were used.
Each side of the tower reflects a certain theme: Charity, Faith, Hope, and Peace.
If you look closer, you can see several cracks and it is said that the top section had moved.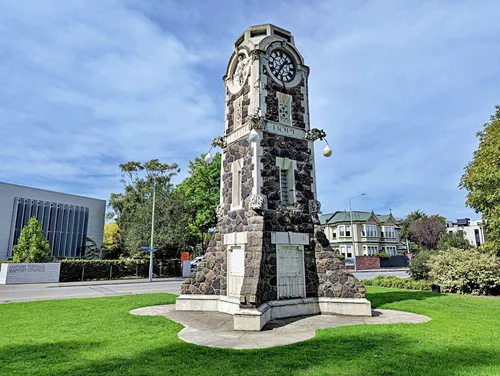 Margaret Mahy Family Playground
Even if you don't visit Christchurch with kids, the Margaret Mahy Family Playground is a worthwhile stop to watch kids play, to buy some ice cream or to visit the free public restrooms that talk to you and play music while you do your business.
The playground is named after Margaret Mahy who was a world famous children's book author who passed away in 2012.
The playground is likely the largest playground in the Southern Hemisphere. There are bouncing slides, climbing towers and nets, flying fox squirting, picture swings, and a small water park.
185 Empty Chairs
This monument was moved here a few years ago and many guides and maps still have it listed at its old location.
The 185 Empty Chairs monument commemorates the 185 people who died in the February 22, 2011 earthquake.
On the first anniversary of the quake, local artist Peter Majendie set up 185 white painted chairs at their original location, the demolished Oxford Terrace Baptist Church.
In October 2012, the exhibit moved to the location of the demolished Saint Paul's Church, where 115 people died.
The chairs are of many differing styles and types reflecting the different personalities of 185 victims.
Peter's idea was an homage to Vincent Van Gogh's painting of chairs.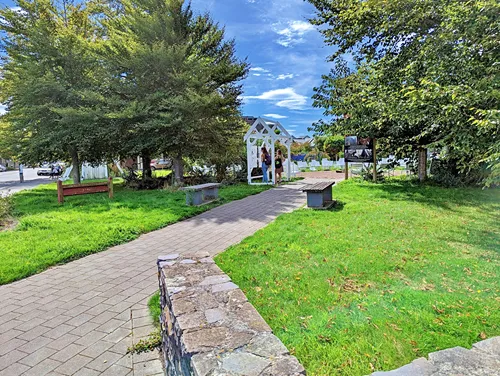 Christchurch Town Hall
Right next to Victoria Park lies Christchurch Town Hall.
Established in 1972 and originally known as The Christchurch Town Hall of the Performing Arts, it is the city's premier performing arts center.
This venue hosts a wide range of performances, including orchestral concerts and recitals, opera, ballet and dramatic productions, musical comedy, variety, folk, rock, and jazz concerts. Conventions and conferences, civic functions, as well as local cultural and commercial events are held regularly at the Town Hall, too.
The 2,500-seat auditorium is known for its excellent acoustics.
As with Christchurch Cathedral, the building sustained significant damage in the 2011 earthquake and was initially recommended for demolition, but later it was decided to rebuild the entire hall.
Mural (8)
Diamond Jubilee Clock Tower
In the past, it was a custom in the British Empire to build Jubilee clocks to commemorate the Golden and Diamond Jubilees of various British monarchs.
This Diamond Jubilee Clock Tower was built for the Diamond Jubilee of Queen Victoria. It is made from volcanic stones and limestone with ornate wrought iron and colored glass and two white marble plaques and one bronze plaque are set above the arches.
Victoria Square
The original name of Victoria Square was Market Square as Māori people came here to offer their produce. To remember this, a 20 ft high totem was erected on the square in 1994.
The square was Christchurch's commercial center in the early days. The Post Office, various markets, the Police Station, Women's Prison, an animal pound, store houses and Immigration Barracks were located here.
In 1852 a simple bridge was built over the Avon River and named: Market Place Bridge. This bridge was then replaced in 1864 with a bridge made of iron and stone. This bridge still stands today. In 1989 it was renamed to Hamish Hay Bridge from Queen Victoria Bridge.
The statue of Queen Victoria was unveiled in May of 1903 and the square renamed to Victoria Square.
Near the statue of Queen Victoria stands the Mana Motuhake monument, which was created by Ngāi Tahu master carver Fayne Robinson and features two upright waka. It is an artwork that honors the signatories of the Treaty of Waitangi.
The park also has:
a Floral Clock which is created from 7,000 plants each spring and fall
the H.L. Bowker Fountain, designed by Victor Dean in 1931
a marble statue of Captain James Cook, made by William Trethewey, commemorating his three voyages to New Zealand
New Regent Street
New Regent Street is a one block pedestrian mall lined with pastel colored Spanish Mission style houses through which tracks for the Christchurch Tram lead. The street is lined with cafes, restaurants and touristy stores.
The cafes and restaurants on the eastern side of the street typically have one row of outdoor tables. It is fun to sit there as every once in a while, you will have the Christchurch Tram drive by only a few feet from your table.
The street was built in the late 1930s and originally had 40 shops. The name Regent Street was proposed as a reference to Regent Street in London. Since there already was a Regent street already in a suburb of Christchurch, the name was changed to New Regent Street.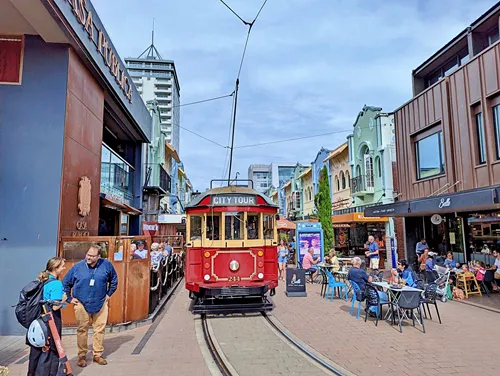 Do you like Jaffas? The quintessential New Zealand orange flavored chocolate balls with the red-orange coating?
Well, there is a milk shake bar that makes Jaffa Smoothies – or as I call it: the ultimate Jaffa taste explosion. The name says it all!
Mural (9)
Mural (10)
Murals (11)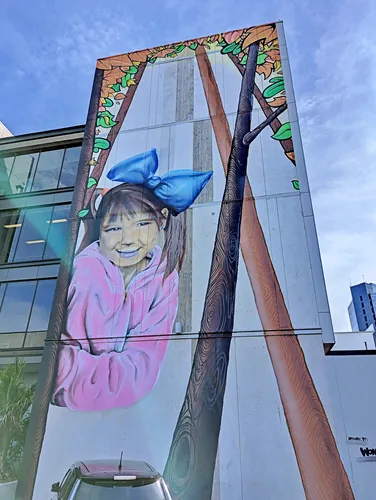 Isaac Theatre Royal
The Isaac Theatre Royal is New Zealand's only operating Edwardian Theater. The theater you see today was built in 1908.
It is the third Royal Theatre on Gloucester Street since the original Canterbury Music Hall opened in 1861. The name has changed 3 times and the last name change occurred during the renovation of 2005 when the Theatre Royal became the Isaac Theatre Royal. The new name was in honor of Lady Diana Isaac, who was a long-time generous patron of the arts in New Zealand.
Mural (12)
This is the end of your self-guided walking tour of Christchurch. You can now walk back to your car or go to one of the parks or restaurants to relax a bit from all the walking and discovering you did today.
Swim with Dolphins
Do you want to swim with wild dolphins? Hector's dolphins are the only dolphin species that is endemic to New Zealand. Small group tours leave every day for a dolphin adventure. If the dolphins are in the mood, then you can swim with them.
A wetsuit, mask and a hot beverage are provided. You need to be able to swim as life jackets are not provided.
The tour company has hot showers at their facility on land.
Christchurch Botanic Gardens
We started our New Zealand adventure with the Auckland Botanic Gardens, and we will finish it with the Christchurch Botanic Gardens.
The Christchurch Botanic Gardens were founded in 1863 with the planting of an English oak tree to commemorate the marriage of Princess Alexandra of Denmark and British Prince Albert.
Today, the gardens covers 52 acres (21 hectares) and showcases a large variety of exotic and native plants of New Zealand.
Parking and admission are free.
Start your tour at the visitor center, which includes a gift shop, a small museum, and a café with indoor and outdoor seating.
An interactive Seasonal Highlights Map on their website shows in which sections of the garden you can see flowering plants and it shows the walking trails in the park.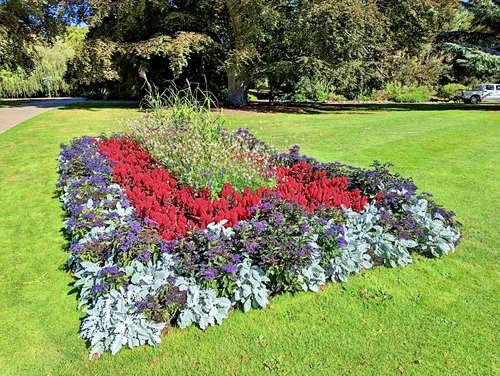 If you can't get enough, on the northern border of Christchurch Botanic Gardens begins Hagley Park North with its serene Lake Victoria where the Model yacht Club has its club house, and you may see their members operate their model boats.
Which part of New Zealand do you want to visit now?
Other popular Purple Travel Guides you may be interested in:
Like this Backpack and Snorkel Purple Travel Guide? Pin these for later: