Travel Guide for Picton and the Marlborough Region, New Zealand - New Zealand Purple Travel Guide
"The Marlborough region is New Zealand's top wine producing region. We tell you about the wineries and what you need to know when you arrive via the ferry from Wellington. As always, we provide lots of photos so you can decide where you want to go.
Table of contents
Picton
Due to its protected harbor which connects the South Island by ferry to Wellington on the North Island, Picton is a major transportation hub in New Zealand. The town itself has 4,500 inhabitants, making it the second largest town in the Marlborough Region.
Ferry from Wellington
When you arrive at the Picton ferry terminal, get your luggage and then exit the building. The rental car agency huts are right outside the terminal by the parking lot.
Here is an important watch-out: All the rental car counters in Picton open at 11:30am! If you need to get on the road before that time, you are most likely screwed. We had rented with Hertz and we arrived at the Hertz counter at around 10am. Luckily, some other unhappy travelers had already called Hertz to complain about the late opening time and, for some reason, the Hertz agents felt obliged to come to the office (agents from other rental car agencies did not) and they were able to process some of their customers. They could, however, not help us, because the incompetent agent in Auckland did not feel the need to enter the correct date of our ferry sailing into the system. Since the weather was very nice, we spent some time in the nearby Picton Memorial Park until 11:30am.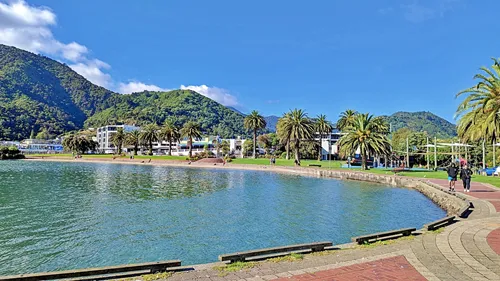 Marlborough
The first commercial vineyards started operating in the Marlborough Region in 1973.
Today, the Marlborough Region is New Zealand's largest and internationally most well-known wine-producing region. About 75% of New Zealand's wine is produced here.
The reason for its popularity is the strong contrast between hot sunny days and cool nights, which provides the wines with more intense flavors and aromas.
The most widely planted grape in Marlborough is Sauvignon Blanc, which some think is the best in the world.
Today, we will drive through the Marlborough Region where we will see lots of vineyards beside the road for a long time. And, of course, you can stop at one or more wineries for wine tasting and maybe some food. Most wineries offer wine tasting and a restaurant.
Cloudy Bay Vineyards
Cloudy Bay Vineyards are one of the more popular wineries. Established in 1985 as one of the earliest wineries in Marlborough, Cloudy Bay Vineyards have an international reputation for their white wines and especially for their Sauvignon Blanc.
Cloudy Bay Vineyards offer wine tasting and have a restaurant on site. As they have a very good reputation, you may find yourself in a long line waiting to be seated for the wine tasting or restaurant.
Allan Scott Family Winemakers HQ
Allan Scott planted some of Marlborough's first vineyards in 1975. He exclusively grew grapes for many years and became the first independent winemaker in Marlborough in 1990.
Allan Scott is a family business and their main grapes are Sauvignon Blanc, Chardonnay, Riesling and Pinot Noir.
Allan Scott Family Winemakers is directly across the street from Cloudy Bay Vineyards and usually much less busy.
They have a bistro and here you can do a non-traditional wine tasting. In the tasting room are three machines with 8 different wines each. You will get a purchasing card and a wine glass. Using the card, you can fill each glass with a small, medium or large volume of the wines of your choosing. Try as many as you like. Unlike a traditional wine tasting, you have no designated host, but you get a brochure with information about the different wines. If you want to know more, you can always ask the host who is responsible for all guests in the room.
Which part of New Zealand do you want to visit now?
Other popular Purple Travel Guides you may be interested in:
Like this Backpack and Snorkel Purple Travel Guide? Pin these for later: