Travel Guide for Puerto Penasco - Puerto Penasco Purple Travel Guide
Puerto Penasco is a popular vacation destination with miles of beautiful sandy beaches where the Sonoran Desert meets the crystal clear water of the Sea of Cortez. It is also called Rocky Point and sees about 2.5 million visitors annually. Located only about 60 miles (100km) south of the Mexico-Arizona border, it has become an important vacation destination for people from Arizona who sometimes call it Arizona's Beach.
We have added lots of photos so you know what you will see.
Puerto Penasco is dominated by large and small condominium buildings that line its beautiful sandy beaches. Only few hotels are offer accommodation and your best chance to stay here is by booking a condo through Airbnb, VRBO or the hotel booking websites.
Table of contents
Why should you visit Puerto Penasco?
Puerto Penasco has sandy beaches and crystal clear water and a dry climate year round.
English is widely spoken and the US dollar is widely accepted, but you get upcharged on the exchange rate. Many vendors accept credit cards and it is possible to spend time here without ever touching any Mexican pesos.
Unlike many other top tourist destinations, Puerto Penasco is best reached by car, as the local airport is accessible by small private planes and not serviced by commercial carriers. Due to its proximity to the US, Puerto Penasco can be easily reached by car. It only takes about 4h to drive from Phoenix to Puerto Penasco.
So, if a beach vacation is what you crave and you prefer English and credit cards and Mexican flair, Puerto Penasco may be exactly what you need.
When is the best time to visit Puerto Penasco?
Puerto Penasco can be visited year-round. Its location in the driest part of the Sonoran Desert almost guarantees good weather. In summer, severe weather from the Pacific Ocean or even fringe weather from Pacific hurricanes may reach Puerto Penasco and can lead to heavy downpours. On those occasions flooding is common and some compacted dirt roads may temporarily become impassable or even get damaged. Power outages caused by those storms are common.
In general, July through September are the hottest months with daily high temperatures above 94F (35°C). Daytime activities notably slow down during that time and some stores and activities are closed.
On the other hand, November through April see nighttime lows below 60F (15°C).
Sea temperatures are above 77F (25°C) and thus suitable for swimming from July through October and can drop to a chilly 61F (16°C) in February.
Taking all this into account, the best time to visit Puerto Penasco for a beach vacation is from July through October.
The climate you can expect in Puerto Penasco is shown here:
How to get to Puerto Penasco?
Puerto Penasco has a small local airport that is suitable for private planes. It is not an international airport and it is not services by commercial carriers.
Therefore, your best bet is to get here by car. You can drive your own car, rent a car or take a shuttle from the Phoenix airport.
For the first two options, your car must have Mexico insurance.
Mexico insurance is mandatory for the "free border zone". The free border zone is normally defined as the 12-16 miles (20-26 km) from the border, but it extends to Puerto Penasco and all the way down to San Carlos and Guaymas.
If you drive your own car, check with your car's insurance company. Otherwise, there are plenty of agencies in Ajo, AZ, Why, AZ and we have also seen signs for Mexico Insurance agents in Lukeville, AZ near the border.
If you get a rental car, then make sure that your rental car company allows their cars to be taken into Mexico. At the time of writing, Dollar, Hertz, Alamo and Enterprise at the Phoenix Airport allowed that and it is possibly that other rental car agencies allowed that too, but we did not verify that.
In all cases, do you have to buy the Mexico insurance from the rental company. The cost for a mid-size car was approx. $25-$40 per day.
There are also shuttle transfers from the Phoenix Airport. Here are links to some providers – we have not used any of them:
Directions and useful tips for crossing the border into Mexico
If you drive to Puerto Penasco, please be advised that the Lukeville border has reduced opening times. In 2021, the border is open from 6am to 8pm sharp.
Especially after public holidays, wait times at the border can be 3-5h and if you are in line but don't get processed by 8pm then you will need to wait until the next day.
Border wait times and traffic can be found here:
Our experience crossing from the US into Mexico
At the border, there was no exit control on the US side and we drove directly to the Mexican border guards. They waved us off to the left and a friendly lady first asked if we speak Spanish and then asked if the 2 soldiers who were with her could search our car. Of course, we consented. The search took about 1min and everybody was very courteous.
Our experience crossing from Mexico into the US
As we were early, we only had 1 car in front of us. The friendly border guard took our passports, asked us where we were going to and then waved us through.
Once you cross the border into Mexico, you will enter the town of Sonoyta. Some people call the town of Sonoyta the largest speed trap on the planet and accuse the police of being corrupt.
It is true that if you go over the speed limit (even by 1 km/h = 0.5 mph) or if you do not wear a mask in your car during COVID (if there is more than 1 person in the car) then you will be ticketed.
Here are some tips for a hassle-free drive through Sonoyta
If you obey the speed limit and the Covid mask mandate (please check if there still is one) then chances are close to 100% that you will not be stopped.

We drove through Sonoyta twice before 7:30am and we only saw one police car. If you come after 8am, then chances are that there will be a lot more police cars checking your speed.

Gasoline is more expensive in Mexico than in the US. So, gas up in Ajo, AZ or Why, AZ before you cross into Mexico.
The speed limit in Sonoyta is:
Most of the way through Sonoyta: 40km/h = 25mph.

You drive 41km/h or more and you risk getting a speeding ticket.

The speed limit going over speed bumps is 12km/h = 7mph.

About 2/3 of the way through town comes a 20km/h = 12mph speed zone. Be careful, the 2 is scratched off and barely visible.
There are several Stop or Alto signs. You must come to a full stop for 3 seconds, look left and right and then you can continue.
The drive through Sonoyta took us 14min.
We were tailgated and passed by several locals who were driving very fast, probably more that 40mph instead of below 40km/h. Unfortunately that is normal and these people will not get ticketed. Just disregard them and don't let them push you. If you speed to, chances are that you will get a speeding ticket.
It may be difficult to monitor your speed on your odometer. I downloaded an app that displayed my speed in km/h to ensure that I stayed below the limit and it worked very well. It is very important that the driver does not touch the cell phone while driving, so mount it on your dashboard.
The best free GPS Speedometer that I have found for my Android phone is from HAonesoft Tech. I installed it and set it to km/h. Unlike many others, it does not need an internet connection and it does not make itself useless with nonstop ads. The icon for the app shows the number 94.
Some rules if you get stopped for speeding:
Even though the police commissioner is fighting against police corruption, there are still reports of police who stop motorists and demand payments on the spot. This is illegal.
If you are stopped for speeding, police must bring you to the police station where you pay the fine. Paying the fine at the police station will get you a 50% discount and it should not take more than 10-15min. On the other hand, the money that corrupt cops demand is always higher than what you pay at the police station. Unfortunately, many tourists pay those corrupt cops and thus encourage corruption. Please don't be one of those. Obey the law and if you get stopped for speeding, do the right thing.
Should you be approached by a corrupt cop: try to call the Sonoyta police chief (+52-811-660-2530) or the police department (+52-651-512-1775) or Sonoyta's corruption hotline (+52-651-512-0243) – the police chief speaks good English. If that is not possible, do it afterwards to get those people fired. Try to get their name, description or license plate number of the police car.
The rest of the drive to Puerto Penasco should be uneventful. The speed limit is either 80 or 90km/h and it goes down to 60 is some places.
Where to stay in Puerto Penasco?
This question is actually fairly difficult to answer. If you are here for a beach vacation, our advice is to find a condo on the beach that you want to spend your time on, or book one of the few hotel rooms near public beach access. This is important as condo buildings or private homes often block access to the beaches and public parking near beaches can be difficult to find. Condo buildings often only have gated access and if you don't stay there, then you cannot get in. Should you find a public parking spot, then getting to the beach from your parking spot can involve walking long ways.
Just a reminder: all beaches are public and free to use. Parking near the beach, however, may be non-existent or charged. In residential areas, there are often narrow passageways between houses that you can use to access the beach.
Where we stayed:
Casa Blanca Golf Villas
There is basically no wrong place to stay on Sandy Beach. Most condo buildings have more than one pool, some have lazy rivers (which are often not operated year-round), and other amenities. Only very few allow dogs.
Casa Blanca Golf Villas is one that allows dogs and it has a unique layout. It is recessed from the beach and its buildings are built around a central mini golf course. The design ensures that all condos have ocean view. Two of the swimming pools are by the buildings while one is close to the beach. The grounds are well maintained and they even have barbeques for the exclusive use of condo owners and their tenants.
We had condo B302 which is absolutely beautiful and well maintained. Condo B302 is a 2 bedroom, 2 baths condo which is located on the third floor (which is the top floor) of the B-building.
It comes with arched doors, a kitchen with granite countertops, a stove, America sized side-by-side fridge/freezer, dish washer, toaster, coffee machine and Keurig machine.
You can see the Sea of Cortez from the king size bed in the master bedroom. The second bedroom faces the public hallway at the backside of the building.
Next to the kitchen is the dining room and then comes the living room which opens to the balcony which overlooks the palm tree lined mini golf course and the Sea of Cortez.
There are a TV and some journals and books in the living room. Mini golf clubs and balls and beach chairs are provided by the owner.
The balcony was our favorite place to eat breakfast, lunch and dinner.
You cannot hear the waves from the balcony and it is about a 500ft (150m) walk to the beach. What we enjoyed more than we originally thought was the ocean view over the palm trees and the moon reflecting off the ocean behind the palm trees at night. Especially at night, the beautifully lit palm trees and walkways with the black ocean in the background look fantastic.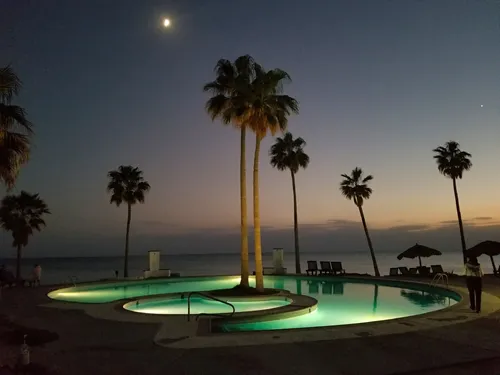 Sand Mar Hotel
The Sand Mar Hotel (price & availability) is a short 5min walk from Playa Bonita, which is one of the most popular beaches in Puerto Penasco on the eastern end of Sandy Beach.
The hotel has a modern décor, a quiet and efficient A/C, a TV and our room had two beds with fairly hard mattresses. The bathroom had a modern shower with a rain showerhead and soap bars and shampoo were supplied.
The hotel does not provide breakfast, but there are several restaurants in walking distance.
There is also a pool and ample parking for hotel guests.
Best beaches in Puerto Penasco west of Downtown
Puerto Penasco and its neighboring small beach towns have miles and miles of beaches. Most of them are sandy, but some are rocky. Almost all beaches have some areas where ancient volcanic rocks peek through the sand and you may need to walk over them to get into the water. This is often no problem, and water shoes can be helpful for people with sensitive feet.
Even though they are located on the same strip of sand the name of a beach often changes when it transitions into a different neighborhood.
Sandy Beach (Playa Arenosa)
The best beach for sunbathing and swimming close to town is Sandy Beach (Playa Arenosa). Sandy Beach is a 3.5 mile (5.5 km) strip of sand west of downtown Puerto Penasco. The western part is sometimes called Playa Hermosa and the eastern part near the Playa Bonita Resort is called Playa Bonita.
Sandy Beach is dominated by condo buildings and beach access is limited because the condo buildings have gated access and there is no or very limited public parking.
The beach is clean and almost everybody you see here stays or lives at one of the resorts.
Ocean current here is typically not very strong and the beach slopes gently making it suitable for children to swim here.
Some areas have rocky areas in the sea floor, but they can typically be avoided by walking or swimming short distances to the right or left.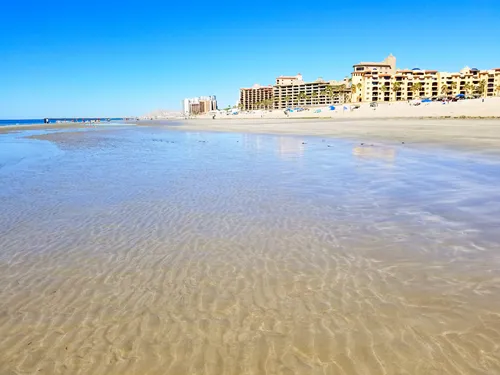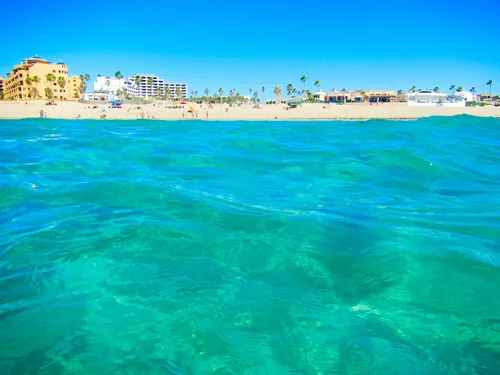 Playa Bonita
Playa Bonita is one of the most popular beaches in town and there are free parking lots and many restaurants and bars near Playa Bonita.
The beach is a fairly clean, but not as clean as nearby Sandy Beach. Ocean current here is typically not very strong and the beach slopes gently making it suitable for children to swim here. Some areas have rocky areas in the sea floor, but they can typically be avoided by walking or swimming short distances to the right or left.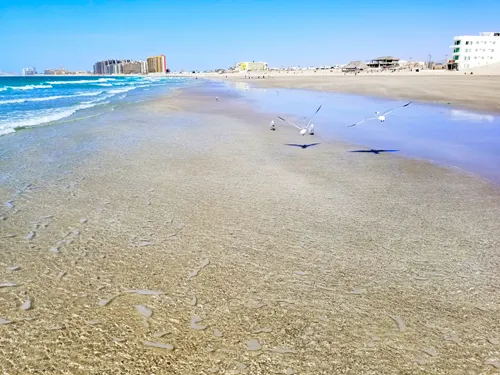 There are lots of beautiful sea shells to be found here.
Best beaches in Puerto Penasco east of Downtown
Mirador Beach (Playa Mirador)
Another good beach is the 6.5 mile (10.5 km) strip of sand east of Puerto Penasco's El Malecon.
It starts in the west with Mirador Beach (Playa Mirador), where popular Manny's Beach Club is. There is free street parking here.
To the west you can see black rocks which are popular with pelicans. To the east, the rocky area ends and gives way to a sandy beach which stretches on for more than 6 miles.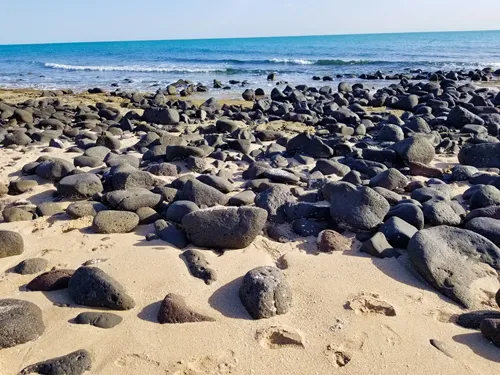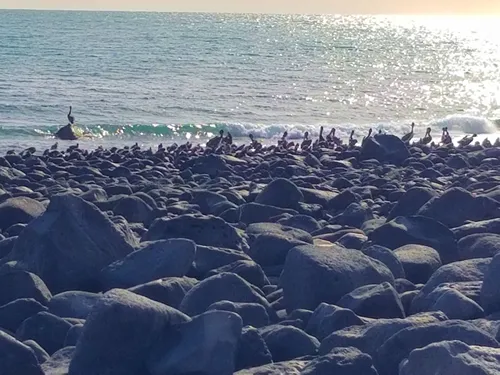 If you go further east then you come to Mi Playa. Mi Playa can be accessed by a dirt road and it is significantly less busy than Mirador Beach.
Las Conchas Beach
Continuing east, you will come to Las Conchas Beach with Playa del Este. This long sandy stretch of sand is dominated by single story town homes. Parking here is very limited as there are all private residences here. There is some street parking at Playa del Este.
You will mostly find people who live in the private residences on the beach here. The beach is similar to Sandy Beach.
Playa Encanto
Another beautiful beach is Playa Encanto which has the Estero Morua at its western end. Unfortunately, access to this beach is very limited and you will either live or rent a condo here as there is gated access, or you have to find a parking spot right before the access gate and then walk to the beach.
Generally, this beach is very similar to Sandy Beach, but there do not appear to be any rocky areas. If you stay in a different part of town and drive here, keep in mind that there are no services or public restrooms on Playa Encanto.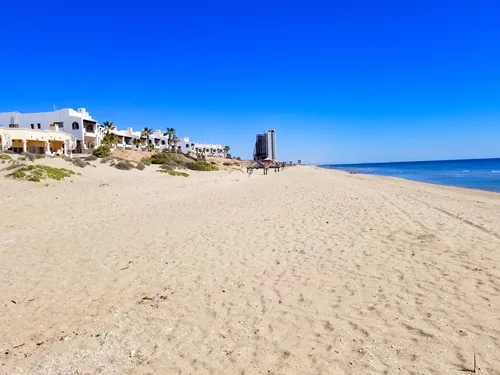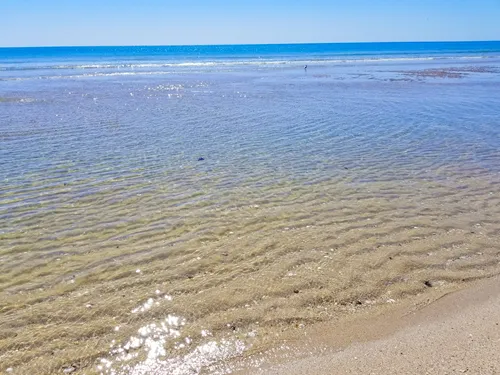 Punta Pelicano and Playa Pelicano
Pelican beach at the far western end of the Puerto Penasco area is accessible by a good compacted and wide dirt road from Sandy Beach. If you are into horse-back riding, then you should see several riding companies on your drive here.
Punta Pelicano is basically a wide pile of rocks near the lighthouse where you can see pelicans and watch the sunset. There is some free public parking here, but I did not see any signs pointing you where to go. Just use google maps and don't hesitate to take the narrow path between 2 houses near the tall dirt pile.
A short walk from here is Pelican beach, which is another rocky outcrop with more sand than Punta Pelicano.
There are other beaches that google maps shows, like the one near Eagle Village to the north, the beach near the Mayan Palace to the east, etc. Be advised that those are developments with gated access and the gates may be miles from the beach.
Is there any good snorkeling in Puerto Penasco?
The water in Puerto Penasco is clean and some of the sea floor has ancient volcanic outcrops. Those are the rocks you may need to walk over to get into the water.
The sandy seafloor only attracts uncolored mostly small fish, but the rocks harbor more diverse sea life. Some of those fish are uncolored and some have brown or grey stripes. But fear not, there are some yellow fish too, like Sergeant Majors and some other yellow fish. But they are much rarer. If you swim a bit further out, you will encounter sea grass in some areas and there you will find more Sergeant Major fish and generally older and bigger fish. But what you see here will not compare to the color explosion of the sea life you may have seen in the Caribbean or French Polynesia or the Cook Islands.
Please see the video below to get an idea of what you can expect.
Other things to see in Puerto Penasco
El Malecon
The Malecon is the touristy heart of Puerto Penasco. There are lots of stores, restaurants and bars, but parking can be hard to find especially during events like the concerts etc.
There is no usable beach here, but you have wonderful views on Sandy Beach.
Avenida 32 shopping
If the Malecon is too busy or you want to do souvenir shopping closer to Sandy Beach, then Avenida 32 is likely what you need. This short stretch of Avenida 32 has lots of souvenir stores and some restaurants and it never seems to be too busy.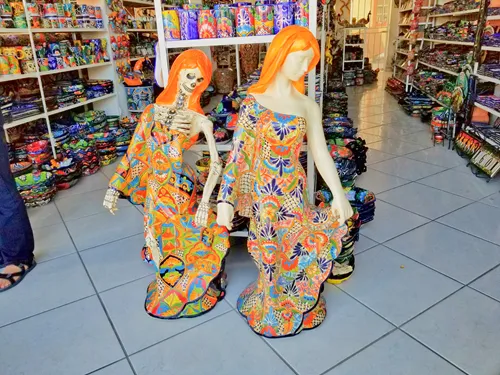 Snorkeling with Sea Lions
Even though there are not too many colorful fish in the waters of Puerto Penasco, snorkeling here can still be exciting. There are several tour providers that bring you to e.g. Isla San Jorge for snorkeling with sea lions.
Some tour providers that we are aware of are shown below; we have not used any of them (links in our Puerto Penasco Purple Travel Guide):
DelMar Charters

EcoFun Adventures

Santiago's Ocean Services

Yiyi Tours RP
Other popular Purple Travel Guides you may be interested in:
Like this Backpack and Snorkel Purple Travel Guide? Pin these for later: