Travel Guide for Lake Tekapo, New Zealand - New Zealand Purple Guide
The Church of the Good Shepherd on Lake Tekapo with blooming lupine fields is a top instagrammable spot in New Zealand. We show you the best things to see in Lake Tekapo and we provide lots of photos so you can decide what you want to see.
Table of contents
Drive to Lake Tekapo from Hokitika on the West Coast
Today, you will be driving through new Zealand's Southern Alps to Lake Tekapo. That means you will drive through mountainous terrain for much of the day. You will be driving up winding roads up and down the mountains and through green pastures between the mountains. Gas stations are a little sparser in this area than normal, so make sure you leave Hokitika with a full tank.
There are several scenic stops during your drive.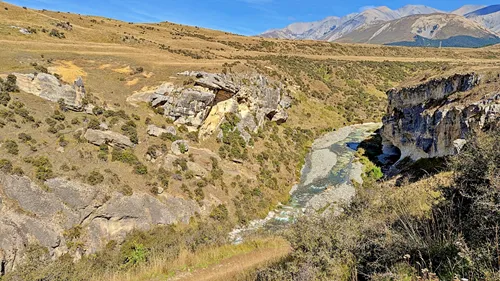 Otira Viaduct Lookout
The Otira Viaduct is a 1,440 ft (440 m) four-span viaduct which was completed in 1999. It carries State Highway 73 over some unstable land which formerly carried a narrow, winding, and dangerous road that was prone to avalanches, and closures.
From the Lookout, you have wonderful views of the bridge and valley.
Arthur's Pass Scenic Lookout
Arthur's Pass National Park is a mountainous park that is known for its hiking trails and beautiful scenery.
State Highway 73 passes through a part of this park and has a scenic pullout near the Waimakriri River called Arthur's Pass Scenic Lookout.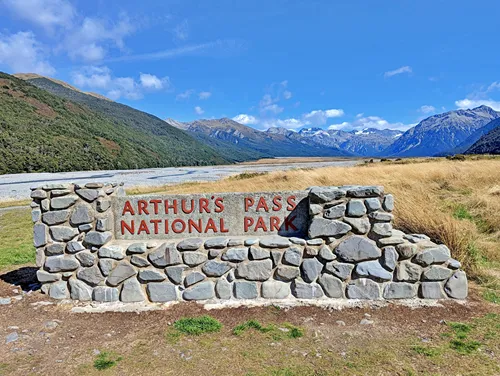 Cave Stream Scenic Reserve
Cave Stream Scenic Reserve protects the Cave Stream (also known as Broken River Cave), which is a 1,949 ft (594 m) long cave.
It is a popular site for passing tourists who want to stretch their legs, rest or picnic. There is a short scenic track that you can take.
Others come here to explore the cave.
Please be advised that it can be dangerous to enter the cave in spring or during or after heavy rains - drowning deaths have occurred. You will absolutely need a flashlight as the cave is undeveloped.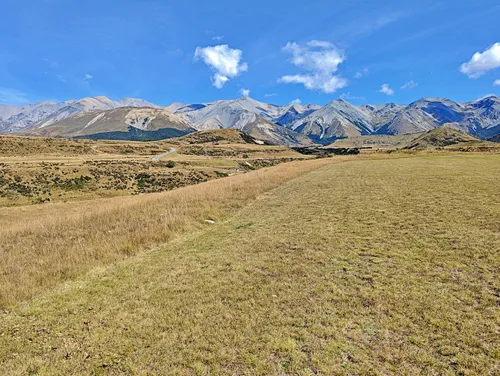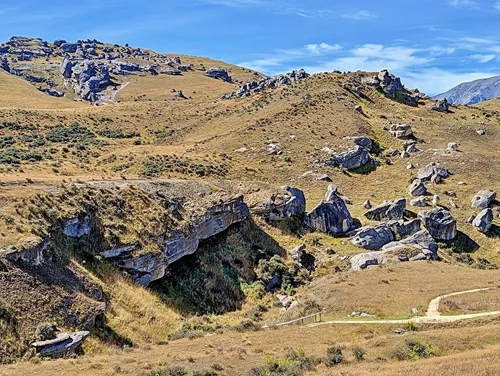 Lake Tekapo
Lake Tekapo is at an altitude of 2,330 ft (710 m) above sea level and covers 32 square miles (83 km2). The lake has a distinctive color which is due to glacial silt which is washed into the lake from the Southern Alps snow melt.
On a clear day, the snow-capped peaks of Mount Cook National Park are visible from Lake Tekapo.
Lake Tekapo is one of the sunniest places in New Zealand and its annual sunshine hours exceed more than 2,400 each year on average.
The Lake Tekapo area is also one of the world's largest recognized International Dark Sky Reserves as the night skies are almost completely free of light pollution and thus ideal for star gazing.
An astronomical observatory is located north of town at Mount John.
One of Lake Tekapo's major tourist draws is its stunning seasonal display of blooming lupins along its shores from approx. mid-November until the end of December. If you visit during this time, drive carefully as every year accidents happen when drivers unexpectedly slow down on the highways to watch the lupine bloom and cars behind them crash into them.
The Russell Lupins that you see are not native to this area, they were introduced in the 1940s from lupins that were planted in private gardens and whose seeds spread all over the area.
Lake Tekapo is also the name of a small township with less than 600 inhabitants. Even though much of the town caters to tourism, the opening times of the local restaurants and stores are quite short. Most restaurants close early and open for dinner at 6pm.
Church of the Good Shepherd and Mackenzie Sheepdog Statue
The main tourist draw of Lake Tekapo are the very instagrammable Church of the Good Shepherd and Mackenzie sheepdog statue, especially during the lupine blooming season from mid-November until the end of December.
If you visit later then you may see fewer lupines and in mid-March there may be a handful left.
The Church of the Good Shepherd was built in 1935, which makes it the first church in the Mackenzie Basin. Its location right next to an extensive lupine field and the turquoise Lake Tekapo with snow covered mountains in the back makes it one of the most instagrammable and thus photographed churches in New Zealand.
About 380 ft (115 m) east of the Church of the Good Shepherd is the bronze statue of a New Zealand Collie sheepdog. The statue was commissioned by Mackenzie Country residents in recognition of the important role their sheepdogs play in their livelihoods. The statue was cast in London in 1966 from a clay sculpture of a dog called Haig who belonged to a neighbor of the sculptor Innes Elliott.
Lake Pukaki
Located 15 miles (24 km) west of Lake Tekapo is Lake Pukaki, which covers an area of 69 square miles (179 km2) and is located at 0.33 miles (525 m) above sea level.
Its beautiful turquoise color is caused by glacial flour (extremely finely ground rock particles from glaciers) which is introduced into the lake by the rivers that feed it.
There are at least 5 turn-offs for vista points on the highway and even a visitor center from which you can see the beautiful lake.
Which part of New Zealand do you want to visit now?
Other popular Purple Guides you may be interested in:
Like this Backpack and Snorkel Purple Guide? Pin these for later: