Travel Guide for Cape Reinga, New Zealand - New Zealand Purple Travel Guide
Cape Reinga is a wild and beautiful area in the extrreme northwestern part of New Zealand. Our itinerary tells you about the best things to see in Cape Reinga and provides lots of photos so you can decide what you want to see.
Table of contents
Cape Reinga – the Northern Tip of New Zealand
Cape Reinga is the northwesternmost point of the North Island of New Zealand. The northernmost point is North Cape which lies 19 miles (30 km) east and 1.9 miles (3 km) to the north of Cape Reinga.
In the Māori language, Cape Reinga is called Te Rerenga Wairua and it means the leaping-off place of spirits with Rerenga meaning underworld.
In Māori mythology, the spirits of the dead travel to Cape Reinga on their journey to the afterlife where they climb the roots of the 800-year-old pohutukawa tree, depart the mainland, turn briefly at the Three Kings Islands (to the northwest) for one last look back towards the land and then descend to the underworld to return to the traditional homeland of Hawaiki on the Te Ara Wairua, which is the Spirits Pathway.
Te Paki Sand Dunes
The Te Paki Sand Dunes are located southeast of the Cape Reinga Lighthouse bordering 90 Mile Beach on the western (Tasman Sea) side of New Zealand's northernmost peninsula. They cover approximately 6.2 sqmi (10 km2) and the highest dunes reach up to 490ft (150 m).
The sand dunes are a popular sandboarding stop for tourists. You can rent a sandboard for NZD15 (at the time of writing) and try it yourself. Be advised that there are no lifts, so you will need to bring the board up the dunes yourself for each ride.
Parking is plentiful and free.
Be advised that the sand will get everywhere in your clothes, so bring clothes you can change into afterwards and a comb to get the sand out of your hair and a big towel as there are no changing rooms. It is also important to know that the sand can be quite abrasive to your eyeglasses, so bring a cheap or old pair of glasses. You will need glasses to protect your eyes from the sand - riding down the sand dunes without any eye protection is a bad idea.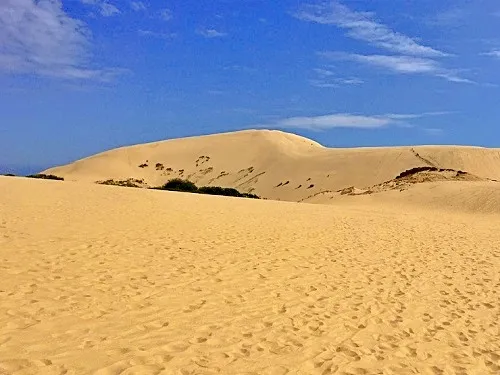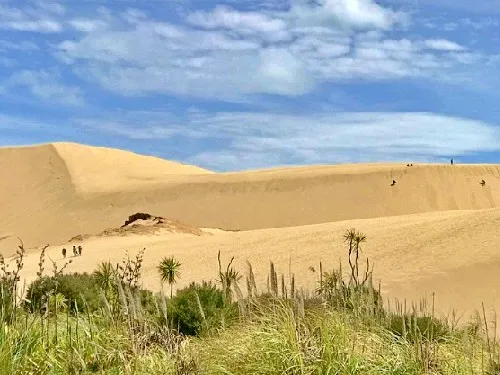 Cape Reinga Lighthouse / Te Rerenga Wairua
Drive to the parking lot and then follow the half mile trail (750 m) to the lighthouse from where you have good views.
Be prepared and bring sun lotion and rain clothes. An umbrella will likely not be of much use, as this area can be windy.
90 Mile Beach / Te-Oneroa-a-Tōhē
Ninety Mile Beach, or Te-Oneroa-a-Tōhē, is actually 55 miles (88 km) long and runs from about 6 miles (10 km) south of Cape Reinga all the way to approximately Tauroa Point.
For a short time, back 1932, Australian airmail services used Ninety Mile Beach as a runaway to land.
The beach is officially classified as a public highway and that's what made it popular with tourists. Please be advised that most of the beach is only suitable for 4×4 vehicles. There are quite a few stories of careless tourists (and New Zealanders) who got stuck on the beach with their regular two-wheel-drive cars which were then lost to the oncoming tide. Don't be one of them.
There are several access points to Ninety Mile Beach. The ramp at Waipapakauri Beach provides probably the safest and easiest access to the Ninety Mile Beach.
There are signs that warn you to not drive on Ninety Mile Beach within 2 hours before or after high tide.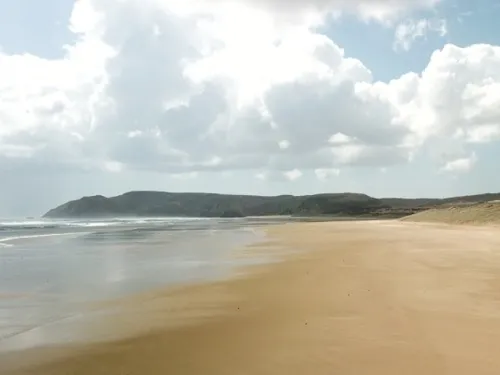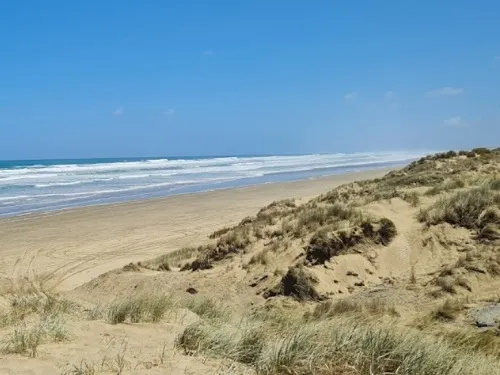 Which part of New Zealand do you want to visit now?
Other popular Purple Travel Guides you may be interested in:
Like this Backpack and Snorkel Purple Travel Guide? Pin these for later: