Travel Guide for the Coromandel Peninsula, New Zealand - New Zealand Purple Guide
The Coromandel Peninsula is a remote destination with few small towns and lots of wild native forests. The world-renowned Cathedral Cove and Hot Water Beach are located here. Our itinerary shows you the best things to see in the Coromandel Peninsula and has lots of photos which allow you to decide what you want to see.
Table of contents
Hahei and the Coromandel Peninsula
Hahei is a small village with less than 250 inhabitants in Mercury Bay on the eastern side of the Coromandel Peninsula in New Zealand.
The Coromandel Peninsula is a popular holiday destination for New Zealanders and tourists, because of its pristine beaches, misty forests, and marine life.
The Māori name for the Coromandel comes from Māori legend, where it is called Te Tara-O-Te-Ika-A-Māui and means The spine of Māui's fish.
The name Hahei comes from the Māori name for Mercury Bay, which is Te-Whanganui-A-Hei and means The Great Bay of Hei.
If you are a confident and safe driver, have time, and want to spice it up a bit, then you could drive State Highway 25 around the Coromandel Peninsula between Kopu and Whitianga. But be warned. This is a winding two-lane road which in some areas narrows to a one-way road where two cars can barely pass each other. Of course, there was a big bus coming towards us at one of those narrow areas and it took me some maneuvering to let him pass.
To make matters worse, in some areas you have a steep drop into the ocean with no guardrails on one side of the road and steep hills on the other. So, only do this drive during daylight and only if you are a confident and good driver.
The reward for this is stunning views on gorgeous scenery.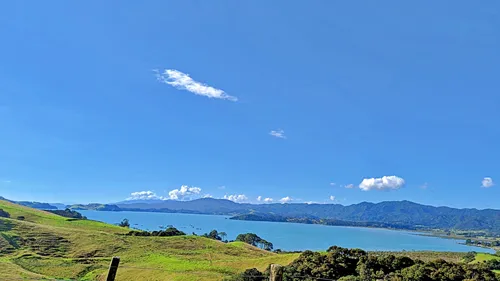 Karangahake Gorge
Attention: Cyclone Gabrielle has caused significant damage in Karangahake Gorge leading to the closure of the popular Windows Walk. Please check the DOC website to understand if the walk has reopened!
Karangahake Gorge is an old gold mining site where you can now hike through old caves, along train tracks and through tunnels and see left-behind mining equipment. Established in the 1880s, this area once had the busiest and most lucrative gold mines in New Zealand.
The Karangahake Gorge Windows Walk is the most popular hiking trail. This 1.5-mile (2.5 km) loop trail through beautiful scenery follows the old mining tram tracks where you can see old mining equipment along the trail and it takes you through old gold mining tunnels. Plan about 90 min to complete the trail.
There are three other trails in the park.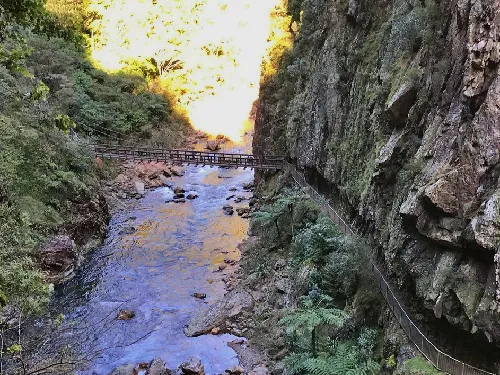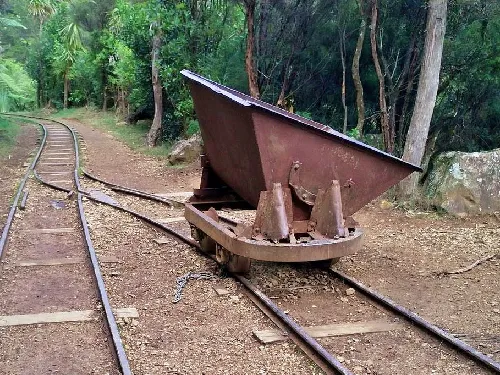 Hot Water Beach
Hot Water Beach is a special place where an underground river of hot water, which is heated through volcanic activity, flows into the ocean and thereby warming the sand on the beach.
Here is what you need to know about Hot Water Beach:
Is there parking at Hot Water Beach?
There are multiple parking lots near Hot Water Beach. Most people take the parking lot by Hotties Café. There is no free parking, and you will need to pay NZD4 per hour at the time of writing. You pay with your credit card at a central pay station.
Do I need a shovel or spade for Hot Water Beach?
You will need a shovel or spade to take advantage of the hot sand and you can rent one at the gift shop.
When is the best time to visit Hot Water Beach?
You can experience the hot water up to 2h before and after low tide. During other times, the hot sand is submerged. For the best experience, we found that 30min before and after low tide are preferrable.
Where to dig at Hot Water Beach?
Go down the stairs at the gift shop, cross the tidal creek, and walk 800 ft (250m) towards the rocks where you will likely see lots of other people. Most people start digging aimlessly and are then disappointed that they don't find any hotspots. The best way to find the best places to dig is to touch the sand with your hands. If the sand is warm, then you should start to dig there. In our experience, the best spots are away from the rocks near the low-tide waterline. You will often only need to dig 0.5 to 1 ft (15-30 cm) deep to reach warm sand. If you dig 1 ft (30 cm) or deeper, the sand can get very hot.
The hot spots will change over time, because the underground hot water may change their path. Meaning that a spot that is nicely hot, may get cold 10 min later.
Cathedral Cove
Attention: Cyclone Gabrielle has caused significant damage to the Cathedral Cove trail and beach leading the DOC to close the trail and beach and suspend the water taxi service. At the time of writing, the only way to see Cathedral Cove was to take a speed boat tour from which you can see Cathedral Cove from the water.
Please check the DOC website to understand if the walk and beach have reopened!
Cathedral Cove is one of the most instagrammable places in New Zealand and therefore a popular tourist attraction.
There are different ways to get to Cathedral Cove:
Park your car at the park'n ride if you come between October 1 and April 30 and take the bus (NZD7 per person at the time of writing). The bus will drop you off at the trailhead of the 1.5-mile (2.5 km) trail that brings you to Cathedral Cove.
If you stay in Hahei you can, of course, walk from your hotel. Alternatively, you can walk on Hahei beach to the northern end, where a set of stairs takes you to the trail. The trail passes Gemstone Bay and Stingray Bay. Gemstone Bay has a small beach covered with pebbles and it is said that there is good snorkeling.
Take the water taxi from Hahei Beach. The ride to Cathedral Cove departs from near the main car park (look for yellow and black flags), takes 10 minutes, costs NZD20 per person (children NZD15) at the time of writing, and pick-up & drop-off is every 30 minutes.
Join a 3h guided kayak tour. This tour will only depart when the water is calm, and you will need to paddle for 2-2.5 h.
Join a 1h speed-boat tour of the bay in which you will see Cathedral Cove, Shakespeare Rock and Cave, ride through an arch and see several other interesting places from the water.
Here are photos from the 1h speed-boat tour:
Shakespeare Cave
Cathedral Cove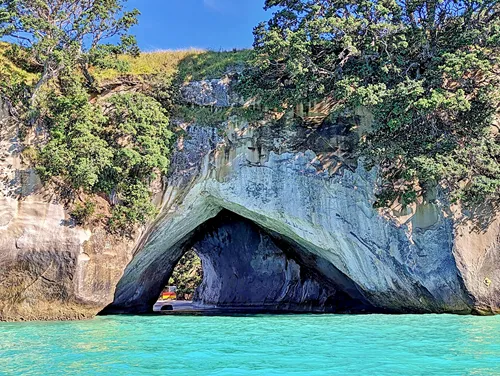 Cathedral Cove Beach
Other sights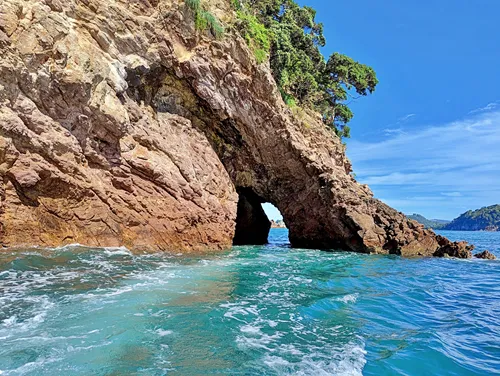 Hahei Beach
Spend your evening relaxing on Hahei Beach. Hahei Beach is never busy, and it is easy to get away from the few visitors.
Katikati
If you like murals, look no further than Katikati. The small town of Katikati is known as New Zealand's Mural Town with almost eighty colorful murals throughout town. But there is more: Katikati also has many interesting sculptures, carvings, mosaics, and tapestries on display.
You can either walk through town or stop at The Arts Junction (map) and buy a guide which contains a map with locations of the murals and provides some information about them.
Waitomo Caves
Waitomo Glowworm Caves are New Zealand's most visited glowworm caves and one of New Zealand's top tourist attractions. On a guided tour, you can see thousands of glowworms, stalagmites, stalactites, columns, bacon and other stunning cave features.
Cave tours as not wheelchair accessible and they require you to take stairs and a boat ride. Photography and videography inside the glowworm cave are not permitted.
Due to the popularity of the cave, it is strongly advisable to make advance reservations as each boat fits max. 23 people. Reservations are for a specific time and you will forfeit your reservation if you arrive late.
The temperature inside the cave is 60-63F(16-17C).
Which part of New Zealand do you want to visit now?
Other popular Purple Guides you may be interested in:
Like this Backpack and Snorkel Purple Guide? Pin these for later: