Travel Guide for Wanaka, New Zealand - New Zealand Purple Travel Guide
The Purple Door at Wanaka Lavender Farm and That Wanaka Tree are two of New Zealand's most instagrammable attraction. We provide you with more information and lots of photos so you can decide what you want to see on your trip to New Zealand.
Table of contents
Wanaka
Originally settled by the Māori, Wanaka experienced an influx of Europeans when gold was discovered nearby in 1862.
Today, Wanaka is a popular resort town with a strongly growing population of about 12,000 in 2022.
In winter, Wanaka offers the broadest range of snow activities in New Zealand, and it hosts various sports competitions.
In summer, Wanaka offers lots of outdoor recreation and tourism activities like hiking, mountain biking, mountaineering, rock climbing, fishing, paragliding, golfing, kayaking, rafting, jetboating, waterskiing, wakeboarding, sailing, etc.
We are, however, coming for two very different reasons and both involve some of New Zealand's most instagrammable attractions.
Wanaka Lavender Farm
There are quite a few lavender farms in New Zealand, but none of them is nearly as popular as Wanaka Lavender Farm.
Besides the fact that the farm is large, beautiful and it is fun to walk around, it also has an iconic purple door right in the lavender fields. This door, the beautiful scenery and the abundance of purple blooming lavender (from December through February) guarantees gorgeous memories and photos.
At Wanaka Lavender Farm, you first go into the visitor center, which has a large gift shop with all things lavender and a small restaurant where you can try different honeys that Wanaka Lavender Farm's honeybee produce, try their lavender infused ice cream or get some cake and coffee, tea or lavender infused hot chocolate.
Unlike normal boysenberry ice cream that you can buy in stores, the Wanaka Lavender Farm boysenberry ice cream is a highly concentrated deep red-purple fruit ice cream which is lavender infused and very good if you like a real strong boysenberry flavor. Unfortunately, I was unable to smell the lavender in it – it was probably overpowered by the boysenberry.
To see the farm, you will need to pay admission, which was $15 per adult at the time of writing. Please be advised that the price goes down to $7 in the off-season from April through November. Discounts are available for kids.
The farm has beautifully manicured lavender fields and flower beds. Depending on the season you will see more or less purple lavender bloom and smell more or less lavender odor. During the off-season, you may not see any blooming lavender, but there are other things to see and do. Please consult The Wanaka Lavender Farm website about what you can see during the seasons that you plan to visit.
Besides the plants, you can see bees, highland cows, miniature horses & donkeys, kune kune pigs, goats, alpacas, sheep and chickens.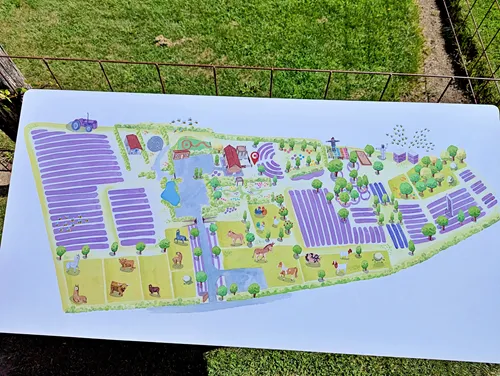 The pink door in the lavender fields is definitely a tourist magnet, but we also loved the purple tractor and kids like to play on the purple poles.
That Wanaka Tree
At the southern end of Lake Wanaka there is a lonely willow tree that grows in the lake about 80 ft (24 m) from shore.
It is called That Wanaka Tree after the hashtag #ThatWanakaTree, which is used to identify photos of the tree.
That Wanaka Tree has become a popular tourist destination as it makes for wonderful instagrammable photos. The tree is one of the most photographed trees in all of New Zealand has been called New Zealand's most famous tree.
The tree is easily accessible from the parking lot by walking 800 ft (240m) mostly on the beach.
Unfortunately, the tree has been damaged and vandalized several times, e.g. by tourists trying to climb the tree. Don't be one of those!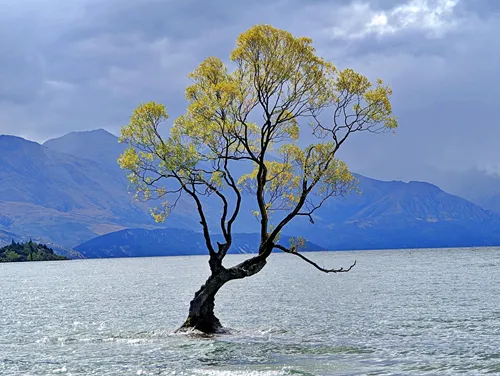 Which part of New Zealand do you want to visit now?
Other popular Purple Travel Guides you may be interested in:
Like this Backpack and Snorkel Purple Travel Guide? Pin these for later: