Backpack and Snorkel Guide for One Day in Aruba - Aruba Purple Travel Guide
Aruba is known for its reliably dry, warm and sunny weather, wonderful beaches and clear turquoise waters. This Backpack and Snorkel Travel Guide for Aruba (Aruba Purple Travel Guide)provides the highlights of Aruba that you can see during a cruise.

The information on this page and much more (google maps locations, more reviews, website links, etc.) is available in our Cruising the Caribbean Guide.
The language is English and the US dollar is widely accepted.
GENERAL INFORMATION ABOUT ARUBA
Aruba, together with Bonaire and Curacao is part of the ABC Islands. The ABC islands and Sint Maarten, Sint Eustatius and Saba, are part of the Dutch Caribbean or formerly the Dutch West Indies und thus a constituent country of the Kingdom of the Netherlands. Arubans are Dutch citizens, but the island is self-governed.
Aruba lies 18 miles (29km) north of Venezuela and the population is approx. 120,000.
The name Aruba may come from one of these three origins:
Spanish: Oro (gold) hubo (there was, or had)

Carib: Oruba (well placed)

Carib: Ora (shell) and Oubao (island)
The official languages in Aruba are Dutch (for official matters) and Papiamento (dominant language). Papiamento is a creole language used in the ABS Islands. It incorporates words from Portuguese, several African languages, Dutch, and Spanish.
Due to the rising importance of tourism and a growing number of expatriates from the US, English is widely spoken and US dollars are widely accepted. The Aruban currency is the Aruban Florin which is pegged to the US dollar at an exchange rate of 1.79 Florin = 1 US$.
Unlike most of the Caribbean, Aruba has a dry arid climate and it lies outside the hurricane impact zone. Therefore, Aruba sees tourists year-round seeking reliable warm and sunny weather.
The average temperatures and precipitation that you can expect during your trip to Aruba are shown here: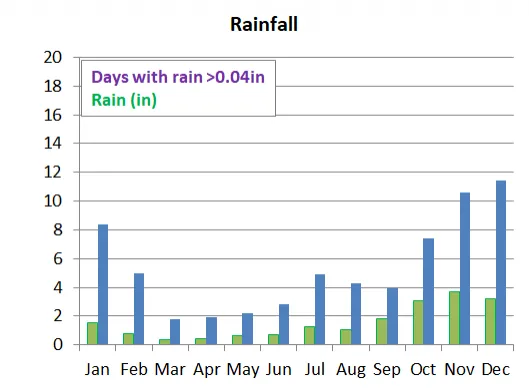 HISTORY OF ARUBA
The first human settlements have been dated back to 2000 BC. In 1499, Aruba was visited by Amerigo Vespucci and Alonso de Ojeda, who later became Aruba's first governor.
Under de Ojeda, the native Caquetíos were enslaved and many shipped to other Caribbean islands most notably Hispaniola. Because of the dry climate, Aruba did not become home to large plantations with slave labor.
In 1636, during the 30 years war, Aruba was seized by the Dutch and the Spanish oppression ended.
Besides a brief occupation by the British from 1806-1816, and being part of the Colony of Curaçao and Dependencies, Aruba stayed Dutch.
On January 1, 1986, Aruba seceded from the Netherlands Antilles to officially become a country of the Kingdom of the Netherlands. There were plans for Aruba's full independence in 1996, but in 1990, Aruba's government scrapped those plans.
Tourism is highly important to Aruba and lots of tourists arrive as part of a cruise. Please also check out Rudy's Cruise Guide for Beginners & Others.
THE BEST THINGS TO SEE AND DO IN ARUBA FOR CRUISE SHIP PASSENGERS
Cruise lines typically offer various excursions to their passengers. They typically consist of one or more of the following activities:
The seven best beaches in Aruba
The four best beaches for snorkeling in Aruba
The five best things to see in Aruba
Exploring Oranjestad
ARASHI BEACH IN ARUBA
Arashi beach is farther away from the cruise port than most other beaches, e.g. popular Eagle Beach, and therefore receives fewer visitors. It has beautiful white sand and turquioise waters and a nice view of the nearby California lighthouse. Swimming here is good and you will find probably the best beach snorkeling in Aruba at Arashi Beach. The best snorkeling is by the rocks in the south. Generally, snorkeling in Aruba is not as good as in Curacao due to stronger currents.
There are several palapas & huts on the beach and a snack shack. The beach has a large parking lot and you can see the lighthouse from here.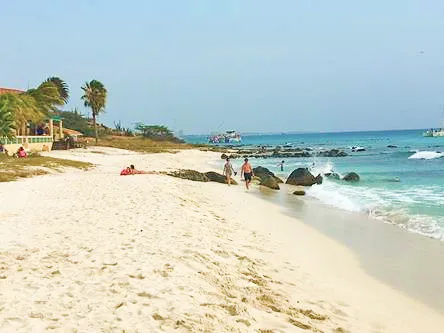 BABY BEACH IN ARUBA
Located at the Southern tip of Aruba, this crescent-shaped white sand and turquoise water beach is good for swimming in the shallow lagoon with calm waters. There is some snorkeling in a designated snorkeling area.
BOCA CATALINA BEACH IN ARUBA
Located south of Arashi Beach, there is little sand but lots of black rocks here. Because of the little sand and proximity to the road, sunbathing here is sub-par. Snorkeling here is good and you will see tour boats stopping here as one of the snorkeling sites they visit.
Boca Catalina Beach is also a good place to experience beautiful sunsets.
EAGLE BEACH IN ARUBA
This is Aruba's most beautiful beach with good swimming and one of its busiest. It is often voted one of the best beaches in the world. The beach is only a short taxi ride from the cruise port and features white sand and fantastic turquoise water which is good for swimming. If you want to snorkel, then you have to look elsewhere.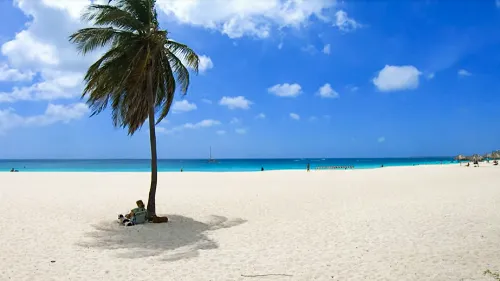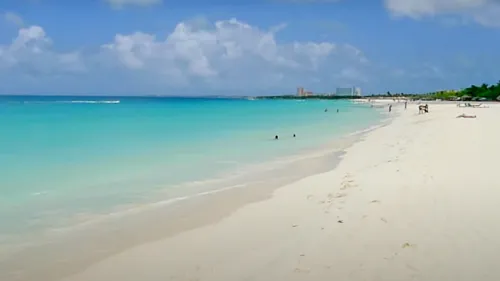 FLAMINGO BEACH IN ARUBA
Flamingo Beach is an adult-only private beach on Renaissance Island. It is owned by the Renaissance Wind Creek Aruba Resort and its claim to fame are the pink flamingos that wander this white sand beach. To visit, you will need to stay at the resort or buy a day pass. Please be advised that day passes are only sold on days with low occupancy of the resort. At the time of writing, the cost was $125 per adult (children 12 and under are free) and it included the water taxi ride and it includes lunch, one drink and a water float per adult.
Flamingos are not native to Aruba (but to Curacao) and this appears to be the only spot on Aruba where you can see and interact with them.
MALMOK BEACH IN ARUBA
Malmok Beach is located in a mostly rocky area with little white sand. Its main attraction is the good snorkeling in the numerous coves that you can find here. You will need water shoes as there are a lot of sharp rocks and sea urchins in the water.
MANGEL HALTO BEACH IN ARUBA
Mangel Halto Beach is a secluded and peaceful beach which is located south of Oranjestad. With its calm and shallow waters, public beach huts and good snorkeling, Mangel Halto is a gem that does not draw as many visitors as the more well-known beaches like Eagle Beach.
Here, you can rent a kayak and paddle to the mangroves and experience the fish and birds that live here.
PALM BEACH IN ARUBA
Located north of Eagle Beach, this beautiful and popular beach is very similar to Eagle Beach. There are many hotels, restaurants and stores. As with Eagle Beach, there is no decent snorkeling here, but good swimming and sunbathing on beautiful white sand.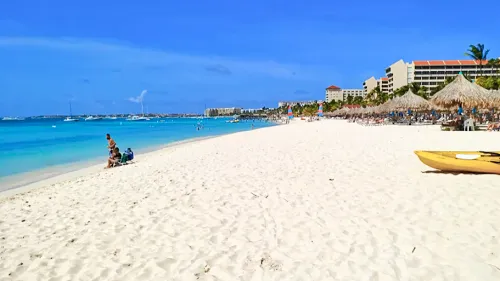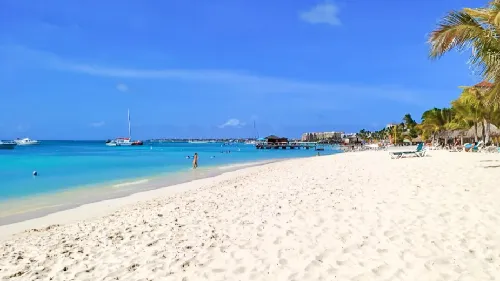 MALMOK BEACH IN ARUBA
Malmok Beach is located in a mostly rocky area with little white sand. Its main attraction is the good snorkeling in the numerous coves that you can find here. You will need water shoes as there are a lot of sharp rocks and sea urchins in the water.
TRES TRAPI IN ARUBA
Located near Catalina Beach, Tres Trapi does not have much of a beach, but good snorkeling. Tres Trapi means 3 Steps, and it has the name because the stairway that was carved into the rocks to allow you access into the water. You will not see many fish at Tres Trapi as its claim to fame are the colorful sea stars that live here.
Arikok National Park
Arikok National Park encompasses 7907 acres (3200 ha), which is about 18% of Aruba's total landmass. The park protects important geologic features:
the Aruba Lava Formation

a Quartz Diorite Formation

Snorkel tours

a Limestone Formation (uplifted reef carbonates): acidic groundwater has worn away some of the limestone and created caves that range from a few feet to hundreds of feet in length. Some, like the Fontein and Quadirikiri Caves, are popular tourist attractions.
The two highest hills in the park are:
Jamanota Hilltop: With 617 ft (188 m), this is the highest point on Aruba.

Arikok Hilltop: The second highest point on Aruba at 577 ft (176 m). From here, you have wonderful views over much of the island.
Arikok National Park is home to several cultural heritage sites, including Indian rock drawings and remains of an old farm (Cunucu Arikok).
Other attractions are the Natural Pool, the collapsed Natural Bridge and Boca Prins (a beach where turtles nest) and the monthly Movie in the Park, which has free admission.
Visitors can hike in the park or take guided tours, which is especially popular with cruise ship passengers.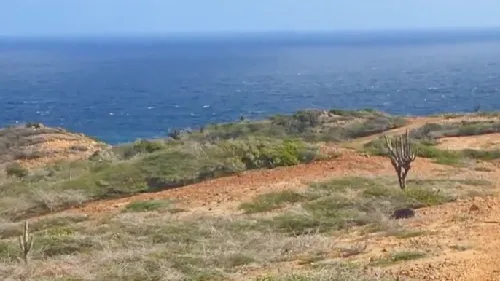 Aruba's Natural Pool
The Natural Pool, which is located in Arikok National Park, is enclosed by volcanic rocks. The pool is 17 ft (5 m) deep and the water inside is fairly calm. Waves from the ocean gush against the volcanic rocks and spray into the natural pool, making this a wonderful experience that you will likely share with loads of other tourists.
Getting to the Natural pool is only possible by 4 wheel-drive in a rental car or guided tour, or by hiking for about 3 miles.
Bushiribana and Balashi Ruins
The gold mine town ruins of Bushiribana and Balashi are remains of Aruba's short-lived 1870s gold rush. Built by the British, visitors can still see some buildings of the old smelting works, and some of the fortifications that were built to protect against invading pirates.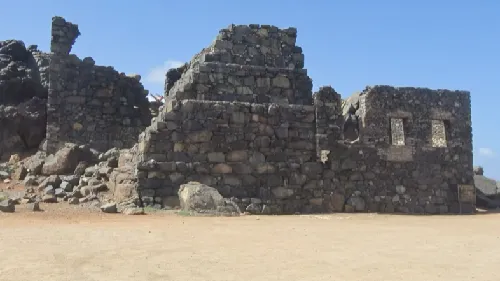 Fort Zoutman Historical Museum
Fort Zoutman is a military fortification located in the center of Oranjestad. Built in 1798 by African slaves, it is the oldest structure on the island. The iconic Willem III Tower was added in 1868.
Since 1983, Fort Zoutman is open as the Historical Museum of Aruba and its exhibits cover the early history and development of Aruba during the beginning of the twentieth century.
Every Tuesday from 7-8:30pm, the Bon Bini Festival, where Antillean dancers, drum music, cultural food and art are displayed, takes place here.
Natural Bridges
Aruba has several natural bridges. The biggest bridge (100ft long, 25ft above the ocean) was Natural Bridge, but it collapsed in 2005.
Right nearby is a smaller, but still impressive, bridge called Baby Bridge. This bridge has warning signs posted as it may collapse at any time too.
There is a parking lot with a bar, restrooms and shopping.
There are multiple other bridges (Tripod Bridge at Black Stone Beach and a small bridge at Wariruri Beach), but we have not visited any of those.
EXPLORING ORANJESTAD
The cruise port is in the heart of Oranjestad. There are plenty of restaurants and stores in the colorful historic colonial buildings that you will see when you leave the cruise port to the right (south).
Popular shopping malls are Royal Plaza Mall, is just a few feet to the south of the cruise port and Renaissance Mall which is two block farter to the south.
A popular photo spot is the I Love Aruba sign, which can be found directly outside the cruise port.
Aruba has some beautiful colonial architecture. Beautiful facades can be seen at Royal Plaza Mall, City Hall and Fort Zoutman. All are within easy walking distance of the cruise port.
One thing that you will likely notice are the blue horse statues. There are seven in total and you can find them in different locations in town. Those painted fiberglass horses beautiful names: Ambrosio, Bonifacia, Celestina, Escapia, Rosalinda, Saturnina and Sinforosa and they commemorate the importance of the Orjanjestad harbor for the horse trade in Aruba which dates back to the early times of the Spanish colonization and lasted for 400 years. At one time, there were herds of thousands of horses on the island.
The blue color symbolizes the Caribbean Sea which brought horses to and away from Aruba.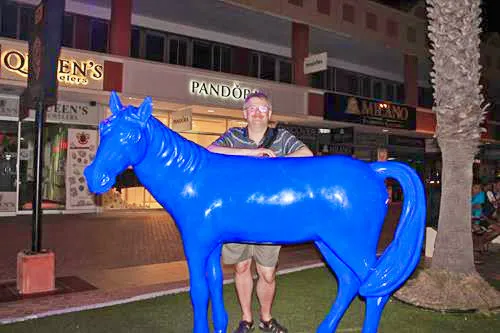 ARE YOU INTERESTED IN MORE WHITE SAND BEACHES AND TURQUOISE WATER DESTINATIONS?
Check out our reviews of other Caribbean islands and Rudy's Cruise Guide.
Other popular Purple Travel Guides you may be interested in:
Like this Backpack and Snorkel Purple Travel Guide? Pin these for later: