Backpack and Snorkel Travel Guide for Moorea in French Polynesia - Moorea Purple Guide
This Moorea Travel Guide tells you what the best things to see and do are in Moorea in French Polynesia. It tells you what the best beaches are, where the best snorkeling is, what the best historic and scenic sites are and what else you can do in Moorea. And we have lots of photos so you can decide what you want to see.
Table of contents
Why you should visit Moorea in French Polynesia
Moorea is one of the most popular islands for tourists in French Polynesia for good reason. It has beautiful white sand beaches with turquoise water, good swimming and snorkeling and there is a lot to see and do in Moorea.
Moorea is only a short ferry ride from Tahiti but, due to its lower population, everything here is more relaxed and there is much less traffic.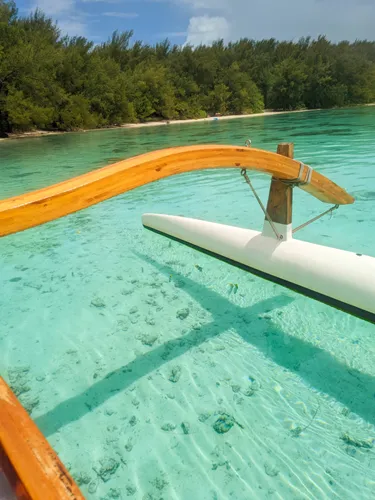 General information about Moorea in French Polynesia
The OO in Moorea is either pronounced as two separate O sounds or one long O sound as in FLOOR.
The E and A are pronounced as separate letters. The E like in FIANCEE and the A as in DART.
Moorea lies 11 miles (17 km) northwest of Tahiti and can be easily reached by ferry from Tahiti.
It was formed as a volcano approx. 1.5-2.5 million years ago. Moorea is an atoll whose main island is enclosed by a reef that is fairly close to the island, which is the reason why Moorea has a fairly narrow lagoon. The reef has several navigable passages that allow ships to pass through, including cruise ships which anchor in Cook's Bay.
Settled at around 200 AD, Moorea was ruled by chieftains of up to nine tribal principalities that lived in their own valleys. The upper classes maintained family relationships to the upper classes in Tahiti by marriage.
Portuguese navigator Pedro Fernandes de Queirós was the first European to see Moorea in 1606 and Captain James Cook first landed on Moorea in Opunohu Bay in 1769. Don't get confused, because neighboring Cook's Bay carries his name. He did not land there, but in Opunohu Bay. Opunohu Bay is where many exterior shots of the 1984 movie The Bounty were filmed.
It is said that Charles Darwin found inspiration for his theory of the formation of coral atolls when he was standing on a peak on Tahiti and looking towards Moorea. He described the barrier reef encircling Moorea as a picture in a frame.
Moorea has a population of almost 18,000 people.
Due to its proximity to Tahiti, Moorea has a similar climate and similar flora and fauna. There are more than 500 species of coral fish and many different types of corals. Humpback whales pass by the island from July to October and at that time there will be many whale and dolphin watching tours offered.
The climate in Moorea and the rest of French Polynesia can be found here and the best time to visit Moorea and the rest of French Polynesia can be found here.
Please also see our General Information in the French Polynesia section.
How many days should you spend in Moorea? in French Polynesia
Our recommendation is to spend 1 day on Temae Beach, maybe one on Taahiamanu Beach, one day for an island tour and for driving around and seeing some sights. That makes at least 4 days. If you want to relax, then spend some more days exploring the island and on Temae Beach.
Getting to Moorea in French Polynesia
Moorea has an airport that is served by Air Tahiti on inter-island flights within French Polynesia. The airport code is MOZ.
Most people, however, reach Moorea by ferry from Tahiti.
There are two ferry companies:
Aremiti operates 7 days per week and has multiple rides per day. The ferry is large and comfortable. Car transfers must be booked on their website to ensure availability, passengers without vehicles need to buy their tickets at the counter. Be advised that the ticket counters are located at the parking lot level of the ferry terminal building and the personnel speaks English. After buying the tickets, you walk up to the upper floor into the waiting and boarding room.

Terevau has high speed catamarans that can also transport cars and motorcycles. They operate 7 days per week and a transfer takes about 30min. Car transfers must be booked on their website to ensure availability, passengers without vehicles need to buy their tickets at the counter. The ticket counter is located on the upper level of the ferry terminal building and the personnel speaks English. After buying the tickets, you walk up to the waiting and boarding room on the far north side of the terminal building.
Getting around in Moorea in French Polynesia
Most visitors either bring their rental car from Tahiti or rent a car in Moorea.
Bringing a rental car from Tahiti can make sense if the rental car rate in Moorea is too high or no rental cars are available in Moorea.
If you plan to bring your rental car from Tahiti, keep in mind that you need to consider the price of two ferry transfers.
Alternatively, you can take a taxi. Taxis will be available at the ferry terminal, but taxis are not cheap and one long or two short taxi rides can be as expensive as the cost to rent a car for one day.
There are only two rental car companies close to the ferry terminal buildings in Moorea: Europcar and Avis. Avis has a different location to return their cars and provide a shuttle service to the ferry terminal from there. The distance between the two locations is only 0.25 miles (400m).
Both companies have only a limited number of rental cars and you may be out of luck if you don't have a reservation.
The best things to see and do in Moorea
The best beaches in Moorea in French Polynesia
can be found here.
The three best snorkeling spots in Moorea in French Polynesia
can be found here.
The Moorea Island Tour
can be found here.
Seven must-see sites and landmarks in Moorea in French Polynesia
Belvedere Lookout in Moorea
A winding road leads up to the Belvedere Lookout which provides wonderful panoramic views of the Opunohu Valley, Cook Bay and Opunohu Bay. Some scenes from the 1984 movie The Bounty starring Mel Gibson and Anthony Hopkins were filmed here.
There are several hiking trails in various difficulty levels from 30min to 5h that you can take from here.
Marae Complex in Moorea
The marae complex consisting of Marae Titiroa, Marae-o-Mahine, Marae Fare-aito and Te mau marae-rii-noa and some platforms is accessible from one parking lot through various trails.
A few minutes after we parked our rental car, we were approached by two gendarmes who asked us to either take our belongings, which were visible inside our car, with us or to lock them in the trunk, because there have been recent car break-ins.
Lycée Agricole in Moorea
The Lycée Agricole (agricultural college) warrants a short stop and if it is only to try their delicious ice cream or fresh fruit juices. I particularly enjoyed the lychee ice cream.
If you have time, then you can hike the Pineapple Route from here. You cannot drive it unless you have a 4WD vehicle with high clearance.
Moorea Tropical Garden
Moorea Tropical Garden can easily be reached by driving up a steep 1,400 ft (430 m) driveway from the main road. The driveway is mostly narrow and paved but has a short dirt and pebbles section and a section that is a dirt road with pavers for car tires on each side. Passing oncoming traffic is only possible in a few areas.
Moorea Tropical Garden has five fruit trees directly next to the parking lot and a large greenhouse in which vanilla beans are grown. There is also a partly overgrown path to a gift shop and other gardens.
At the store you can do a free tasting of four of the fruit jams they make in-house and sell.
The view from up here on Opunohu Bay is beautiful. Opunohu Bay was a filming location for the 1984 movie The Bounty starring Mel Gibson and Anthony Hopkins.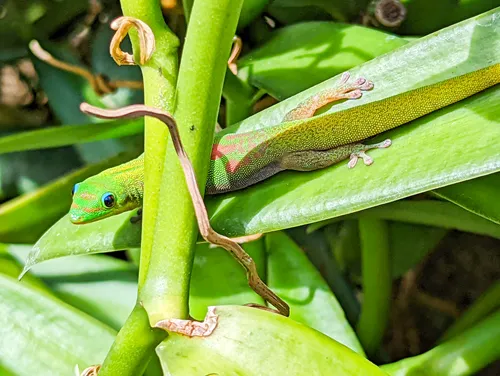 Rotui Juice Factory & Distillery in Moorea
Rotui manufactures the most popular fruit juices in this part of the world. If you have flown with Air Tahiti, you will have likely been served their delicious pineapple juice.
Besides pineapple juice, Rotui also produces banana, papaya, mango, guava, passion fruit, grapefruit and orange juice and several liquors.
With about 30 employees Rotui is the largest industrial employer in Moorea. The company is named after the nearby 2,950 ft (899 m) tall Mount Rotui.
There is a free self-guided factory tour with informative signs about the juice manufacturing process and, if you are lucky, then you can see them producing the juice.
To get there, follow the sign on the main road that directs you to the factory as google maps may try to get you there on a bumpy dirt road.
There is a large parking lot next to the factory. Park there and walk towards the large buildings. The factory store is the traditional looking building to your left. Here you can buy the juices and liquor that they produce and some souvenirs.
The entrance to the free self-guided factory tour is in the industrial building to your right (or straight ahead when you get out of the factory store). You will need to climb the stairs up one floor or take the elevator to get to the entrance.
The opening times at the time of writing were 9am – 4:30pm.
Toatea Lookout in Moorea
Close to the entrance of Temae Beach, this lookout provides a fantastic viewpoint of Temae Beach and the Sofitel Kia Ora Moorea Beach Resort with its overwater bungalows.
You can see the lagoon sparkle in the most beautiful turquoise colors, the barrier reef where the waves break and the incredibly blue ocean behind it.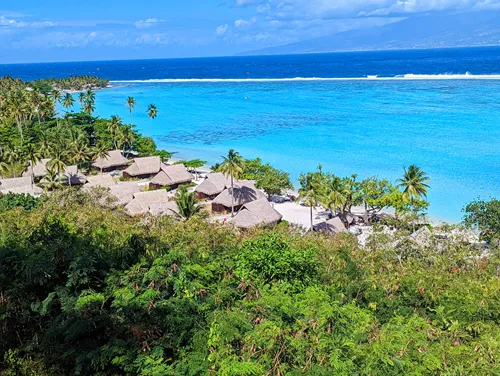 Champion Moorea
We don't normally post supermarket reviews, but I had to make an exception for this supermarket. In our opinion, the Champion Moorea Supermarché is not just the best supermarket in Moorea, but likely in all of French Polynesia and the Cook Islands.
It is currently open: Monday to Saturday from 7am-7:15pm and Sunday from 6am-12:15pm.
We loved it, because it has by far the biggest and largest selection of groceries and other food items (including alcohol), but you can also buy TVs, washing machines, clothes, stationary, cleaning supplies and pretty much anything else here.
I came here almost every morning to buy fresh and still warm baguettes that we then ate for our French inspired breakfast. Fantastic!
So, yes, this is my favorite store in French Polynesia!
The location on google maps is correct. The parking lot of the supermarket is behind the fence that you see from the main road. Most parking spots are shaded by metal roofs. Behind the fence to the right are some other stores.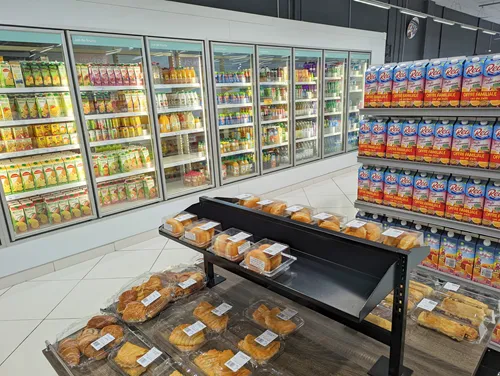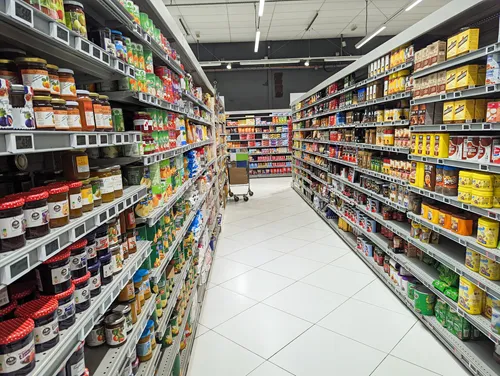 Accommodation in Moorea
From budget Airbnbs to luxurious overwater bungalows, Moorea has it all.
As we were planning to tour the island, wanted to get a feeling for how people live in Moorea, and wanted to not eat out all the time, we decided to go with an Airbnb. And we got a really good one.
Airbnb Fare Mataorio in Moorea
Fare Mataorio is a beautiful large single-story house that can be reached via a short dirt road with several potholes.
The house has a large great room that acts as a kitchen, dining room and living room. There are two bedrooms and two full bathrooms with showers. The bedrooms have quiet and efficient air conditioning.
The house was spotless and in exceptionally good condition. Besides the usual pots, pans dishes and utensils in the well-equipped kitchen, there were even coffee, cereal, a coffee maker, kettle, toaster, cocoa, tea, dish liquid and in the fridge was a large bottle of water.
There was a good-sized TV in the great room and several books, brochures and board games. Wifi was good and fairly fast.
Long story short: We totally recommend this Airbnb.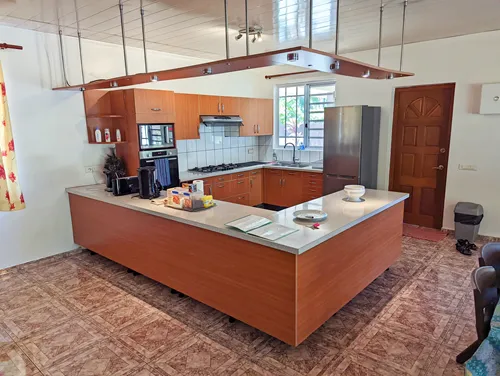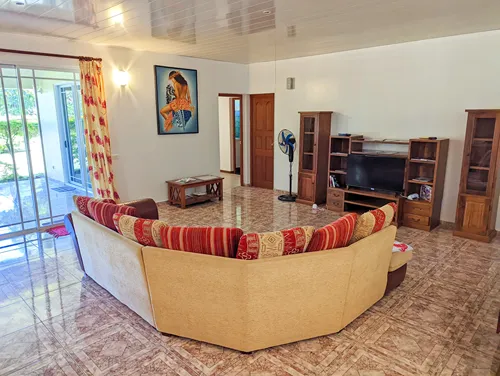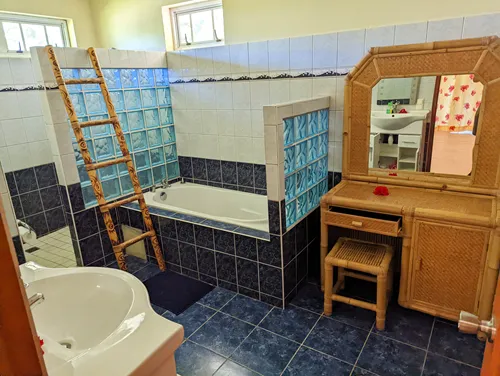 Find hotels near Temae Beach
What part of French Polynesia do you want to expolore now?
Other popular Purple Guides you may be interested in:
Like this Backpack and Snorkel Purple Guide? Pin these for later: