Travel Guide for Hokitika and Paparoa National Park, New Zealand - New Zealand Purple Travel Guide
Paparoa National Park is known for its limestone karst formations, caves, diverse flora and fauna, outdoor activities and the spectacular Charleston Glowworm Cave. We show you the best things to see and provide lots of photos so you can decide where you want to go.
Table of contents
Paparoa National Park
Paparoa National Park is located on the rugged west coast of New Zealand's South Island. This 166 square mile (430 km2) park protects a limestone karst area and is famous for unique limestone formations, and caves, a diverse range of flora and fauna, including several rare and endangered species and is popular for outdoor activities like hiking, mountain biking, caving, and canoeing.
There is evidence of Māori settlements dating back more than 800 years.
There are multiple stops along State Highway 6 with amazing views of the beautiful scenery of Paparoa National Park.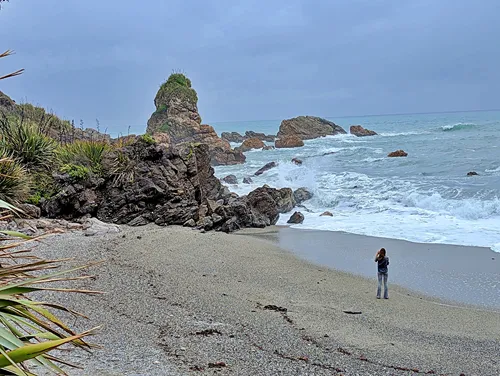 Charleston GlowWorm Cave rafting Adventure
While the Waitomo Glowworm Caves are New Zealand's most popular glowworm caves, we are recommending the Charleston Glowworm Caves for a different glowworm experience – specifically a 3-4h cave rafting experience.
Very important: If you are not of medium physical fitness, or hate somewhat confined spaces or river rafting on an inner tube then you may want to either do the regular Charleston GlowWorm cave walking tour or substitute this experience for the more well-known Waitomo Caves on the north island.
Please be advised that if you, like me, weigh more than 250 lbs (110 kg) and the river is experiencing low water levels (e.g. in mid and late summer) then you may need to walk on the rocky river banks maybe a quarter of the way that lighter people will float down. This takes some fun out of it, but still makes the whole experience worthwhile in my opinion.
What is the Charleston GlowWorm Cave rafting Adventure all about?
You will need to make a reservation and check in at the visitor center about 30min before your tour starts. The visitor center has clean restrooms and a dining area.
After your orientation, where you are told what you should expect, you will go to the basement and receive your wet suit, helmet and shoes. Under the wetsuit, you will wear your regular swim clothes. Your belongings are stored on an unlocked shelf. So, it is best to leave all your valuables in your car.
This is your last chance for 3-4h to visit the restroom.
You can bring your own underwater camera, but be advised that there is a good chance that you may accidentally damage it, because in some areas you need to maneuver with both hands and your camera may swing against the rocks and scratch or break.
Your tour guide will bring their underwater camera and take some photos that will be uploaded to their website and that you can download.
All participants are then driven to the Nile River Rainforest Train, which then brings you to the bottom of the hill in which your cave rafting adventure will take place.
Your group will then hike through the forest up the hill to the cave entrance. Along the way, you will pick up your inner tube that you will carry up the hill.
Your group will then enter the cave where you will walk on uneven and sometimes narrow and slippery paths through the dark cave. The only light comes from LED lamps that every participant has mounted to their helmets and your guide's strong flashlight.
Along the way you will see beautiful cave formations like stalagmites, stalactites, columns, bacon, etc. and your knowledgeable guide will explain those to you and answer your questions.
In some places, you will need both hands to maneuver.
After several stops, you will get to a large room where the guide will ask everyone to turn their LED lights off. You will then see dozens of glowworms on the ceiling. This is a beautiful sight.
After you are asked to turn your lights back on, you will have a chance to take a closer look at the glowworm strings that hang down from the ceiling and that the glowworms install to catch their prey.
Then you head down to the underground river where you finally get a chance to use the inner tubes, that you have carried for 2-3h or so, for the first time. You will turn your LED lights off again and form a human chain that the guide will slowly pull downriver in the dark.
Very soon you will see thousands of glowworms on the tall ceiling above you. This is a truly marvelous sight.
After a few minutes of these gorgeous sights, you will get to the exit of the cave, where you take the inner tubes to deeper waters and start floating and paddling (with your hands) down the river. There is quite a bit of paddling with your own hands required as the river flows slowly in most areas. Along the way you will float over small rapids where your guide will take more photos of you.
As I had mentioned previously, if you are too heavy and the river is experiencing low water levels (e.g. in mid and late summer) then you may need to walk on the rocky riverbanks maybe a quarter of the way while lighter people will be able float down all the way. This takes some fun out of the tour, but still makes the whole experience worthwhile in my opinion.
After some time you will reach the bridge that you had crossed earlier today when you walked towards the cave. Here you will exit the river and walk back to the Nile River Rainforest Train. On the way there you will return your inner tube to the place where you picked it up earlier today.
The train will then bring you back to the bus and the bus will bring you back to the visitor center. At the visitor center you will return your equipment and take a shower – shower gel is provided. They tell you to bring your own towel, but when we did the tour, towels were provided, too.
Shortly after the tour, your guide will upload the photos to their website, and you will be given the link. There is no charge to access the photos at the time of writing.
Punakaiki Pancake Rocks and Blowholes Walk
The Punakaiki Pancake Rocks and Blowholes are a coastal rock formation of uplifted limestone that is heavily eroded.
The formations consist of highly irregular chasms and ridges and layers of strong resistant bands of limestone that are separated by softer mud-rich layers. This layering phenomenon can be found in limestone worldwide and is called stylobedding. Most scientists agree that this layering is not caused by the original deposition of the limestone forming marine organisms, but a secondary feature caused by compaction of the limestone under high pressure.
Thousands of years of erosion by water and wind has exposed the stylobedding as distinctive pancake structures.
The Punakaiki Pancake Rocks and Blowholes features a well maintained mostly flat 0.7 mile (1.1 km) concrete trail which is wheelchair accessible.
Two parking lots, a visitor center, public restrooms and a restaurant are located at the start of the trail.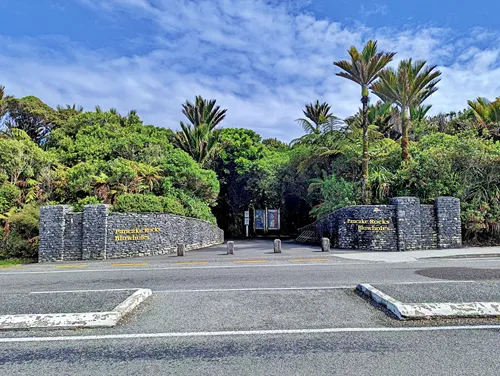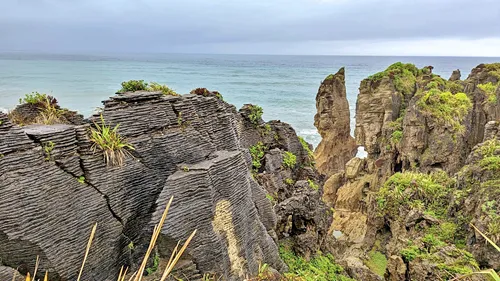 Truman Track
Truman Track is a 0.9 mile (1.4 km; 30 min) round trip compacted dirt trail through a subtropical forest that leads to a spectacular coastline with cliffs, caverns, a blowhole and access to a deserted beach with a small waterfall.
There is a small car park along the road where the track starts, but there are no other services near the entrance.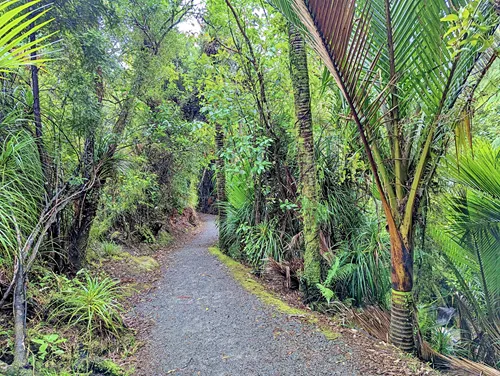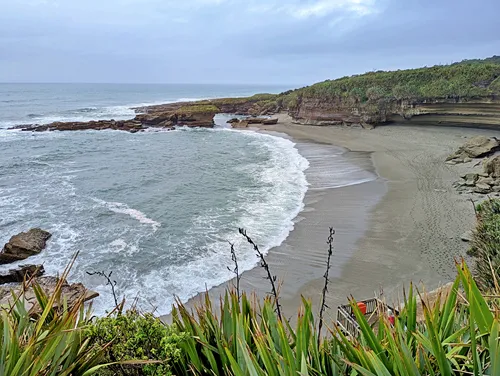 Pororari River Track
The Pororari River track is actually the first (or last) 4.3 miles (6.9 km) of the Paparoa Track, a 35 mile (56 km) shared hiking and mountain biking trail.
It follows a spectacular limestone gorge that the beautiful Pororari River has carved. We recommend walking on the trail for at least 15 min (better 30 min) from the parking lot as there are some lookouts with spectacular views of the river and the gorge with its very scenic limestone cliffs.
Hokitika
With its population of slightly below 3,000 people, Hokitika is the seat and largest town in New Zealand's Westland District.
In Māori, hoki means return and tika means direct, and thus Hokitika translates to: to return directly.
The name apparently relates to an event that happened when a band of Ngāi Tahu warriors, who were searching for greenstone, were attacking a fortification of another tribe. While crossing the Hokitika River, the chief of the invading army drowned and the leaderless army then abandoned the attack and directly returned home.
Today, Hokitika is a good jump-off point to explore the many attractions of Paparoa National Park. The town has lots of restaurants, including many with international cuisine.
Hokitika Glow-Worm Dell
Besides the glowworm caves where you need to pay admission to see the glow worms for a few minutes, there are ways to see glowworms for free and as long as you like.
Hokitika Glow-Worm Dell is one of these opportunities. Located on State Highway 6 right north of Hokitika is a small parking lot. From the parking lot leads an asphalted short 150 ft (50 m) slightly uphill walkway to a dell. The dell is surrounded by cliffs on three sides and the cliffs are covered with plants and there are lots of trees. In the leaves and on the cliffs live hundreds of glowworms.
To prevent people from disturbing the leaves and glowworms, a wire fence was erected around the walkway.
Once it gets dark enough (shortly before sunset), the first glowworms will turn on their bioluminescent lights. Those are, however, only a few and they can be hard to distinguish from sunlight reflections on the leaves.
The darker it gets, the more glowworms you will see. In total darkness, you will see hundreds of glowworms.
You will see people taking photos of the glowworms using tripods or by clamping their cameras to the fence as a long exposure time is needed to get good photos.
When you get there, please stay quiet and use a weak flashlight to find your way into the dell to not blind other people or disturb the glowworms. Give your eyes a few minutes to adjust to the darkness and you will be rewarded by the beauty of hundreds of glowworms around you.
There are other free glowworm dells and caves, but Hokitika Glow-Worm Dell is the easiest to access.
Hokitika Gorge
The Hokitika Gorge is known for its granite cliffs through which the beautiful Hokitika River with its milky turquoise water flows.
The Hokitika Gorge Walk is an easy 1.25-mile (2 km) loop walk that takes 40-60min to complete. It crosses the gorge twice and is wheelchair accessible until before the first bridge.
Most of the trail goes through the forest, but there are several viewpoints and the vistas from the two bridges are spectacular. Mosquitos can be a nuisance here, so bring some DEET.
Admission and parking are free.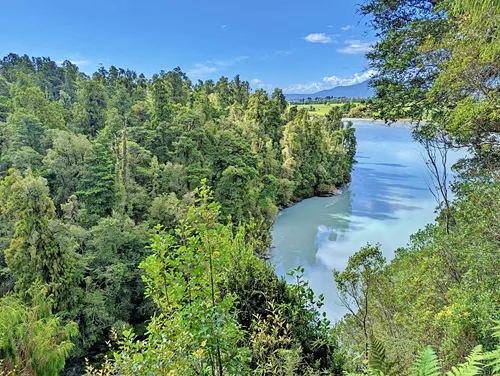 Dorothy Falls
If you are following this guide, then Dorothy Falls will be the only time where you will drive a few miles on a compacted dirt road instead of an asphalt road.
To be more precise you will drive the 3 miles (5 km) south and 2.5 miles (4 km) north of Dorothy Falls on a good quality compacted dirt road.
Dorothy Falls is about 100ft (30 m) to the east of the road, and you can easily see it when you drive over the bridge. There is a small parking space west of the road.
The falls are not a must-see, but a nice place when you like waterfalls. You may share the place with 1 or 2 other people or maybe you will have it all for yourself.
You can walk right up to the falls and marble at the tall waterfall with the brown water at its base.
On your way back north towards Hokitika, where the compacted dirt road turns into an asphalt road again, lies the tiny settlement of Hans Bay. This is a good place to relax and have a picnic.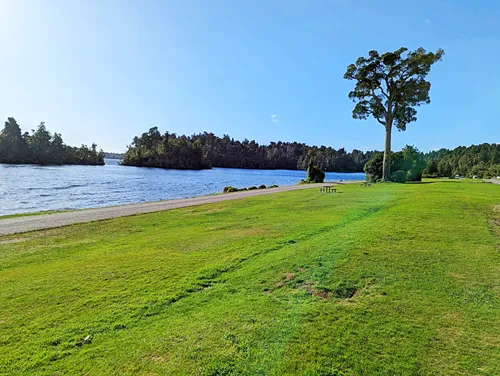 National Kiwi Centre
Don't let the name fool you. The National Kiwi Centre is basically a small indoor zoo which has lots of native fish and even an eel tank and it happens to have a few kiwis. Since kiwis are rare, shy, and nocturnal, the National Kiwi Centre may be your only way to see kiwis.
Since kiwis are nocturnal, the National Kiwi Centre has switched night and day in their kiwi habitat. So, during the day, the habitat is dark so that you can see them foraging for food. Photography and videography are strictly forbidden in the kiwi habitat, but allowed elsewhere on the premises.
There is also lots of information about kiwis and the efforts to save them from extinction.
And, because this is New Zealand, there is even a small glowworm wall at National Kiwi Centre where you can see dozens of glowworms.
The majority of the National Kiwi Centre is occupied by aquariums of various sizes and even two large fish tanks where you can see native fish. One large tank is the eel tank, where you can witness feedings three times a day at 10am, 12pm and 3pm. You can even volunteer to feed the eels.
Because photography is not allowed in the kiwi habitat, you will get a photo of one of their kiwis when you leave the center. And, you will also get a yummy treat.
Explore Hokitika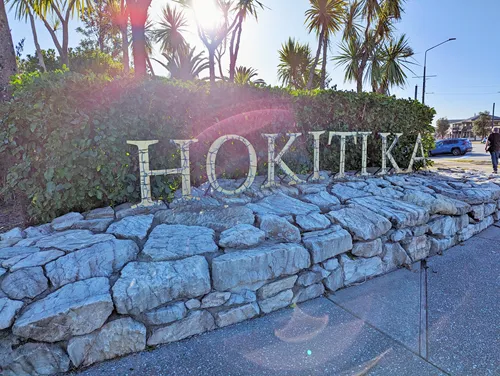 Hokitika Townchip
One day, when we were in town, we saw a long line of people waiting at a take-out fast-food restaurant called Hokitika Townchip – yes, the typo is intended. They serve burgers, chicken dishes, lots of seafood dishes and, of course, chips or fries as we say in the US. I liked their food, especially since everything tastes a little different compared to what you get at regular fast-food restaurants.
Hokitika Town Clock
The Hokitika Town Clock is a landmark in a roundabout in the commercial center of Hokitika. Its bell tower has ornate metal trim and is well cared for. The clock tower and the Pioneers of the Frontier statue (one block to the southeast) are two of the most photographed attractions in Hokitika.
Pioneers of the Frontier statue
The Pioneers of the Frontier statue and the Hokitika Town Clock (one block to the northwest) are two of the most photographed attractions in Hokitika.
Hokitika Beach
Hokitika Beach is a dark grey sand beach to which locals and visitors flock to for great sunset views. This beach tends to receive lots of driftwood and every year in January the town holds the Driftwood and Sand Festival, where artists and locals build sculptures out of beach debris.
The beach can either be entered from Beach Street or through the pedestrian extension of Weld Street which contains some artwork.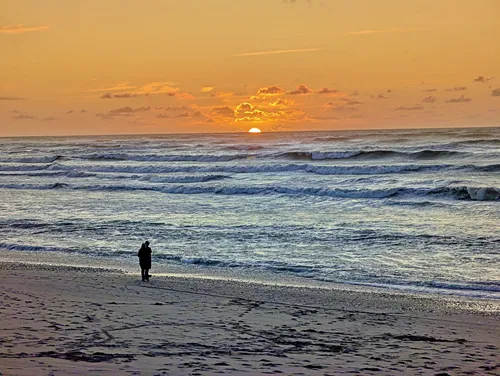 Which part of New Zealand do you want to visit now?
Other popular Purple Travel Guides you may be interested in:
Like this Backpack and Snorkel Purple Travel Guide? Pin these for later: