Travel Guide for the Bay of Plenty Region, New Zealand - New Zealand Purple Guide
Rotorua is famous for its geysers, bubbling mud pools, and hot thermal springs and for Hobbiton, where the Lord of the Rings movies were filmed, Our detailed itinerary shows you the best things to see in the Rotorua area and has lots of photos which allow you to decide what you want to see.
Table of contents
Rotorua
The name Rotorua is a short form of its Māori name Te Rotorua-nui-a-Kahumatamomoe, in which Roto means lake and rua means two or second, making mean Second Lake. Second Lake, because it was the second major lake that the ancient Māori chief and explorer Ihenga discovered.
Rotorua lies in the heart of New Zealand's geothermal area. The geysers, bubbling mud pools, and hot thermal springs in this region are a main tourist draw.
The hydrogen sulfide emissions form the geothermal areas that you will most likely smell have given Rotorua the nickname Sulphur City.
Rotorua has many geothermal features and most of them are on private land, meaning that you will need to pay (sometimes steep) admission. Several of the parks are quite comparable, so in this guide we provide detailed information to our favorite parks and tell you what some other options are.
Besides geothermal features, there is other fun to be had and we provide detailed information on those other fun attractions too.
Kuirau Park
Located in the center of Rotorua is a free geothermal park called Kuirau Park.
Māori regularly used the springs and pools in the past when they were cooler than they are today. The park was named after a beautiful young woman named Kuiarau who, according to Māori legend, was bathing in the waters when a taniwha (large supernatural being) dragged her into his lair under the lake, killing her. This angered the gods and they boiled the lake to destroy Taniwha and keep him dead.
This park is fairly large and you can easily spend 1-2h just walking here.
There is a parking lot at the southern end of the park, but our advice is to pass by it and drive farther north to the parking lot near the hot pool. The reason for that is simple: the very few springs in the southern end of the park are unimpressive and you better spend your time in the center and the northern part where the springs and pools are much more impressive.
Start your tour at the hot pools and then walk over to the footbaths where you can put your feet into the two basins that are fed by hot water that is emerging inside the park. Don't forget to bring a towel.
From here, walk around the lake to the southeast and then head north on the trail to the geothermal cone and then to the smoking lake which is Kuirau Lake in the very north of the park. You cannot miss Kuirau Lake as the fumes can be seen from far away.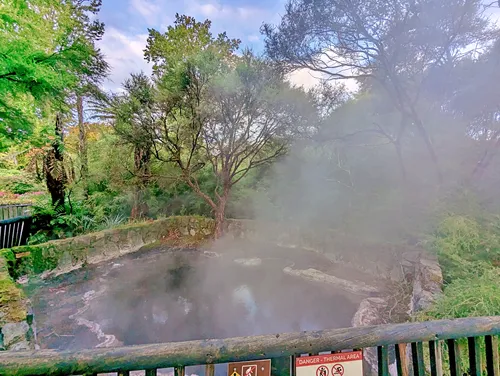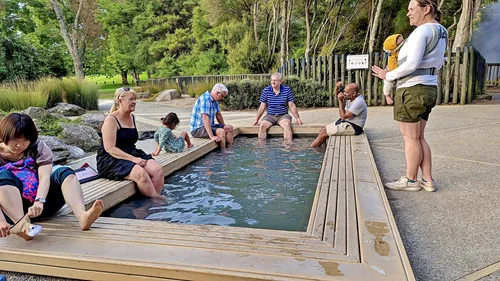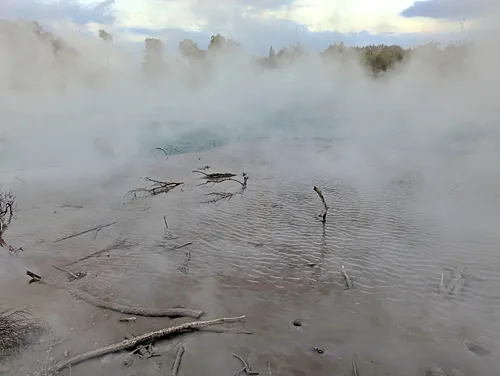 Rotorua Skyline Gondola and Luge
One of the top attractions in Rotorua, which has nothing to do with volcanic activities, is the Rotorua Skyline.
The Skyline is a cable car that brings you up 1,598 ft (487 m) up on Mount Ngongotaha where you have multiple entertainment options: Luge, Mountain bike, Sky swing, Zipline and you can dine, visit a winery tasting store and a Jelly belly store.
One attraction that is good for (almost) all age groups is the Luge. There are three major tracks with two add-ons, bringing the total to five luge tracks.
We typically buy either 3 or 5 tickets per person and ride down the different tracks – yes this is so much fun. And we always make sure to go at least once on the green or red track to see the dinosaurs near the end.
You can buy tickets online or at the ticket counter. When it is busy, the lines at the counter can get pretty long, so having an online ticket can save you some time.
Hobbiton
What did your friends and family say when you first brought up that you wanted to New Zealand? Did they mention sheep and Hobbiton? This is, at least what we typically hear.
The Lord of the Rings trilogy and the Hobbit books have catapulted Hobbiton to one of the absolute must-see attractions in New Zealand. And rightfully so. Even if you were not a fan of the movies or books, Hobbiton is still a beautiful and magical place, and we cannot imagine a New Zealand itinerary for first timers without it.
On their website, you are asked to book your tour in advance to make sure that you get in as access is only via a guided tour with limited seats.
The tour guides are knowledgeable and motivated, which you can tell during the tour.
There are different experiences that you can book. The normal Movie Set Tour takes about 2h and departs only from The Shire's Rest, which is about a 70min drive from Rotorua.
Zorb Rotorua
Are you up for an exciting activity that will have you laughing all the way? If so, then try Zorb Rotorua.
What is Zorbing? Well, you and possibly up to two others in your party will slip in your bathing suits and the crew will drive you up the hill where your Zorb ball is waiting for you. You will then hop into the giant clear double-sided plastic Zorb ball which is filled with about twelve gallons (40 l) of water. Then the ball will be closed and they will push you down the hill. Don't worry, there is plenty of air between the two plastic layers so that you will not feel anything even if you hit a wall – which you won't. The water is in the Zorb ball so that you will slip and stay at the bottom of the ball when it rolls. That means you will never unintentionally get pushed around or even make a loop inside the ball. The whole thing is fun and, like me, you will be laughing all the way down the hill.
There are four different tracks downhill. One of them is Mega which gets straight down a steep hill, and you achieve the highest speed and another one is the Sidewinder which includes six twists and turns.
At the bottom, you can either take a shower and change back or relax in the free hot tubs and consider doing another run...
Wai-o-Tapu thermal area
Wai-o-Tapu Thermal Wonderland is located on private grounds and open for visitors 4 days a week, Fridays through Mondays. At the time of writing, admission was NZD32.50 per adult and discounts were available for children and families.
A good description of Wai-o-Tapu would be a mini-Yellowstone.
The main attraction is the Lady Knox Geyser, which does not erupt by itself anymore, but park staff "soap" it once every day at 10:15am, which then leads to a prolonged eruption that lasts at least 30min, maybe longer, but we left after about 30min.
Lady Know Geyser is located outside the park, so you will need to go to the park office to buy your ticket first.
As a side-note: there were many visitors visiting the eruption, nobody seemed to check tickets, and I have not seen many of these people at the visitor center or inside the park. So I have a feeling that quite a few may not have paid at all.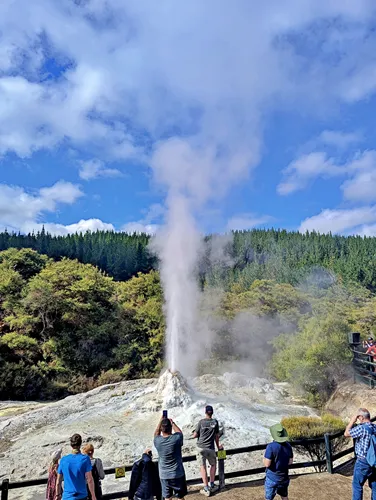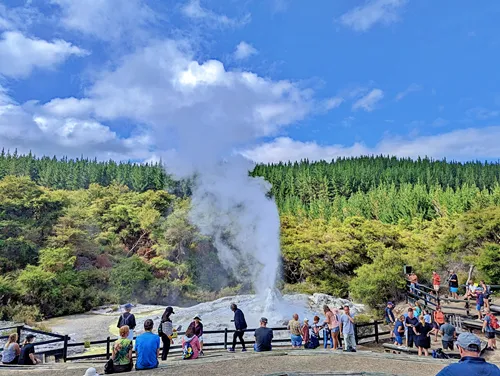 After the eruption, drive back to the visitor center and then enter the park.
Depending on how much time you want to spend, you can either take the red loop (1 mile, 1.5 km, 45 min), or add on the orange loop (total: 1.25 miles, 2 km, 60 min) or add on the green trail (total: 1.9 miles, 3 km, 90 min). Our recommendation is to do the red and orange loop and at least do a bit of the green trail.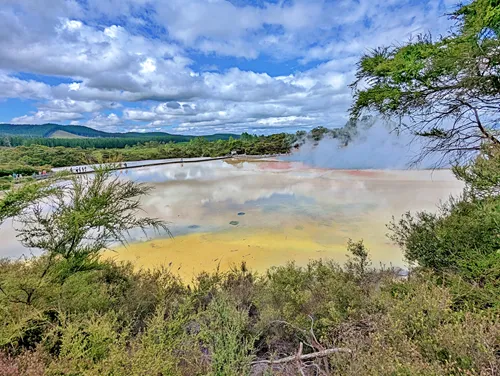 When you are done with the park, we strongly recommend that you drive to the Mud Pool (you have most likely seen the sign right after you entered the Wai-o-Tapu area this morning - before you got to the Lady Know turn-off and the visitor center). Reserve anything from 5-20 min for this impressive pool of bubbling mud.
Whakarewarewa Village
Whakarewarewa Village is an authentic living Māori village, which you can only enter by a guided tour. At the time of writing, 1 hour guided tours are available daily at 10am, 12pm and 2pm and cost NZD40 per adult with discounts for seniors, kids and families.
The tour guides are Māori who are happy to share insights into their life and culture with you. And they can explain to you why so many Māori women have these tattooed beards.
The tour brings you to several important buildings, a public bathing complex, geothermal features and the cemetery and you get to eat part of a corn cob that was prepared by a hot spring.
After the tour, there is an excellent cultural show where you are allowed to take photos and videos.
Which part of New Zealand do you want to visit now?
Other popular Purple Guides you may be interested in:
Like this Backpack and Snorkel Purple Guide? Pin these for later: