Travel Guide for Mexico City - Mexico City Purple Guide
Mexico City is a city of superlatives. Here is what you need to know when you visit our favorite large city. Our detailed itinerary provides the best things to see in our favorite large city with lots of photos.
Whether you are interested in art and museums, culture, history or superb Mexican food, Mexico City is calling your name.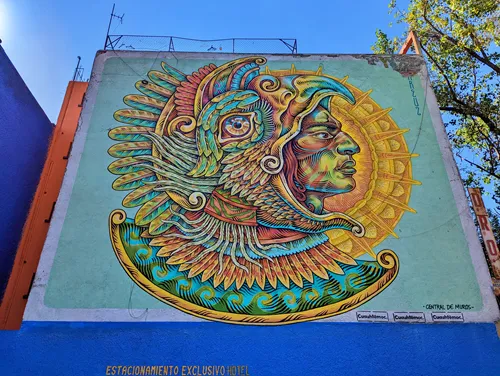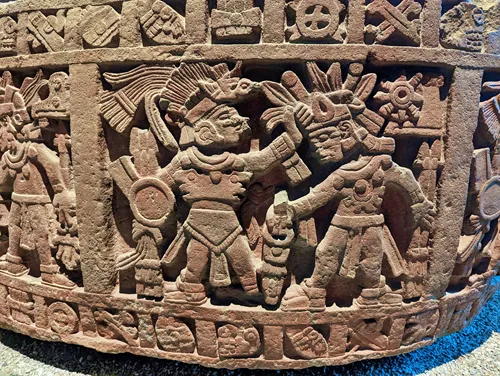 In this Mexico City Purple Guide, we will tell you what you need to know to visit Mexico City and we provide you with self-guided walking tours that bring you to the highlights of Mexico City.
To help you find out what best fits you, we have added lots of photos and links to google maps locations and additional reviews.
Join us to explore the best things to see and do in Mexico City in nine days.
We have amd a video about Mexico city - you can watch it here:
Table of contents
General Information about Mexico City
Mexico City, also called Ciudad de México or CDMX, is the capital of Mexico. The city itself has a population of 9.1 mio, and the greater metropolitan area 21.8 mio people. That makes it the sixth-largest metropolitan area in the world and the most populous city in North America. Mexico City's greater metropolitan area is one of the most productive urban areas in the world – it creates about 22% of Mexico's GDP.
Mexico City is the oldest capital city in the Americas and archeological evidence of human occupation can be traced back to 12,700 BC.
The Aztecs originally built the city in 1325 under the name Tenochtitlan on an island in the center of Lake Texcoco.
King Cuauhtémoc and the city of Tenochtitlan was conquered by the Spaniards under Cortés in 1521 after a three-month long siege.
To erase all traces of the old Aztec order, Cortés almost completely destroyed Tenochtitlan and rebuilt it in Spanish style.
In 1524, the city was renamed to México Tenochtitlán and in 1585 the current name Ciudad de México (Mexico City) was established, as the Spanish found Tenochtitlán to be too difficult to pronounce.
Mexico City was liberated from the Spaniards by Simon Bolivar and his army in 1821 and Mexican Independence Day is celebrated every year on July 28.
Getting around in Mexico City
Mexico City is an expansive city. Most tourist attractions can easily be reached with the good and inexpensive Metro or Metrobus system.
Alternatively, you can call an Uber to get to your destination. Ubers are typically slightly more expensive than taxis, but you get these benefits:
You can pay with your credit card instead of cash that taxi drivers expect
The price is fixed, and you don't need to worry that a taxi driver will overcharge you or pull a money switch-a-roo trick on you, especially if you don't speak Spanish
If you feel less adventurous, then the hop-on-and-off Turibus may be an option for you.
Mexico City Metro
The Mexico City Metro is the second largest metro in North America after New York City. It transports approx. 4.5 mio people per day or 1.7 billion people per year.
On its 125 miles (201 km) of tracks, 12 color coded lines serve 195 stations. Trains run from 5am to midnight during the week, from 6am on Saturdays and 7am on Sundays.
Tickets for the Metro, Metrobus and Tren Ligero
There are two ways to pay for a metro ride:
You can buy paper tickets at the payment windows in each metro station. Each ticket is 5 Pesos, and you have to pay cash. Other payment forms are not allowed. Just tell the attendant how many tickets you want.
Then go to the trains, put one ticket into the machine and walk through the gate.
You can buy a reusable network card for 18 Pesos at the vending machines. You must put cash into the vending machine as other payment forms are not accepted. The colorful network card comes preloaded with 5 Pesos, which is enough for one person to ride the metro. When you have the network card, you can either add more money onto it on the same vending machine. Attention: you do not need to buy another network card for your family members if they travel with you. You can use the same card to pay for their rides.
Once you have enough Pesos on your network card, you go to the trains, put the card on the card reader and walk through the gate.
One ride on the Metro or Metrobus is 5 Pesos per person. Once you walk through the gate, you can stay inside the metro as long as you like and take as many rides and transfers as you like as long as you don't exit the Metro station. Once you have reached your destination, you exit the Metro station through the gates. There is no exit ticket needed and you don't need to scan your card again.
Traveling to Xochimilco
We found the paper tickets convenient, but if you plan to travel to Xochimilco, then you must get a network card. To get to Xochimilco, take the blue Metro line 2 all the way to the southern terminal Tasquena. At Tasquena, take the exit and then you will see the signs to Tren Ligero towards Xochimilco. Tren Ligero does not accept paper tickets, only the network card. Tren Ligero operates with the same starting times as the Metro, but service ends at 11:30pm. A ride on Tren Ligero costs 3 Pesos.
Riding the Mexico City Metro
There are no time charts for the Metro. Trains run continuously from 5am to midnight and it usually takes 1-2 minutes until a train arrives. The longest we had to wait was about 5 min.
There are no announcements which station will be next. But there are signs every few feet in each car that show all the stations on that line and each train station has multiple signs with the name of the station. It will be extremely difficult to miss a station.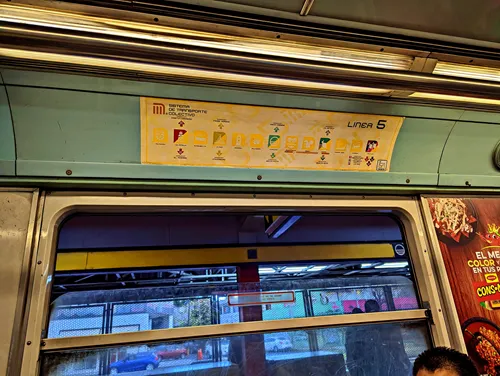 Please be advised that the trains in the downtown area will be ridiculously crowded during rush hour from 7am to 9:30am and 5:00pm to 7:30pm. Once you get out of the downtown area, it gets better but you may still need to stand.
One piece of advice: The Metro is usually very reliable and fast, but don't count on it.
On the last day during one of our visits, we were going to the airport and there were multiple delays where the train just stopped multiple times for a few minutes on different lines. These delays cost us probably around 20min.
On other occasions during rush hour, the trains were so full that it was impossible to squeeze in. We had to wait for another 20min to find a train that still had a little breathing room.
Travel to and from the airport
Terminal Aerea on the yellow line, line 5, is right outside Terminal 1 of the Aeropuerto Internacional Benito Juárez (MEX airport). If you arrive at Terminal 2, then take the train inside the airport to Terminal 1. At Terminal 1, exit the airport and then walk left. The walkway is covered. Follow the walkway (and the many other people that walk in the same direction) for about 5min and then you will come to the entrance of the Metro. Be advised that only small luggage is permitted on the Metro. If you have large luggage or if you come during rush hour, then you may want to call an uber or take a taxi to your accommodation.
As with any other Metro station, you can buy your tickets or the network card inside the station. Be advised, that a trip from here costs 10 Pesos instead of the normal 5 Pesos. So, either buy only the paper tickets you need for this trip (you can buy more tickets in other stations for 5 Pesos) or buy the network card.
Safety in the Mexico City Metro
The Mexico City government takes safety seriously. There are police officers on nearly every platform and the first cars on many lines are reserved for women and children. In most stations access to these cars is fenced off and only women and children are allowed to enter these areas.
The Metro stations and even the transfer tunnels are well lit and often have small stores and art, murals, or educational exhibits.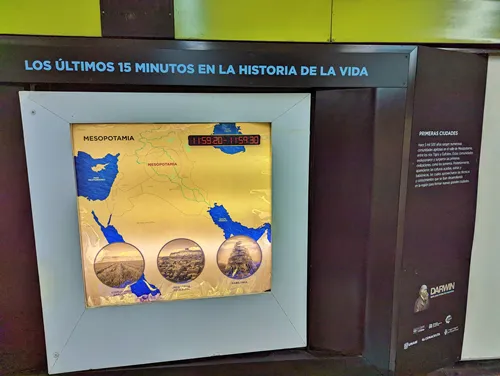 Turibus of Mexico City
Like many other metropolitan areas worldwide, Mexico City has a hop-on-and-off bus called Turibus.
Turibus operates different routes within Mexico City:
Historic Center Circuit with 16 stops for 180 Pesos per person from 9am-7pm with departures around every 30min
Coyoacan (South) Circuit with 10 stops for 180 Pesos per person from 9am-7pm with departures around every 30min
Polanco Circuit with 9 stops for 180 Pesos per person from 10am-7pm with departures around every 90min
Basilica Circuit with 4 stops for 180 Pesos per person from 10am-7pm with departures around every 90min
Besides hop-on-and-off tours, Turibus offer regular guided tours to e.g. Teotihuacán, Six Flags, Monument to the Revolution, Xochimilco, Tlaxcala, a night tour, etc.
The hop-on-and-off buses have narration, but you will need to bring your own headsets. As they use normal roads and no priority lanes, travel during rush hours can be extremely slow. All Turibus service stops at 7pm, regardless of where the buses are and that could mean that you may be dropped somewhere along the bus route and need to take an uber to get to your accommodation.
Climate of Mexico City
Mexico City has a subtropical highland climate which has more moderate temperatures in summer than lower lying cities. The chance for snow to fall is almost zero.
Mexico City has two main seasons. The wet humid summer lasts from May through October and the cool sunny winter runs from November through April. During winter, there is almost no rainfall.
Here is the climate that you can expect when you visit Mexico City: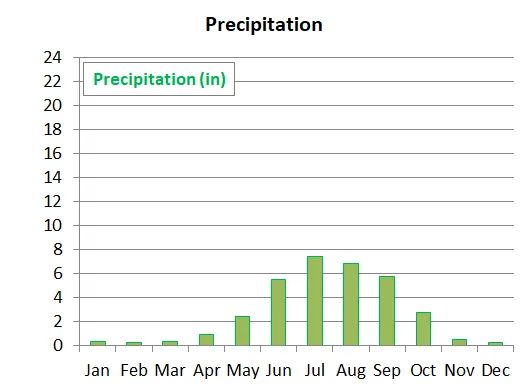 The best time to visit Mexico City
The best time to visit Mexico City is from March to May, because it is warm, the sky is blue and there is almost no rain.
The second-best time to visit Mexico City is from November through February. It is cooler, but not cold, the sky is blue and there is almost no rain.
The summer months from June through October can be rainy, hot and humid. If you can deal with it, then you will be rewarded with fewer crowds and lower hotel rates. Just be warned, subway stations will fill up with people during downpours, water may flow into the subway stations, and you can probably imagine that lots of sweaty people in the hot subway stations may not be a good idea.
Money, ATMs, and Credit Cards in Mexico City
The currency in Mexico City is the Mexican Peso. You can find the exchange rate here.
You can pay almost everything by credit card (Visa and MasterCard). Only Metro tickets, taxi fares, street vendors and some small stores require you to pay cash.
Tap water in Mexico City
Tap water in Mexico City is safe to drink at the water plant, but old and damaged transportation lines can sometimes lead to contamination.
Many hotels and some Airbnb's provide or bottled water of filtered water which is apparently safe to drink. I don't understand how normal filters will combat bacterial contamination and that's why we always boil our drinking water.
Ice in hotels and restaurants that cater to tourists is normally made from purified water and should therefore be safe to drink. Be careful with small local restaurants or street vendors, as they may use regular tap water to make their ice.
Time zone of Mexico City
Mexico City is located in the same time zone as Houston in the USA; Mexico City observes daylight savings time. You can see the local time here.
Telephone
The international calling code for Mexico City is: +52
Wifi (WLAN) and internet connection
There is free wifi at the Aeropuerto Internacional Benito Juárez (MEX airport) and there are approx. 28,000 free wifi hotspots throughout Mexico City that anyone can use for free and without any password. Sometimes, individual hotspots may be down or overloaded, but in general, you should be able to get free wifi in most places in Mexico City.
There is even a good signal underground when using the metro.
Accommodation in Mexico City
Mexico City has tons of accommodation for everyone's taste.
The itinerary that we proposed in this Backpack and Snorkel Purple Guide heavily relies on metro transportation and thus the closer you are to the metro, the better.
Because the metro can be jam-packed during rush hour, it is also desirable to be in a walkable and safe neighborhood with lots of restaurants and close to some attractions.
Therefore, in Mexico City we prefer to stay in the middle of it all: Reforma 27 in Cuauhtémoc on Paseo de la Reforma.
Best of all, we have had 3 parades go by our Airbnb in one weekend.
Reforma 27 is a tall condo building right on Paseo de la Reforma and it is a half mile (800 m) from the Hidalgo subway station. In walking distance are some high class restaurants and small Mexican restaurants. It is also clsoe to many small food stands and night markets. There are some small convenience stores and a Walmart is about 1 mile (1.6 km) away.
As the apartment is on the 14th floor, street noise is not much of an issue when the doors are open and no issue at all with the doors closed.
The apartment is surprisingly large and has a fully equipped kitchen with lots of spices and other cooking ingredients. There is a separate water line for filtered water.
There is a king bed and 2 fans, but no air condition. There are two small balconies that can be accessed via glass doors. We left the doors open over night to cool the apartment down for a more comfortable sleep.
The black-out curtains are effective keeping the heat out when the morning sun shines into the apartment.
The apartment has a modern bathroom with a shower and a hidden powder room.
As a guest, you have access to the swimming pool.
The views from the apartment over Mexico City are wonderful.
Self-guided walking tours of Mexico City
Other popular Purple Guides you may be interested in:
Like this Backpack and Snorkel Purple Guide? Pin these for later: