Backpack and Snorkel Travel Guide for the Cook Islands - Cook Islands Purple Guide
This Cook Islands Travel Guide tells you what you need to know to visit the Cook Islands, what the best things to see and do are and it has lots of photos to help you plan a relaxing vacation in the Cook Islands.
Why you should visit the Cook Islands
Are you looking for incredibly turquoise waters and deserted white sand beaches with excellent snorkeling right off the beach in an English-speaking country that you can visit year-round? Do you want to meet some of the friendliest people on the planet?
Look no further, the Cook Islands may just be what you have been looking for all along.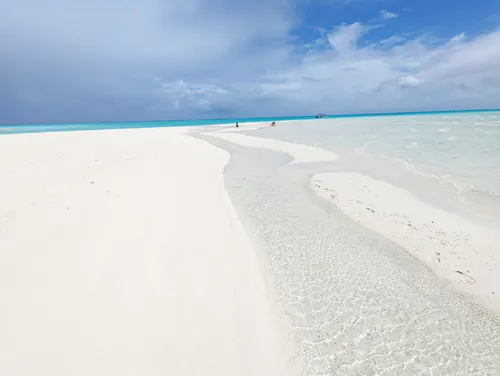 In 1997, the parliament of the Cook Islands passed a Marae Moana (Sacred Ocean) bill which created the largest multi-use marine protected area in the world at that time. It extends over the entire exclusive economic zone of the Cook Islands of over 0.7 mio square miles (1.9 mio square kilometers) and it created 15 marine protected areas extending to 50 nautical miles around each island where only small sustainable commercial fishing or seabed mineral activities are permitted. Large-scale exploitation is forbidden.
As a result, you will find healthy and diverse sea-life populations and endangered sea turtles and reef sharks.
The lagoons are lined with white sand beaches and often have good snorkeling right off the beach.
Unlike neighboring French Polynesia, the islands of the Cook Islands are usually smaller and don't have such rugged towering mountains on the interior. That means that you can easily explore the islands by bike or scooter.
As the population in the Cook Islands is also lower and there are fewer visitors, finding a deserted beach is usually quite easy.
Rarotonga is the most popular tourist destination in the Cook Islands, followed by Aitutaki which is significantly more rural. Other islands are basically smaller and more rural versions of Aitutaki which contain less or, in some cases, no tourist infrastructure.
We have made some videos about Aitutaki and Rarotonga in the Cook Islands. Please check them out.
Table of contents
General Information about the Cook Islands
The Cook Islands are a self-governing island country of 15 islands which is associated with New Zealand and many of the 17,000 inhabitants are New Zealand citizens.
About 13,000 live on Rarotonga and almost 2,000 on Aitutaki. More than 100,000 Cook Island citizens live in New Zealand and Australia. The total land mass of the Cook Islands is 93 sq mi (240 square km).
Tourism is the biggest industry in the Cook Islands with more than 160,000 annual visitors. Other sources of income are offshore banking, pearls, and export of fruits and seafood.
Driving a car or scooter in the Cook Islands
Cars and scooters are driven on the left side of the road like in New Zealand and Great Britain. The speed limit is typically 40 km/h in urban areas and 60km/h outside the settlements.
You are not allowed to pump your gas at gas stations. An attendant, often the gas station owner, will pump the gas for you.
More information can be found in the Rarotonga and Aitutaki sections of this Cook Islands Purple Guide.
Air Travel in the Cook Islands
The only international airport in the Cook Islands is located in Rarotonga (airport code; RAR). You can get here on flights from New Zealand, Australia and Los Angeles with Air New Zealand, JetStar or Virgin Australia and from French Polynesia with Air Rarotonga (operated by Air Tahiti).
All inter-island flights within the Cook Islands are operated by Air Rarotonga. Air Rarotonga operates a small fleet of currently 6 aircraft. The busiest route between Rarotonga and Aitutaki uses SAAB aircraft with a 2x2 seat arrangement (max. 34 passengers).
Other islands are served by smaller aircraft with a capacity of 3-15 passengers.
Inter-Island flights within the Cook Islands have luggage limitations and it is not necessary to go through security, meaning that you can carry liquids greater than 100ml in your carry-on luggage. When we travelled between Rarotonga and Aitutaki, the carry-on limitation of 7kg was not enforced.
Climate of the Cook Islands
The Cook Islands have pleasant warm and sunny weather all year long. May through November have slightly less precipitation than December through April. Please be advised that there is a chance of a short rain shower all-day long and during the wetter months you will typically see a brief morning or afternoon tropical shower.
The highest temperature is typically between 77F (25C) from July through September and 84F (29C) from January through March.
The water temperature is around 75F (24C) from June through October and 79-82F (26-28C) from December through May.
The climate that you can expect during your Cook Islands visit is shown here:
The best time to visit the Cook Islands
The Cook Islands have pleasantly warm and sunny weather all year long and are therefore a year-round tourist destination.
High Season in the Cook Islands is during the months of July and August and the weeks before and after Christmas, when the school holidays in New Zealand are in full swing.
Shoulder Seasons in the Cook Islands are September through October and March through May. During that time, the days are pleasantly warm and the chances of cloud cover and rain are comparably low.
Cyclone Season is from November to March. This is the low season and the temperatures and humidity are at their highest. Despite the increased chance of rain, there are plenty of sunny days.
Whale Watching Season is from July to October when humpback whales come all the way from Antarctica to mate, give birth and rest in the waters near Rarotonga.
Kitesurfing Season is during the trade wind season of May to October.
Snorkeling is generally good all-year long.
History of the Cook Islands
The Cook Islands were settled at around 1,000AD by Polynesians from Tahiti. It took until 1595 until the Cook Islands were sighted by the Spanish and until 1606 until the first landing of a Spanish ship.
The British captain James Cook, after whom the islands were later named, landed here in 1773 and 1777. The name Cook Islands appeared for the first time in the 1820s on Russian maps published by Adam Johann von Krusenstern.
Christian conversion of the islands was much easier than in other parts of Oceania. More details can be found in the Cook Islands National Museum, which I highly recommend.
After the French annexed large parts of Polynesia, British residents of the Cook Islands feared annexation and formally asked the British Empire in 1900 for annexation which was accepted by the UK the same year.
In 1901, the Cook Islands were included into the colony of New Zealand, making the islands dependent on New Zealand.
On January 1, 1949, when the British Nationality and New Zealand Citizenship Act 1948 came into effect, Cook Island citizens became New Zealand citizens, too.
On 4 August 1965, a new constitution of the Cook Islands came into effect, giving the Cook Islands self-governing status. Since then, every year the first Monday of August is celebrated in the Cook Islands as Constitution Day.
Language of the Cook Islands
The two official languages of the Cook Islands are English and Cook Islands Maori.
Please note that Cook Islands Maori is similar but different from the Maori that is spoken in French Polynesia.
Here are some expressions:
| | |
| --- | --- |
| Kia Orana | Hi; may you live long |
| Popongi | good morning |
| Ka kite | see you later |
| Ae | yes |
| Kare | no |
| Vaka | canoe |
| Aere ra | goodbye |
| Vaine | woman |
| Tane | man |
| Painapa | pineapple |
| Meitaki | thank you |
Money and Credit Cards in the Cook Islands
The currency used in the Cook Islands is the New Zealand Dollar. You can find the current exchange rate here.
Be advised that the Cook Islands mint their own coins, so if you pay cash, you may get your change in Cook Island coins and New Zealand coins. Cook Island coins can only be used in the Cook Islands – you will not be able to use them or exchange them anywhere outside the country.
Credit cards (MasterCard and VISA) are widely accepted. You will only need cash to pay street vendors, incl. at Aitutaki Market, or if you make small purchases that fall under the minimum credit card threshold that vendors have – which never happened to us.
There are ATMs on Rarotonga and Aitutaki. Some of the more remote islands don't have ATM machines.
Sundays in the Cook Islands
Much of the Cook Islands are closed on Sundays. In recent years, this has changed a bit and nowadays you will find quite a few street vendors and restaurants that are open.
We did not do it, but many visitors report that it is quite an experience to visit Sunday church service with the locals. We did, however, see that locals dress up nicely (and colorfully) for Sunday's church service.
Tap water in the Cook Islands
Tap water is not potable in the Cook Islands. It will need to be boiled to be safe for consumption. Some hotels, however, have a separate water line for drinkable tap water.
There are several free water stations around the islands where filtered tap water can be obtained, but you will need to bring a container.
Telephone
The country code for the Cook Islands is: +682
Time in the Cook Islands
The Cook Islands are in the same time zone as Tahiti in French Polynesia and Hawaii. Daylight savings time is not observed. You can find the current local time here.
Visa requirements for the Cook Islands
You can check if you need a visa to enter the Cook Islands here.
Wifi (WLAN) in the Cook Islands
There are many wifi hotspots all over Rarotonga and Aitutaki, but there is no free public wifi in the Cook Islands with the exception of a one-time free 30min wifi connection at the Rarotonga airport. Check with your hotel if they provide free wifi. Most hotspots are owned by Vodafone and they sell Wifi Vouchers to access these hotspots. At the time of writing, the lowest wifi access packages were:
2GB, valid for 3 days: NZD20 (available in stores)
2.5GM, valid for 7 days: NZD10 (online only)
Wifi is not particularly fast, so be prepared for that.
Alternatively, you can buy a local SIM card for your cell phone.
What part of the Cook Islands do you want to expolore now?
Other popular Purple Guides you may be interested in:
Like this Backpack and Snorkel Purple Guide? Pin these for later: