Travel Guide for San Carlos, Mexico - San Carlos Purple Guide
San Carlos, Mexico is know for beautiful sandy beaches and its Mexican small-town appeal. Our travel guide shows you the best beaches and the best things to see and do. We have added lots of photos so you know what you will see.
Table of contents
Why you should visit San Carlos
San Carlos is the sailing capital of Sonora, it is known as a good diving sport due to its clear waters and has recently become popular for skydiving. While Puerto Penasco has become very touristy and has lots of nightlife activities, people seeking a more authentic Mexican flair and relaxation have been flocking to San Carlos. San Carlos' southern location ensures warm weather, while it can get downright chilly at night in Puerto Penasco in winter.
Best time to visit San Carlos
San Carlos can be visited year-round. Its very low annual rainfall almost guarantees good weather.
In general, June through September are the hottest months with daily high temperatures above 93F (34°C). Daytime activities notably slow down during that time and some stores and activities are closed.
On the other hand, December through February see nighttime lows below 60F (15°C).
Sea temperatures are above 77F (25°C) and thus suitable for swimming from June through October and can drop to a chilly 62F (17°C) in January and February.
Taking all this into account, the best months to visit San Carlos for a beach vacation are May, June, late September and October.
The climate you can expect in San Carlos during your visit is shown here:
How to drive from Puerto Penasco to San Carlos?
There are two options to drive from Puerto Penasco to San Carlos. Most people opt for the longer inland route over the coastal route as the coastal route has some areas that are in bad shape.
We have taken both ways and absolutely recommend the inland route, but we describe them both so that you can make your own decision.
Inland Route
The drive takes about 7 1/2h, incl. restroom and gas-up stops, if you obey the speed limit. Much of the last 2/3 of the route have a speed limit of 110 km/h, while the speed limit of the first third of the way is constantly changing between 60, 80, 90 km/h and no limit.
95% of the road is in excellent condition and the worst part is from downtown to just beyond Mayan Palace.
You will pass through numerous small towns where you can buy supplies, gas up and go to the restroom.
At the time of writing, there were 2 toll stations where you have to pay 124 Pesos and 120 Pesos toll respectively for a car.
Also, there were two military police checkpoints along the road. At both checkpoints we had to show paperwork for our rental car, but nobody asked for our passports.
The drive is uneventful, it goes through the Sonoran Desert and we were constantly passed by speeding cars with (mostly) Mexican license plates. During the whole drive we saw that police had stopped cars twice, but we don't know if it was for speeding or for something else.
Coastal Route
We drove this way back from San Carlos to Puerto Penasco.
The good thing about this route is that much of it has no official speed limits, but due to the road conditions, it took us about 7 1/2 hours. There are no tolls, and there were 2 police checkpoints.
The coastal route has 70% of the roads in good to excellent conditions and some of the remaining 30% are in such terrible shape that driving here is not about avoiding potholes but finding and driving through the shallowest potholes. You just cannot avoid them. Some potholes were as wide as an entire lane and we were forced to actually drive on the other side of the road for an extended period of time - I guess for at least 6 miles (10km).
There are only few gas stations on that route so make sure to start with a full tank of gas and gas up in Bahia Kino and/or Puerto Libertad.
Bahia Kino is a beautiful small beach town with 1 gas station in town and it is a 20km detour to get there and then 20km back to the coastal route. Puerto Libertad is on the coastal route and it also has exactly 1 gas station in town. To get to the gas station, trust google maps. The location is correct even if it seems wrong when you are driving there.
North of San Carlos on highway 15, google may ask you to turn left on Route 61, but the road signs say highway 100. Turn left on this road, it is mislabeled on google maps. This route is in good shape at the beginning but soon the first potholes will appear.
Be advised that google maps will make you do several turns and road changes and your first experience of a bad road will be the first half of Route 20 where you can practice avoiding potholes. You will need this training later.
Once you get on Route 3 shortly after Bahia Kino, until you get to Puerto Libertad, you will have plenty of time to regret your decision to take the coastal route as you will likely drive on the worst paved road you have experienced in your lifetime.
That last few miles before Puerto Libertad were very much improved as most potholes were filled in with dirt and few even with concrete.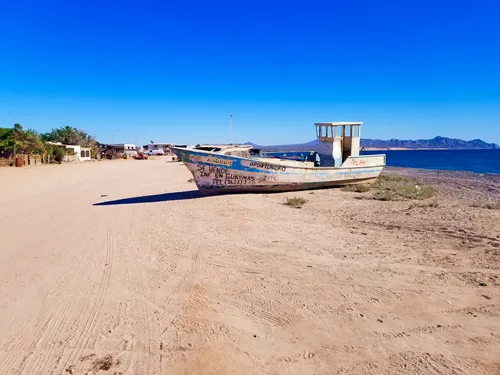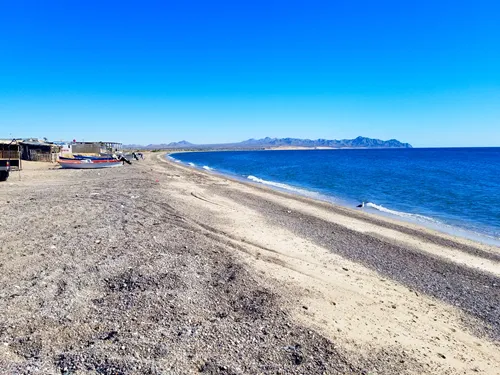 From Puerto Libertad to the Mayan Palace near Puerto Penasco, the road was mostly in good to excellent shape, but there were some short sections with potholes. From the Mayan Palace to downtown Puerto Penasco you will have portions of the road with potholes, but the overall road quality is good.
Where to stay in San Carlos?
Like its big brother to the north, accommodation in San Carlos is dominated by condos and there are comparably few hotels.
But unlike Puerto Penasco, San Carlos has plenty of public parking near most of its beaches, so that you don't need to spend top dollar to stay on your favorite beach. Nevertheless, for the sake of convenience, we still recommend to seek a beach front condo at your favorite beach.
We decided that it would be best to stay on San Francisco Beach and close to the Estero El Soldado.
San Francisco Beach is one of the best beaches in San Carlos and Estero El Soldado is a protected wildlife area. We were lucky to find condo 216 at Condominios Pilar, which has a view on both the Estero El Soldado and the sea of Cortez and we could even see sunrise over the Estuary from our bedroom.
Condo 216 is a 1 bedroom (upper floor) 1 bathroom (lower floor) condo. It has a Mexican decor and blue tiled countertops in the kitchen. There are a gas stove, microwave, fridge and freezer, toaster, 5 gal water bottle stand and coffee machine in the kitchen, as well as pots and pans, dishes, utensils, herbs and spices, salt and pepper. The condo has free wifi, but no dish washer and the laundry machine is in a separate building. The bathroom has a shower and only natural ventilation. No soap or shampoo are supplied.
Next to the kitchen is a dining room table and, a few steps down, is the living room with a TV.
Books, games, CD and DVDs are provided.
The condo complex also has a swimming pool, a tennis court and a community center with ping pong tables and a library.
At the administrative office, guests can rent kayaks and life vests for a fee and buy 5 gal water bottles ($3).
From the condo it is a short walk into the Estero El Soldado either on the beach or through several hiking paths.
Best beaches in San Carlos
San Francisco Beach
San Francisco beach is one of the longest beaches in San Carlos and it reaches all the way from the Estero El Soldado to Hotel Playa San Carlos. Near Estero El Soldado are 2 condo complexes and one of them are Condominios Pilar. The part of San Francisco beach in front of the condominiums is therefore often called Playa Pilar. You will see some people on the beach near the condo buildings, but the area west is undeveloped and you will likely have this beach all for yourself. At the western end before the Beachfront Condos is a more developed part of Playa San Francisco with a parking lot and a small restaurant. You will mostly see locals here.
San Francisco beach has soft sand and you will find many beautiful seashells. You will see pelicans and seagulls fishing here.
Swimming is good and you don't need water shoes. Snorkeling is possible, but visibility is limited and the lack of hiding spots on the sea floor only allows few uncolored fish, stingrays (that are hiding in the sandy sea floor) and the occasional crab to live here.
At the eastern end of San Francisco Beach, at Estero El Soldado, you will see lots of pelicans, sea gulls, herons and other birds on the opposite side of the inlet.
The undeveloped parts of San Francisco Beach can be accessed via dirt roads off Route 124. Follow the signs to Bahia Delfines. Or, you can drive all the way to Condominios Pilar, park outside the condo complex and then take a short 300ft (100m) walk to the beach. The path is marked and leads around the eastern side of the Condominios Pilar complex.
Currently, the road that goes to the Estero El Soldado parking lot is under construction. If you get there and it is repaired, then go all the way to the parking lot and that the marked 150ft (50m) path to the beach.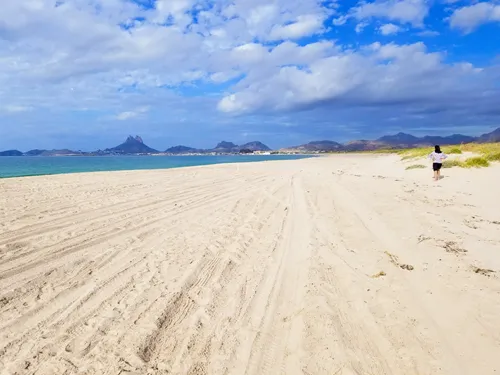 Playa Piedras Pintas
This is one of the best snorkeling spots in San Carlos.
Playa Piedras are actually two beaches in adjacent bays. Before the beaches, there is a lot of construction going on, and the eastern beach (the one that is farthest away from the entrance) is quieter.
You may see people fishing and doing some power watersports on the western beach. Here, the view is disturbed by several developments. That's why we prefer the eastern beach where we only saw a couple of people fishing.
The eastern beach is a coarse sand and small pebble beach. You can walk on it, but you will likely sink in the sand a little and that can be a bit abrasive to your feet. That's why we recommend to wear water shoes here.
Be advised that there are no structures on either beach that provide shade and that there are no services here. Parking here is plentiful.
The beach has a drop-off when you get into the water, so children will need to wear swim aids.
If you enjoy snorkeling, look no further. By the rocks on either side of the bay is plenty of opportunity to observe colorful fish, several of them are the same as in the Caribbean, like Sergeant Major fish. We found that snorkeling on the right hand side is easier as there are fewer waves.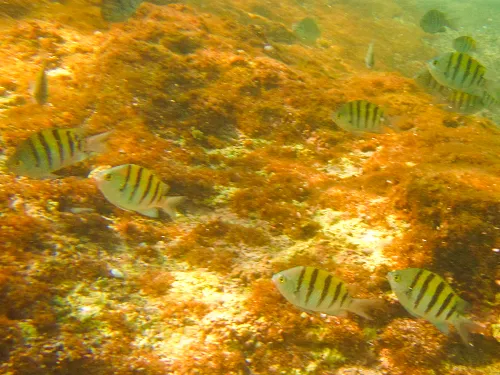 Playa Incluyente
Playa Incluyente is the strip of beach along Route 124 east and west of Charly's Rock Restaurant Bar. This is a fairly busy beach with lots of locals but also some tourists who visit the many restaurants in this area. You will need to walk down one of the concrete stair cases to get from the street level down to the beach. On the beach you will find palapas and vendors that sell souvenirs and refreshments.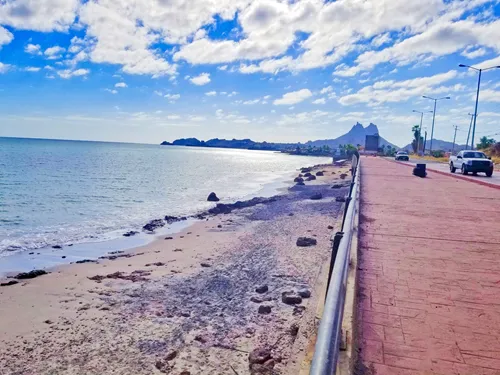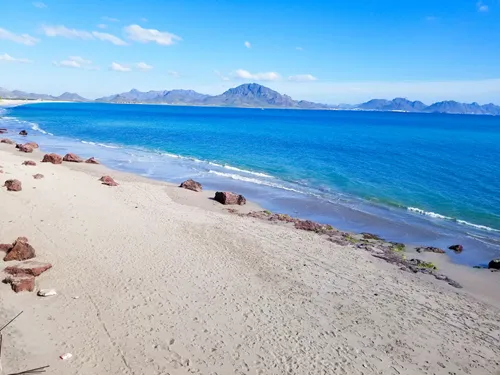 Playa Los Algodones
Playa Los Algodones is a popular 1.2 mile (2.0 km) beach in the western part of San Carlos. It has soft sand and good swimming. At the rocks near the Soggy Peso you can snorkel and see some colorful fish.
Much of the access to the beach is gated and not possible unless you to stay in one of the condos. Our advice is to drive to the Soggy Peso restaurant and park on the big parking lot. Access is gated, and there is a sign that tells you that you have to pay to pass the gate, but we were never charged and we told the guard that we wanted to go to the beach. We never had any problems driving through the gate. Parking is right next to the beach and the Soggy Peso restaurant is praised for its seafood.
Along Algodones Beach are several single story condo developments and the Playa Blanca high-rise. If you walk farther east, you will come to another busy area including a sand dune right before you reach the busy Hotel San Carlos Plaza, Beach & Convention Center.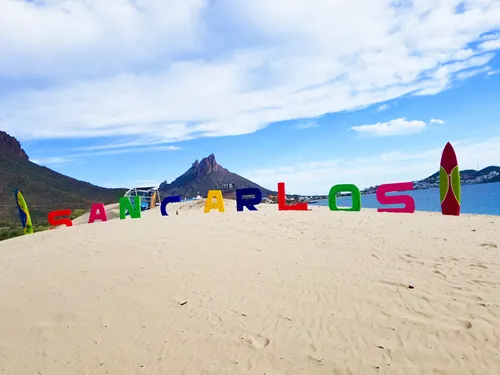 Estero El Soldado
Estero El Soldado is a protected area which is now closed to motorized traffic and it is being cleaned after it has been used as a trash dump for way too long. When you walk the unmarked trails you will see many piles of broken glass often sorted by color and you may wonder if this is a nature habitat or a glass recycling location.
To get there, drive all the way to Condominios Pilar, park outside the condo complex and then take a short 300ft (100m) walk to the parking lot. At the time or writing, the road that goes to the Estero El Soldado parking lot is under construction and you have to park about 150ft (50m) before the parking lot.
From the parking lot, you have two options: entry via the beach or entry by land.
Alternatively, you can rent kayaks in downtown and kayak into the estuary. Honestly, kayaking into the estuary should be on the top of your list as it gives you the best views.
Beach access
Take the marked path to the beach. It is only 150ft (50m) or so and then make a left at the beach and you are in the Estero El Soldado. You can follow the beach all the way to the left until it ends and you can get some good views if you walk over the dunes.
Land access
At the parking lot, follow the fence away from the ocean and you will soon see an entrance. Now follow the unmarked paths towards the flooded areas of the estuary. The unmarked paths are basically just paths that ATV had previously worn out and they don't seem to go to any particular destinations. During your walk, be careful and do not step in broken glass and enjoy the views on the many cactuses and other desert plants and birds. When you get to the water, look out for crabs and fish and birds.
Kayak access
When you stay at Condominios Pilar then you can rent kayaks there. Otherwise, rent them from an outlet in San Carlos. I found kayaking to be the best way to enjoy the beautiful scenery, flora and fauna. The water in the estuary is not very deep and in some areas it is barely a foot (30cm) deep. With the kayak, binoculars and a camera with a good zoom lens you can enjoy the many birds that are living here among the mangroves or that are just resting here during their migration. Some of the most frequent birds you may see here are: Brown and White Pelicans, different heron and egret species, White Ibis, Royal Terns, Osprey and the ever present sea gulls.
Guaymas
13 miles (21km) south east of San Carlos is the industrial port city of Guaymas with a population of 134,000 people located. Guaymas itself is of little interest to most tourists.
The main reasons to visit Guaymas are:
Shopping! Unlike San Carlos, Guaymas with its shopping malls (e.g. Plaza El Vigia) and shopping centers features unlimited shopping for everything you can imagine. Guaymas even has a Walmart.

Attending the annual carnival celebrations that arte held here since 1888 and that are some of the oldest in Mexico. The annual festivities that include multiple parades begin the Thursday before Ash Wednesday and end at midnight at the beginning of Lent.

Visiting the historic area near the malecon
Places of interest in Guaymas are:
Malecon with its monuments

Plaza of the Three Presidents

Palacio Municipal

Plaza de Armas 13 de Julio

San Fernando Church

Delfinario Sonora
Malecon
Guaymas Centro
Plaza El Vigia
Neighboring Empalme is the southern end of the free border zone. That means it is illegal to drive cars with only Mexico insurance farther south or east into Mexico from here. TIP insurance is mandatory.
Other popular Purple Guides you may be interested in:
Like this Backpack and Snorkel Purple Guide? Pin these for later: