Backpack and Snorkel Travel Guide of Panama City - Panama City Purple Guide
Panama City (Spanish: Ciudad de Panamá) is the biggest city in Panama with a population of just under 900,000 and 1.5mio people in its metropolitan area. It is the country's capital and its most developed city. This Panama City Purple Guide tells you about the best things to see and do in Panama City.
Founded in 1519, Panama City became part of the trade route through which much of the gold and silver was transported that Spain robbed the natives. In 1671, the city burned down when it was attacked and plundered by pirates. Two years later, Panama City was reestablished about 5 miles (8km) from its original location. The original burned-down location still exists and is now a tourist attraction called "Panamá Viejo" (Old Panama) or "Panamá la Vieja".
The new location is another place you should not miss. It is called "Casco Viejo" (Old Quarter).
In 1855, the Panama Railroad opened as a means to transport people and freight between the Pacific and Atlantic Oceans. Although it was built under direction of the US, who controlled it, it brought a lot of wealth to the city.
Even more wealth was brought to the region more than a half century later when the Panama Canal opened in 1914. Like the Panama Railroad before, the canal was built by the US and was under US control until December 31, 1999. Even today, the Panama Canal is one of major revenue sources for the country. In fiscal year 2019, the canal generated almost 2.6 billion U.S. dollars revenue from tolls, up from 1.9 billion US dollars five years earlier.
The climate you can expect in Panama City is shown here:
THE TOP ATTRACTIONS IN PANAMA CITY ARE:
THE HOTELS WE STAYED IN ARE:
GETTING FROM THE AIRPORT TO PANAMA CITY
You will likely arrive at Tocumen International Airport (PTY) which is 13 miles outside Panama City. Aeropuerto Internacional Panama Pacifico (BLB) which lies in Panama City has only one airline left and that is the low cost carrier Wingo who belongs to Copa and offers budget flights to Colombia.
The easiest way is to take a taxi at the airport. Alternatively, you can rent a car at the airport and drive to your hotel. Driving, however, can be a bit of a pain after a long flight and especially if you arrive during rush hour. Rush hour traffic in Panama City is frustratingly slow.
Depending on there your hotel is located, you can expect to pay $30 to -$60 in the evening.
Alternatively, you can take a bus or taxi outside the airport and pay what locals pay. When you exit the terminal, follow the road to the right. Directly after the road makes a left turn, you will see a covered walkway to your right. Follow it for a few hundred feet, cross the street and continue under the covered walkway to the end. Then cross the street, follow the uncovered walkway, cross another street and you will find a bus station. You can also try to hail a taxi here. Expect to pay below $2 per person for the bus ride and $15-$25 (evening) for the taxi. Just be advised that taxis here may be on their way to the airport and may not stop.
There are three other options:
I have heard that uber is now available in Panama, so you can try uber.

Pineapple Shuttle

Subway: The Las Mananitas subway station is 2.5 miles (4km) from the airport. You can walk there and then take the metro (line 2) into town.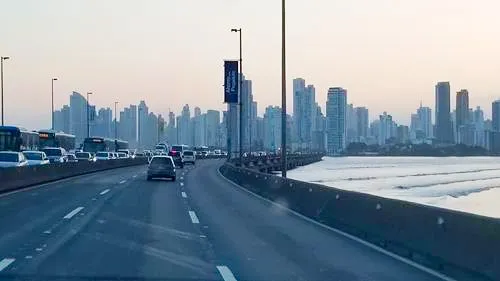 Here is the climate of Bocas del Toro that you can expect:
BEST DESTINATIONS IN PANAMA - PANAMA PURPLE GUIDES
Which part of Panama do you want to visit next?
Other popular Purple Guides you may be interested in:
Like this Backpack and Snorkel Purple Guide? Pin these for later: