Reviews of hotels in Panama City - Panama Purple Guide
Panama City has lots of hotels from budget hotels from luxurious hotels. We review the hotels that we used in Panama City.
BEST WESTERN PLUS PANAMA ZEN HOTEL (BOOK)
We stayed in this hotel for 4 nights. You will need a GPS like google maps to find it as you have to go through many residential streets and make many turns. The 2nd to 4th floor of the hotel is a parking garage. That is very convenient as local people gobble up all street parking spots. The parking garage is very narrow, so having a small car definitely pays off. We had a Toyota Corolla rental car and had to constantly turn back and forth in order to turn around the corners. Within 300ft of the hotel entrance there are at least 10 restaurants, a supermarket and other stores.
When you check in, you get room keys that you need to swipe in the elevator and that only allow access to the lobby, the parking garage, the bar & pool on the top floor, the particular floor that your room is on and, of course, your room.
The hotel, including our room, was nicely decorated. Our room had 2 queen size beds, a quiet and efficient air condition (to heat you need to set the temperature first, then to auto and cool), a wall mounted board for storage and a closet with an iron and ironing board inside. There were also a coffee machine, fridge and safe. The door had a deadbolt and the bathroom had a shower with a rain shower head, single sink and toilet.
Breakfast was included and served buffet style with a good selection of warm dishes, fruits, cereal, bread and marmalade, pancakes, yogurt and unlimited coffee and tea.
The top floor has a pool, pool chairs and a beautifully decorated bar area with good views on Panama City.
The hotel is centrally located which allows for quick access to many of the sights in Panama City. The downside is that you will be stuck in Panama City's crazy rush hour traffic if you leave/arrive at the wrong time.
The hotel staff spoke some English and was friendly and helpful.
Long story short: This is a very nice hotel that is centrally located and close to many restaurants. We would stay here again.
RADISSON HOTEL PANAMA CANAL (BOOK)
We were staying in this hotel when it still was the Country Inn & Suites Panama Canal.
Our stay here was for only 1 night and we left at 6:30am the next morning for the ferry to Isla Contadora at Las Perlas (Pearl Islands).
This is a large and nice looking hotel and a few classes higher than your typical Country Inn & Suites in the US. Our room had 2 queen size beds, a quiet and efficient air conditioning and a desk and chair. The bathroom had a rain shower head and a single sink. Shampoo, soap and body wash were provided.
Breakfast was served buffet style with a good selection of warm dishes, fruits, cereal, bread and marmalade, pancakes, yogurt and unlimited coffee and tea.
Heating the room was accomplished by setting the desired temperature and turning the A/C to Auto and Cool.
The TV had English and Spanish speaking channels.
I loved that the hotel allowed us to store our large suitcase a few days before we checked in, because we did not want to bring it on our visit to Bocas Del Toro.
The hotel had a driver who charged us $7 for the short drive to the Taboga ferry in the morning. The $7 were non-negotiable and we were told that if we wanted to pay less the we should call a taxi.
There was only a TGI Friday in walking distance, for everything else you needed a car.
Long story short: This is a real nice hotel and we would stay there again if we have a rental car.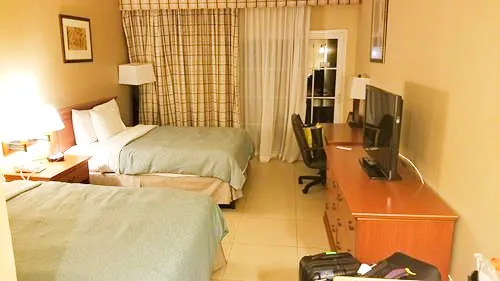 CROWNE PLAZA PANAMA AIRPORT (BOOK)
This was the nicest hotel that we stayed in during our Panama vacation. It is located across the street from the Tocumen airport. They have a 24h airport shuttle service that leaves the hotel every 30min and it takes 5-10min to get to the airport.
We only stayed in this hotel for one short night and took the 5am shuttle to the airport the next morning.
The hotel is modern and beautifully decorated. Our room, room 507, had 2 queen size beds, a flat screen TV, coffee machine, safe, iron, ironing board, alarm clock, desk, chairs and 4 double power plug outlets near the beds.
The bathroom had a nice shower, single sink, toilet and large mirror.
The hotel has a bar and restaurant where you can order dinner a la carte or eat buffet style. The buffet had 6 warm dishes, many salad options, bread and a large dessert selection. It cost about $26 incl. tax per person.
The restaurant was open until 11pm, but room service would bring food around the clock.
The hotel had other amenities, like a pool that we did not use.
There appears to be nothing of interest within walking distance of the hotel.
Long story short: This is a very nice modern hotel close to the airport and we would definitely stay here again.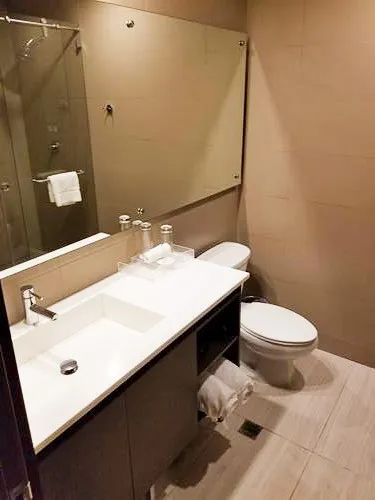 BEST DESTINATIONS IN PANAMA - PANAMA PURPLE GUIDES
Which part of Panama do you want to visit next?
Other popular Purple Guides you may be interested in:
Like this Backpack and Snorkel Purple Guide? Pin these for later: