Backpack and Snorkel Guide for Las Perlas - Las Perlas Purple Guide
The ferry from Panama City to the archipelago of Las Perlas - the Pearl Islands - takes less than 2h, but it is a world away. With their laid-back lifestyle, turquoise waters and beautiful beaches, the Pearl Islands are one of our favorite distinations in Panama. We tell you how to visit this truly amazing place in our Las Perlas Purple Guide.
Table of contents
GENERAL INFORMATION ABOUT LAS PERLAS (PEARL ISLANDS)
The archipelago of Las Perlas is a group of 90 named islands and more than 100 unnamed islets about 40 miles (65 km) south east of Panama City in the Gulf of Panama. It was named after the many large pearls the Spaniards found here when they discovered the islands in 1513.
The Pearl Islands have world-class beaches with white sand and turquoise waters. Isla Contadora is the best-known island and most affordable island. It can be reached from Panama City by a 15min flight with a small aircraft or a 90min to 1h 45min ferry ride.
Contador means Bookkeeper in Spanish and the name comes from the fact that the Spaniards used Contadora Island to take inventory of the valuables they plundered from the new world before it was shipped to Spain.
Three US Survivor seasons were filmed here: Survivor: Pearl Islands, Survivor: All-Stars and Survivor: Panama and several seasons from other countries' Survivor programming (Bulgaria, France, Israel, South Africa, Ukraine). There are several other series that were filmed here, among them is the BBC TV series "The Real Swiss Family Robinson".
While Panama City only has a little over 1,700 annual sunshine hours, the Pearl Islands clock in at an excess of 2,200h.
The mostly present clear blue skies and mild temperatures between the lower 70's to the lower 90's make the Pearl Islands a desirable tourist location all year round. The warmest months are March and April while October is the coolest. December and January typically have pleasant weather and little rain. The wet season from May through November can see heavy downpours.
Isla Contadora is a fairly small island of about 750 acres. It has 13 beaches; Playa Larga is the largest and Playa de las Suecas is the only clothes optional beach on the island. There are 5 coral reefs that surround the island and make for good snorkeling. Due to the colder waters, there are fewer fish here and there is less of a diversity of fish compared to in the Caribbean. Also, the fish are not as brightly colored.
The airport is basically a landing strip for small aircraft which has a low fence that surrounds it and a gate that is unlocked most of the time.
SEA LAS PERLAS FERRY
The location from where the Sea Las Perlas ferry departs in Panama City has changed and so have the departure times. Please make sure that you go to the new location at Flamenco Marina Dock. Otherwise you will have to walk about 4,000ft (1.2km) to the new location.
Our return trip departed from Playa Galeon on Isla Contadora and this has also changed to Playa Larga, which is a 5min walk away. Be advised that only one piece of luggage per person is permitted and you need to show your passport.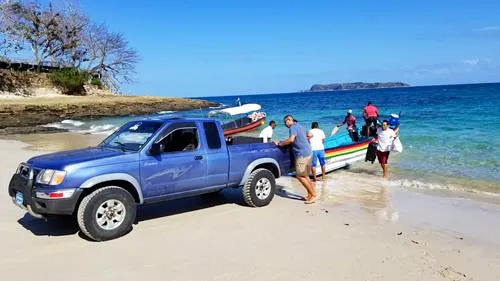 The ferry leaves Flamenco Marina Dock for Isla Contadora at 7:30am and returns from Playa Galeon at 3:30pm to Flamenco Marina Dock. A round trip ticket costs $98 per person. When we took the trip, the ride to Isla Contadora took 1h 45min. Boarding starts 45min prior to departure. You can book your tickets online or buy a ticket onsite; they accept credit cards.
When the ferry arrived at Playa Galeon on Isla Contadora (again, this has now been changed to Playa Larga), everyone had to transfer to small dinghies that brought people to the beach. Be advised that you will need to walk through a few feet of water when you exit the dinghy. Everyone then had to go through a makeshift customs area where military police inspected carry-on luggage and passports.
Important: Ferry personnel will load all luggage on a pickup truck and make it available to passengers after (!) they pass through customs.
For the return trip, people had to check in at the building to the right at Playa Galeon (again, this has now been changed to Playa Larga). There was another ferry to Panama City where the check-in is inside the building at the left hand side of Playa Galeon. Passports, luggage and carry-on bags were inspected by military police who arrived at the makeshift customs area at approx. 3:10pm. The suitcases were then loaded by ferry personnel onto a pickup truck and transferred to a dinghy. Passengers had to board dinghies (you will again need to walk through a few feet of water to board the dinghy) that brought them to the ferry.
In our case, the ferry picked up some more passengers from a nearby island extending the trip to almost 2h.
When you arrive back at Flamenco Marina Dock, you will need to get your luggage from the open storage bins in front of the first seating area. Ferry personnel will not bring it on land for you.
It is important to note that the ferry is fast and therefore you will experience it to rock sideways and see plenty of water spray even with smooth seas.
Crackers and drinks can be purchased on the ferry.
The alternative to the ferry are flights with Air Panama which only take 15-20min. Sometimes those flights can be inexpensive and it may make sense to combine a flight with a ferry ride to get the best deal. Air Panama does, however, have severe luggage restrictions as they operate small planes on this route.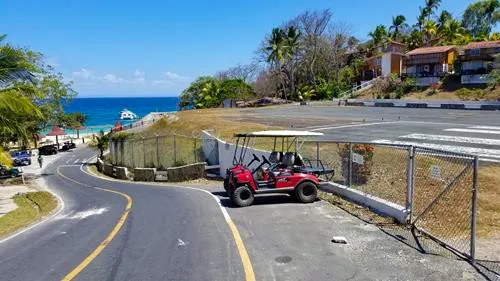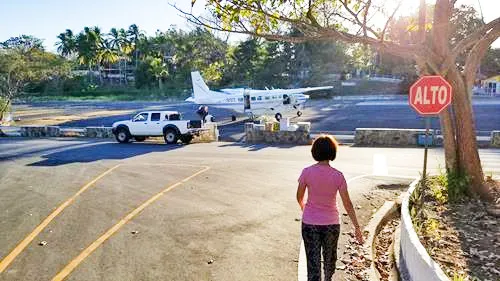 PLAYA LARGA ON ISLA CONTADORA IN LAS PERLAS (PEARL ISLANDS)
As the name suggests, Playa Larga is the largest beach (2,000ft; 650m) on Isla Contadora. It is also our favorite. It has white sand and turquoise water. Be advised that at low tide, it can be hundreds of feet until you reach the water. And at high tide, the water covers almost all the sand. So, be careful when you leave your valuables unattended. The water may get them.
There is fairly good snorkeling by the rocks to the north. And only if you are a strong swimmer, you can even discover a tiny hidden beach around the corner to the north (map).
If you walk south on the beach then you will pass the ruins of an abandoned resort (map) and further south you come to the remnants of an abandoned boat that is covered with graffiti (map).
Best of all, we sometimes had the beach all to ourselves. The most people we have shred the beach with were maybe 7 or 8.
Since the ferry from Panama City is now arriving and departing from here, you will see more activity here twice a day.
PLAYA GALEON ON ISLA CONTADORA IN LAS PERLAS (PEARL ISLANDS)
Previously the arrival and departure point for the ferry to Panama City, Playa Galeon is now a much more deserted place. We sunbathed and swam here, but I was not able to find any good snorkeling. You will find some fish by the rocks east and west of the beach, but nearby Playa Larga has much better snorkeling.
Choose this beach if you want to have a beach all for yourself.
PLAYA CACIQUE ON ISLA CONTADORA IN LAS PERLAS (PEARL ISLANDS)
Playa Cacique is a beautiful white sand beach with turquoise water in an upscale neighborhood with beautiful buildings. Be advised that the water is flooding the beach fast when the tide comes in. I underestimated the speed twice and my valuables, including my cell phone, got wet twice.
There is some snorkeling by the rocks, but it is not as good as it is at Playa Larga.
This was the busiest beach that we have seen on Isla Contadora.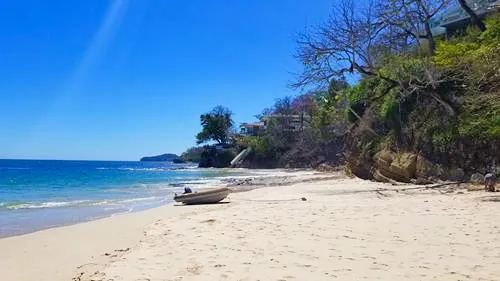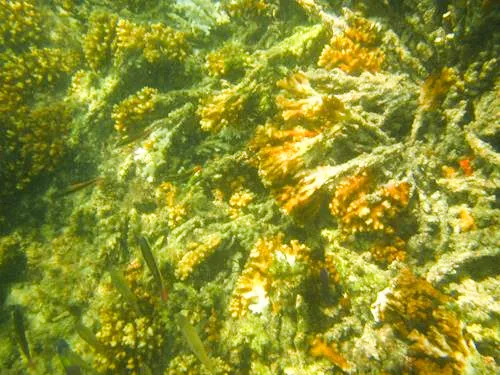 PLAYA DE LAS SUECAS ON ISLA CONTADORA IN LAS PERLAS (PEARL ISLANDS)
This is only clothes optional beach on Isla Contadora. It is an isolated beach and there are no services, so bring everything you need, including sun protection as there is basically no shade. There is a well-worn path through the forest from Playa Larga that you can follow to get there.
During low tide, it will be difficult to get into the water and you will need sturdy water shoes (not flip-flops) to walk over the slippery and sometimes sharp rocks.
If you get there, you will be greeted by white sand, turquoise water, blue rocks in the sand and solitude as you may very well be the only one on this beach.
PLAYA EJECUTIVA ON ISLA CONTADORA IN LAS PERLAS (PEARL ISLANDS)
Playa Ejecutiva is one of the many fantastic beaches on Isla Contadora. It has white sand and turquoise water and there is some snorkeling by the rocks. It is typically not very busy, but we saw more people here than at Playa Larga, but it was not as busy as Playa Carcique.
B&B GERALD (BOOK) ON ISLA CONTADORA IN LAS PERLAS (PEARL ISLANDS)
This B&B is run by friendly and helpful German expats. They picked us up at the ferry with their golf cart on the day of our arrival and brought us back to the ferry check-in on our departure day.
We stayed in room 7 for 4 nights, which is on the 2nd floor of a 3 story building that has rooms on the 1st and 2nd floor and a pool and bar on the 3rd.
The good sized room has a queen sized bed, a single bed and 2 small night stands. On the wall is a TV with English and Spanish speaking channels and 2 wooden boards for storage. The room has a closet with a small fridge and a safe that is not mounted to the wall. There are 3 double power plug outlets and the floor is a tile floor.
The separate bathroom has a toilet, shower, single glass vessel sink and mirror.
The air condition was quiet and effective.
The hotel grounds are beautifully kept up. They also feed deer that you can watch when it is quiet and we saw some agoutis and a hummingbird.
The hotel is close to everything. It is 150ft from the airport and 1,000ft from Playa Larga, which was our favorite beach with crystal clear water and decent snorkeling near the rocks on either side and the landing and departure point of the ferry to Panama City.
The hotel has its own restaurant, but there are other restaurants within 1,000ft. Prices are comparable in all hotels. We typically paid between $30 and $40 for 2 (lunch or dinner), regardless to which restaurant we went. Food is expensive as everything has to be brought in from the mainland. For lunch, we opted to buy bread, sliced sausages and cheese and beer from the supermarket to make our own sandwiches. Prices in the supermarket are only 50% (or so) higher than in the US.
As the hotel is operated by German expats, their menu has some real good German dishes besides Panamanian and international dishes.
Within 1,000ft, there are also 2 supermarkets and a golf cart rental.
Richard, an employee, provides boat tours to other islands, snorkeling, diving and fishing trips.
The water ran out a couple of times during our stay. If it happens during your stay, just tell the owners. They will switch the water tank and new water will be available in no time.
Wifi was available almost all the time. In one case, the owners fixed a wifi problem by resetting the router, but in some other cases, the wifi in the room was too weak to get meaningful internet speed. This problem was easily solved by sitting in the hammock or chairs outside of our room where the reception was pretty good.
Breakfast was included in the room rate. It included corn flakes and milk, pudding or yogurt, orange juice, a bowl of water melon, papaya and pineapple pieces, 2 slices of bread per person and 1 croissant and either an omelet, scrambled eggs or 2 sunny side up eggs and unlimited coffee or tea. On the day of our arrival, we caught the tail end of the hotel's breakfast time and the owners allowed us to eat whatever was left.
The room gets a good cleaning every day. Two bottles of water are provided per day. Shampoo (2 small bottles for the entire stay) and liquid hand soap were also provided.
The hotel accepts Visa and MasterCard for the room and for food.
Long story short: Hotel Gerald is a nice hotel in a great location and I would stay there again.
BEST DESTINATIONS IN PANAMA - PANAMA PURPLE GUIDES
Which part of Panama do you want to visit next?
Other popular Purple Guides you may be interested in:
Like this Backpack and Snorkel Purple Guide? Pin these for later: