Backpack and Snorkel Guide for Bocas del Toro - Bocas del Toro Purple Guide
The archipelago of Bocas del Toro is one of Panama's main tourist attractions. Its laid back lifestyle, turquoise waters and white sand beaches draw more than 200,000 visitors every year. We tell you how to visit this truly amazing place in our Bocas del Toro Purple Guide.
Table of contents
GENERAL INFORMATION ABOUT BOCAS DEL TORO
Bocas del Toro is a province of Panama. When tourists talk about Bocas del Toro, the typically mean the Bocas del Toro Archipelago, which is a group of 50 cays and about 200 tiny islets in the Caribbean Sea.
The main settlement is Bocas Town and the best way to travel to Bocas Town is by plane. Bocas del Toro "Isla Colón" International Airport (airport code BOC) is located in Bocas Town and in easy walking distance to many hotels, restaurants and tour boats.
Bocas Town is also served by ferries from Almirante, Changuinola, and Chiriquí Grande from the mainland.
Christopher Columbus arrived here in 1502 on his 4th (and final) voyage to the New World looking for a passage between the Atlantic and Pacific Oceans. Isla Colón, where Bocas Town is, was settled for Banana production in the early 1900s and Bocas Town became their regional headquarters. In the 1920s, there were more than 20,000 people living here and Bocas Town was one of the most prosperous towns in Panama. Then banana blight hit and operations were shut down and moved to the mainland. Today, the local population is about 4,000.
Tourism is responsible for approx. 95% of the region's economy. Unlike many other Caribbean destinations, Bocas del Toro does not have large hotels that line the beaches or big resorts that cover entire islands. Instead, you will find many small hotels and pensions.
While Bocas Town has some paved roads, many roads are unpaved and they only connect few areas on Isla Colón. Most of the island, including several hotels, are only accessible by boat. Other islands in the archipelago don't even have roads.
Don't worry, there a water taxis and tours that can pretty much bring you anywhere in the archipelago.
Here is the climate of Bocas del Toro that you can expect:
BOCAS TOWN IN BOCAS DEL TORO
Bocas Town is the informal name for the main settlement whose full name is Bocas del Toro, just like the name of the province in which it is located. The town is small enough that you can walk everywhere, including from and to the airport.
Bocas Town only has basic medical service and water is not potable. Much of the downtown area consists of restaurants, small stores and tour providers which offer a multitude of diving, beach, sightseeing, fishing and other tours.
While many hotels accept credit cards these days, be advised that many restaurants only accept cash. There is one bank in Bocas Town and it only has two ATMs (location), so bring plenty of cash as both ATMs run out of cash especially on the weekends and/or when you need money.
BOCA DEL DRAGO (STARFISH BEACH) IN BOCAS DEL TORO
Boca del Drago was our favorite beach in Bocas del Toro. It was fairly easily accessible and beautiful.
The cheapest way is to take the inexpensive bus ($2.50pp cash) which starts at Simon Bolivar Park and brings you to the Drago Beach House.
The ride passes the Plastic Bottle Castle, a house and museum built by Robert Bezeau and his friends out of 40,000 PET bottles to make people aware of the damage that single-use PET bottles cause to our marine environment.
The castle was built from July 2016 to April 2018, is 50 ft (14m) tall and open usually from 10am-noon, and 1pm-4om Monday to Saturday.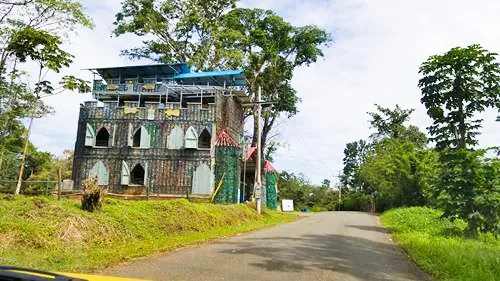 From the Drago Beach House you take a short water taxi ride for ($1.50pp cash) or walk along the sand for 15-20min until you come to Starfish Beach.
There are no bus or water taxi tickets to buy. Instead, you pay the bus and water taxi driver shortly after the ride has started.
Boca del Drago is a popular beach and we found that it can be difficult and sometimes impossible to get a seat on the bus. So, make sure to come early. The bus operates roughly hourly between 7am and 7pm and needs 50min to 1h for the trip. The bus is small, it was hot inside and you will sit very close to other people.
My advice is to come early. We found that buses at 9am or later tended to be full and did not even stop at the park. Also, do not count on the last bus to take you back, as it may be full. When this happens, then you will need to get a taxi to go back to Bocas Town.
The best and most expensive way to get to Drago Beach House is by taxi which costs $15 for the 30 min one-way trip.
Either way, be prepared for a rough ride, as there are many potholes in the road.
Boca del Drago is a picture perfect beach with white sand and turquoise water and plenty of starfish in the water. Please admire them and don't touch or even remove them from the water. Their population has dwindled over the last years as tourists keep engaging in this type of irresponsible behavior.
There is plenty of shade under palm and other trees at Boca del Drago and a restaurant and bar are directly on the beach.
Snorkeling for starfish is good, but you will not see many colorful fish.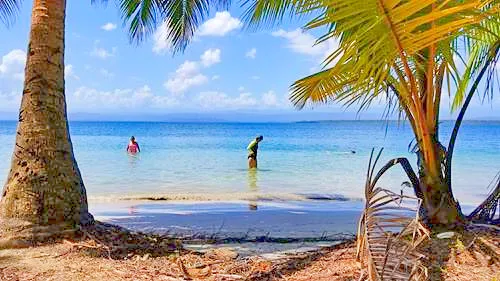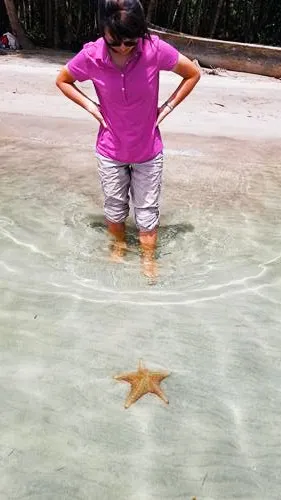 CAYOS ZAPATILLA IN BOCAS DEL TORO
Cayos Zapatilla are two islands in the Isla Bastimentos National Marine Park. The only way to get there is with a boat tour that will bring you to some other highlights. We booked our tour through our hotel and we were picked up by the tour company from our hotel the next morning. The tour brings you only to one of the islands, because the other one is protected. Honestly, I think that Cayos Zapatilla probably has the best beach in all of Panama. It has bright white sand und unbelievably turquoise waters that are good for swimming and have some good for snorkeling.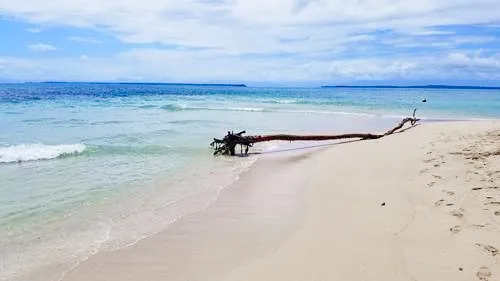 RED FROG BEACH IN BOCAS DEL TORO
Red Frog Beach on Isla Basimentos is named after the rana rojo (red frog) frog, which you could find here in the past. Nowadays, with the nearby Red Frog Beach Island Resort, other hotels and restaurants, there are too many people here and the frogs are rarely ever seen. Once in a while you may see some local kids who trapped one to show off at the tourists. You can get here with a water taxi from Bocas town for about $7. The beach is an easy 15 min walk from where the water taxi docks.
Red Frog Beach is one of the best beaches in Bocas del Toro.
PLAYA BLUFF (BLUFF BEACH) IN BOCAS DEL TORO
This 3 mile (5km) stretch of golden sand is the best beach closest to Bocas Town on Isla Colon. It is popular with surfers. There are warning signs posted that warn you to not go into the water to swim, because the ocean has strong riptides and have cost many people their lives. So, don't do it!
You can either take a taxi for $10 (one way) or rent a bike to go there. There are hotels and restaurants on the beach.
HOTEL POSADA LOS DELFINES (BOOK) IN BOCAS DEL TORO
The hotel is located in the Northern part of town about 4 blocks (1/4 mile, 400m) away from the airport entrance. It is fairly quiet at night and during the day, there are cars, golf carts, trucks and buses that pass by and produce some noise.
We stayed in room 206 for 4 nights, which is basically a room with a tile floor and 2 beds. The whitewashed walls could really use a fresh layer of paint as they showed many stains and the paint was rubbed off in some areas.
There was a small dresser table with a mirror and a tiny table and a tiny chair.
In one corner was a wooden frame that acts as storage and a place to hang some of your clothes.
The curtains have some holes and stains. Under the curtain on the floor we saw many tiny insects. The majority were dead, but some alive. One day we found many dead flies on my wife's pillow. The hotel personnel exchanged it immediately, but we still wonder how they got on the pillow.
The air conditioning was quiet and efficient, even though the remote control did not work well.
On the TV we found 2 English speaking channels, the rest were in Spanish.
The door to the bathroom could not be fully closed or locked as the door frame was damaged.
The bathroom had a sink, toilet and shower. The toilet cover was 1 size too small for the toilet. The bathroom relies on natural ventilation through a rectangular hole with horizontal bars, but it had no window or mosquito net to keep critters out. That's probably why we got quite a few mosquito bites.
The sink was missing a sink stopper. As in the bedroom, there were stains on the wall, too. The water temperature in the shower kept fluctuating and was sometimes too hot or too cold. Only 2 small bars of soap were provided. No shampoo, no body wash, no hair dryer, no bottled water.
Wifi in the room was basically non-existent. We probably got 1 or 2 hours of wifi in our room during our 4-day stay. In the first days, we were at least able to get wifi in the restaurant on the first floor, but later on, that was very spotty, too. We had asked the owner multiple times to reset the router. Typically, wifi worked in the restaurant for a short while after it was reset and then it went out again. My advice is: don't count on any internet connection. Go to another restaurant instead where they have free wifi.
The door to our room had a simple lock that could easily be picked. There was no deadbolt or safe in the room. One day, they even forgot to lock our room after cleaning.
Breakfast was included. It consisted of (per person): 1 glass of orange juice, a cup of coffee (with one refill), 3 small slices of bread, 1 portion of margarine and 2 portions of marmalade. For an additional $2.50, you get a small portion of scrambled eggs or an omelet.
The hotel personnel is friendly and responsive and speaks a little English. They can also book excursions for you and they told us how to best get to Starfish Beach.
The hotel accepts Visa and MasterCard for the room and to pay for dinner.
Long story short: We would not stay there again due to the lack of internet connectivity and the poor quality of the room.
BEST DESTINATIONS IN PANAMA - PANAMA PURPLE GUIDES
Which part of Panama do you want to visit next?
Other popular Purple Guides you may be interested in:
Like this Backpack and Snorkel Purple Guide? Pin these for later: