Backpack and Snorkel Guide for San Blas Islands (Comarca Guna Yala) - San Blas Purple Guide
The San Blas Islands (Comarca Guna Yala) are a self-governed, remote archipelago of approx. 365 islands that showcase amazing turquoise water and white sand beaches of unspoiled beauty. We tell you how to visit this truly amazing place in our San Blas Purple Guide.
GENERAL INFORMATION ABOUT THE SAN BLAS ISLANDS
As of 2011, the name of the San Blas Islands is officially: Comarca Guna Yala. It is a "comarca indígena", an autonomous indigenous province of the Guna people. Its capital is El Porvenir.
Many may not know this, but in the late 1690s, in the so-called Darien scheme, the Kingdom of Scotland established a colony in the Panama City region, hoping to create an overland route between the Atlantic and Pacific oceans. Sound familiar? Yes, this was about two centuries before to the Panama Canal!
Unfortunately, famine and tropical diseases struck the colony and collusion between the East India Company and the Kingdom of England lead to the death of most colonists and eventual failure of the colony. After the Spaniards laid siege to the town and a blockade of the port, the settlement surrendered in 1700. Of the original 2,500 Scottish colonists, only a few hundred were left and were evacuated. This failure proved to be very costly as the Scottish Darien Company, which now was a complete loss, was backed by about 20% of all the money that was circulating in Scotland. This loss bankrupted the Scottish government and was one contributing factor leading to the loss of Scottish sovereignty to England.
The Colombian Act of 1870 created the Tulenega Shire which included what is now the Comarca Guna Yala and it recognized the Guna as property owners. With the separation of Panama from Colombia in 1903, the Act was ignored and the majority of the region was assigned to the new Republic of Panama, while a small part remained with Colombia.
Now that the Guna nation was divided, outsiders began prospecting on Guna lands, and Guna people were abused by colonial police, discontent among the Guna grew. This eventually led to the Guna Revolution in 1925 where the Guna proclaimed the independent Republic of Tule and separation from Panama.
A peace treaty was then established in which the Government of Panama committed to protect the customs of the Guna and which laid the foundation for the Guna territory to eventually become an autonomous province within Panama. The final boundaries were established in 1953.
When you visit Comarca Guna Yala, you will notice how poor the locals are. The economy of Guna Yala is mainly agriculture, fishing, handicraft production (especially "molas" which are hand-made traditional Guna women's clothing) and some tourism.
Important: If you visit the Guna Territory, you must get permission from the locals if you want photograph or film them. Some will decline and others will ask for money before they give their permission.
DAY TRIP TO COMARCA GUNA YALA (SAN BLAS ISLANDS)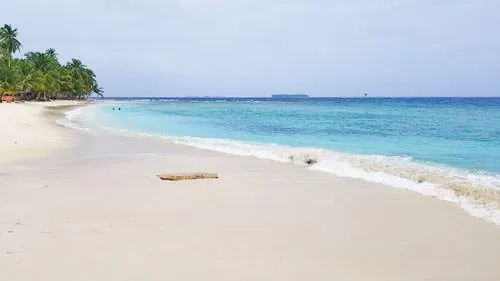 We used San Blas Frontera for a day trip to Comarca Guna Yala, the San Blas islands. The communication with Luis was easy; he typically responded to my emails within a few hours.
We were picked up at our hotel in Panama City at 5am by a driver from the Guna Yala nation in a large pickup truck. The driver spoke good English and he continued to another hotel to pick up a second couple.
The drive to Puerto de Carti (map) was uneventful. During the drive, there was a 30min stop at a fairly large supermarket where our driver waited for others that he wanted to pick something up from. Later, after turning off the main highway (Highway 1) we went North on a road with many large potholes. At about halfway on this road and shortly before the border into Guna Yala territory, the cell phone signal ended.
At the border, everyone could stay in the truck but had to show their passports and pay $20 admission in cash (only). At the end of the road, in Puerto de Carti, the pothole ridden pavement ends and you get to a large unpaved parking lot where there are some wooden piers and many small boats. At the parking lot we paid our driver $115 (= $135 agreed on price - $20 admission we paid at the border) in cash (only) per person. He directed us to a boat which would be our boat for the day.
The two Guna Yala who operated the boat did not speak any English; only Spanish and their native language.
During our trip, the sky was overcast, but the sun peaked through the clouds several times, but it also rained a bit at times.
Even though the sea was fairly smooth, the boat was real fast and we got fairly wet. The other couple who originally was sitting behind us got soaked and asked to be reseated in front of us. As the boat was very fast, the front of the boat became airborne often which made for many hard landings.
Our first stop was at an island where we would later eat lunch – sorry, nobody told us what the name of that island was. The other couple was shown to their cabin that they had rented for 1 night. Then we were joined by a group of 5 other people and the boat brought us to our 1st destination.
This was a sand bank in the middle of the ocean that was about 2ft deep under water and surrounded by sea grass. Except for 2 starfish and a stingray, there was nothing else to see or do. A member of the other group walked and later snorkeled through the sea grass and confirmed that there were no fish or other starfish. The boat personnel handed out snorkeling equipment to anyone who wanted it, but it was useless as there was nothing else to see.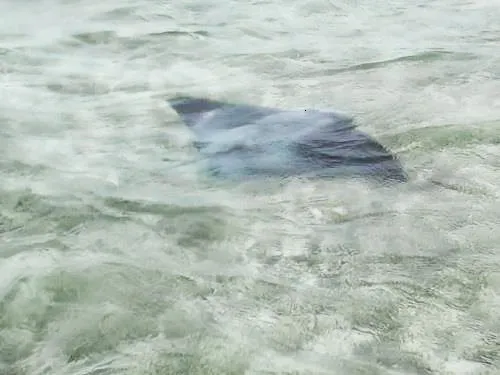 After 20 minutes or so, we continued on to another island (again, we were told no name) where we were told we should relax for the next 90min. This island was fairly small and besides spending a few minutes to walk around the island, sitting in the provided chairs or hammocks, there was nothing else to see and do. I tried to get in the water and snorkel, but the sea floor was rocky and difficult to walk on if you did not have water shoes. The water had low visibility and I did not see any fish or corals.
We took another walk and looked closer at the cabins that one can rent for overnight stays. These cabins were straw huts and I can only hope that the roofs were water tight, as the walls were definitely not water tight as you could look through them in many places. The cabin floors were sand and the doors did not appear to have any locks. Inside the cabins were 2 beds with mattresses on them. The mattresses had definitely seen better days and I would not want to sleep on them. There was no sign of electricity anywhere in the cabins. Nearby was a separate building with shared restrooms and an outdoor sink. I believe the restroom building had shower stalls.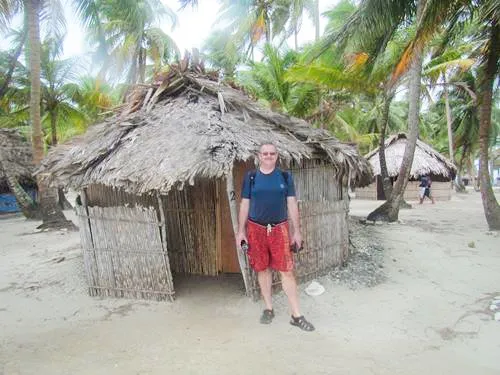 After a bit over 90min we boarded the boat again and were brought to Isla Pelicano (map) which is a beautiful island but was even smaller than the previous island. Isla Pelicano has a beautiful sandy beach with clear turquoise water and good swimming and snorkeling. This island is a piece of paradise and exactly the reason why we did the tour! Unfortunately, the stop was only 30min, which was way too short.
After boarding the boat, we were brought back to the first island to eat lunch at around 2pm. Lunch was served in a wooden building with beautiful views on the turquoise waters and white sand beach. Food arrived within 2min of us sitting down. I don't eat seafood and had ordered chicken when I booked the tour. Apparently, this information was not conveyed to anyone and so my wife and I each got a whole fish with plantains and coconut rice. After I told them that I don't eat seafood, they took my dish and, within 10min, brought me a chicken dish. It was blackened fried chicken with plantains and coconut rice and I liked it. Various drinks were available for purchase. During lunch, the other couple that took the drive with us in the morning joined us and told us about their cabin. It seemed to be identical to the cabins we had seen earlier.
After lunch we relaxed on the island and walked around but did not take another swim. Then we were brought back to the unpaved parking lot on the mainland.
This time it was only my wife and I on the boat. We waited for our driver, but he did not show up.
After a while we were approached by someone in an even bigger truck than the truck that brought us here. He said that he would bring us back to Panama City. We were, of course, skeptical and told him that we would like to wait for our driver. He then explained that our diver would not come due to some unforeseen events and, to prove it, he called our original driver. Our original driver's name showed on the display and I talked to him. After we confirmed that our driver from the morning was definitely not coming, we got on the pickup truck where there were already several other people inside.
The new driver was an aggressive driver while our driver in the morning was a courteous driver. What can I say, we made it back to the hotel safely through Panama City's crazy rush hour traffic.
In retrospect, I am not sure if I would do this trip again. The main reason is that you have absolutely no control over where they bring you. Isla Pelicano was spectacular and I would have appreciated it if we could have spent some more time over there. Had the weather been better, I guess we may have enjoyed the other islands more.
The food was good. I love plantains and coconut flavored food and the blackened chicken was yummy.
After seeing the huts, I am certain that I would not want to spend the night over there.
BEST DESTINATIONS IN PANAMA - PANAMA PURPLE GUIDES
Which part of Panama do you want to visit next?
Other popular Purple Guides you may be interested in:
Like this Backpack and Snorkel Purple Guide? Pin these for later: