The best historical sites in Providenciales
Providenciales does not have many historical sites, but the few it has are definitely worth a visit.
Sapodilla Hill with its rock carvings and Cheshire Hall Plantation are the two major highlights.
Map of Providenciales in Turks and Caicos
(C) - Sapodilla Hill
(3) - Airport check-in hall
(5) - Cheshire Hall Plantation
Rock Carvings at Sapodilla Hill on Providenciales in Turks and Caicos
Sapodilla Hill is a hidden attraction – no signs will lead you there. To get there, drive to the southern Sapodilla Beach Bay parking lot (map) and walk towards the end of the parking lot near the entrance to the gated villas. Then look left and you will see an unmaintained path up the hill. The path is very narrow at the bottom but widens after a few feet. Please wear sturdy shoes to avoid slipping on the short but steep path. Definitely do not wear flip flops or go barefoot.
After climbing Sapodilla Hill, you will find flat rocks to your left with inscriptions that were left by shipwrecked sailors and travelers as they waited for their ships. The inscriptions date from the mid-1700s to the mid-1800s. Unfortunately, theft and vandalism have diminished the number of inscriptions, but quite a few are still out there.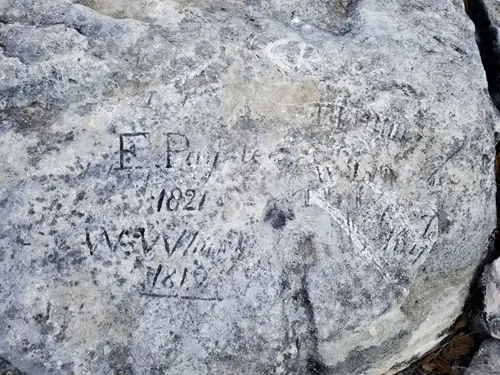 Some "rescued" stones are displayed in the check-in hall at the Providenciales airport.
Besides the historic value, the views from the top of the hill are phenomenal – you can see Chalk Sound and the Caribbean Sea.
Rock Carvings at the airport check-in hall from Sapodilla Hill
You will find spectacular views of Chalk Sound and the Caribbean Sea from the top of Sapodilla Hill in southern Providenciales. This must have been a favorite lookout for shipwrecked sailors and travelers as they waited for their ships from the mid-1700s to the mid-1800s, because many of the rocks up here have inscriptions from this time period.
Unfortunately some of the rock carvings on Sapodilla Hill were vandalized or stolen over the years. That led to a rescue mission in which some of the most beautifully inscribed stones were removed and preserved. Some beautiful pieces are exhibited in the check-in hall all the way to the right of the check-in counters. They are freely accessible as they are located before security.
If you have a few minutes, we strongly recommend you check them out.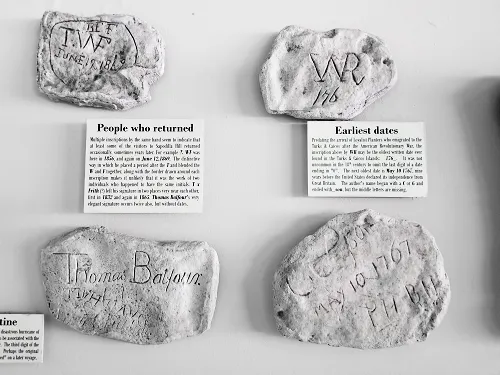 Cheshire Hall Plantation in Providenciales, Turks and Caicos
When Britain was losing the US Independence war, British loyalists fled the southern US with their slaves and some of them settled on Providenciales, which was then known as Blue Caicos.
Brothers Wade Stubbs and Thomas Stubbs were British loyalists. Wade fled to North Caicos in 1789 and established a plantation called Wade's Green on land was provided by King George III as a compensation for losses in the American Revolutionary War. Wade's Green was likely the most successful plantation in Turks and Caicos.
Encouraged by his brother, Thomas came to Providenciales a couple of years later and established Cheshire Hall Plantation and named it after his home in England. At Cheshire Hall, became the most important cotton plantation in Providenciales and at its peak hundreds of slaves were working on 12,350 acres (5000 hectares) of land. In the 1800s, cotton pests, soil degradation and hurricanes forced the closure of the plantation, which Thomas then sold to Wade.
Over time, nature overgrew what was left, stones from the buildings were used for house and road construction and what was remaining was vandalized. In the 1990s, efforts were undertaken to preserve what is left and in 2003, the Turks and Caicos National Trust, which manages, maintains and operates Cheshire Hall Plantation, reopened it for visitors.
When you get there, you will need to pay $10 per person (at the time of writing) admission, which includes a guided tour. The tour can be as short as (probably) 10min and as long as it takes if you have lots of questions.
We had lots of questions and our tour was about 30min.
Other popular Purple Guides you may be interested in:
Like this Backpack and Snorkel Purple Guide? Pin these for later: