Places to stay in Providenciales, Turks and Caicos Islands
Providenciales has lots of options for vacationers to stay. Especially in the high season, it is advisable to book your accommodation months in advance as the less expensive locations tend to sell out fast.
Besides your budget, you should consider the following: Providenciales is a small island and you can often get from point A to point B in 10-15min and parking at the beaches is free anyway. Under these circumstances, does it make sense for you to book the expensive hotel directly on Grace Bay beach or can it make sense to book an Airbnb or hotel somewhere else on the island, especially considering that you will likely rent a car anyway?
So, should you book one of the:
Providenciales hotels
Providenciales resorts
Providenciales hotels all-inclusive
Hotels in grace bay beach Providenciales
Boutique hotels Providenciales
Providenciales luxury resorts
Providenciales Airbnbs
Providenciales VRBOs
If you want to pay hundreds or thousands of dollars per night for an all-inclusive hotel on Grace Bay Beach: fantastic, go ahead and have a wonderful time. You will love it!
If you are more budget conscious like us, then consider a cheaper stay somewhere else on the island.
We opted for an Airbnb in the southern part of the island which was a 10-15min drive from most beaches and attractions that we visited, and an even shorter drive to shopping. One of our favorite beaches was a little over a mile from our Airbnb.
We opted for Flamingo Villa - (6) on the map below.
Flamingo Villa in Providenciales in Turks and Caicos
Flamingo Villa is an annex to a beautiful house in a quiet neighborhood directly on Juba Point Salina near Flamingo Lake. It is managed by Colette and Judith is the owner. Both are super nice and very responsive. Judith even invited us to celebrate her birthday with us and her family. That was a fantastic event that we enjoyed very much! Thank you very much, Judith!!!
Map of the Turtle Tail area in Providenciales
Flamingo Villa has 1 bedroom with an en-suite bathroom and a separate room that acts as a living room, dining room and kitchen. You have your private entrance and parking spot in front of the entrance. The pool and gas-powered grill and shared with Judith. The bathroom has a queen bed and quiet and powerful A/C unit, but no blackout curtains. As everywhere in the Flamingo Villa windows, there are thin white curtains that provide little privacy. We did not see this as an issue as nobody else is there and Judith stays inside the main house. The bathroom has a shower and low, but acceptable water pressure. Shampoo and soap were provided.
The main room has a fully equipped kitchen, a dining table with chairs, a living room table and sofa and a TV, but no cable. The TV is connected to the internet can you get Amazon fire TV or you can stream if you have Netflix, etc..
The wifi connection is good and fast and stable throughout Flamingo Villa. Colette greets guests upon arrival and supplies a bottle of complimentary red wine and a gallon of water in the fridge.
0.25 miles (400m) to the east is a vacant lot with a nice and deserted beach and about 1.2 miles (1.9km) to the east of Flamingo Villa is Turtle Tail Beach which is even nicer and chances are that you will be the only visitor there.
IGA Graceway, a big supermarket, and many popular beaches including >Grace Bay Beach are 10-15min by car from here.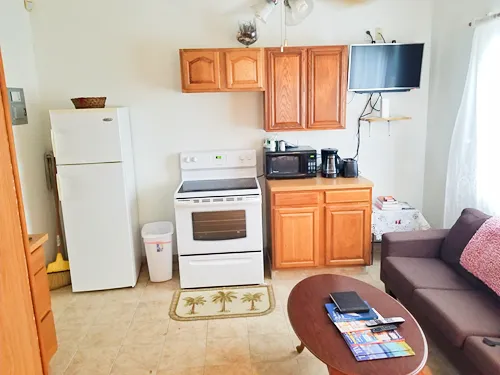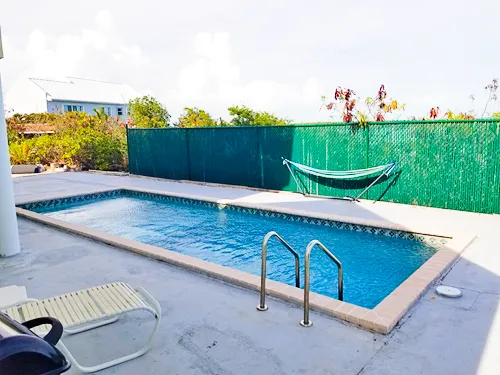 More photos can be found in our downloadable Providenciales Purple Guides that you can get from the Backpack and Snorkel Travel Store.
Other popular Purple Guides you may be interested in:
Like this Backpack and Snorkel Purple Guide? Pin these for later: