Backpack and Snorkel Travel Guide for the 5 Best Beaches in Aitutaki - Aitutaki Beaches Purple Travel Guide
This Aitutaki Best Beaches Travel Guide tells you what the best beaches in Aitutaki are and we show you photos of what you will see.
Aitutaki has beautiful white sand beaches with wonderfully turquoise waters and often good swimming.
We advise you to wear water shoes when you get into the water as you may need to walk over have quite a few rocks or coral pieces on many beaches and, to make matters worse, there is a possibility of stepping on a stonefish. Stonefish are one of the most venomous fish in the world. When you step on them, they can inject you with toxic venom that can cause excruciating pain or even death.
We have made a video about Aitutaki in the Cook Islands which shows you in depth what you will see. Please check it out.
Table of contents
Ootu Beach
Ootu Beach is often described as the best beach in Aitutaki. It is a sandy beach with incredibly beautiful turquoise water that is good for swimming shallow water, but the water is usually hazy and there is basically no snorkeling. At low tide, there is a sand bank to the west that can be easily reached.
Be advised that the beach makes a 90 degree turn and there is plenty of space on both sides of the turn. Amazingly, we have almost never seen anyone there, so if you are looking for solitude that is close to a beach bar, Ootu Beach is for you.
There are plenty of trees, so this beach is god for anyone looking to tan or avoid sunburns.
As you can often not see the ground when you walk in the water, wearing water shoes is a good idea to avoid stepping on dangerous stonefish.
Marine Research Centre Beach
The water at the Marine Research Centre Beach is mostly crystal clear and the reef is fairly healthy and has lots of colorful fish.
The beautifully turquoise water is not very deep and ideal for snorkeling but not so for swimming.
The beach is unmaintained and you will find a mix of sand and stones and coral pieces.
We advise to use water shoes to make it easier get over the rocks and coral pieces into the water, but mostly to avoid stepping on dangerous stonefish that may hide in the water.
Please see our Aitutaki Purple Travel Guide in the Backpack and Snorkel Travel Store for much more photos.
Beach near The Boat Shed
This beach can easily be accessed from the parking lot at The Boat Shed and it is usually deserted. The water here is crystal clear to slightly hazy. It is good for snorkeling, but not for swimming as it is not very deep. Be advised that there is a current going into the lagoon and my advice is to get in the water near the beginning of the channel, let the water carry you into the lagoon while you enjoy snorkeling. You can then either swim back against the current if you are a good swimmer or just walk back on the beach.
Again, please wear water shoes for your own comfort (walking over stones and coral pieces) and safety (avoid stonefish stings).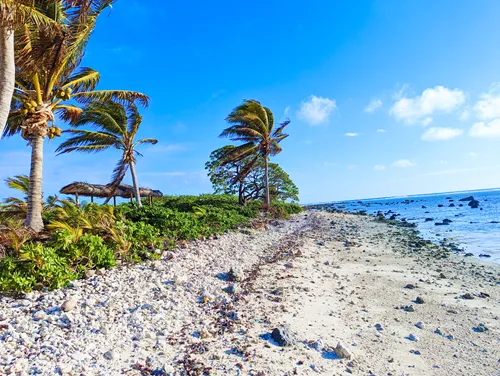 Please see our Aitutaki Purple Travel Guide in the Backpack and Snorkel Travel Store for much more photos.
Beaches on the Northwestern side of Aitutaki
Much of the northwestern side of Aitutaki, from east of the Marine Reserve in the north almost to the pier of the Arutanga Harbour is beach with mostly good swimming. You will find here either undeveloped beaches or groomed hotel or resort-front beaches. Some of these beaches are very pretty.
We did not try to snorkel here, with the exception of the Marine Research Centre, but it is said that swimming is better than snorkeling in this part of the island.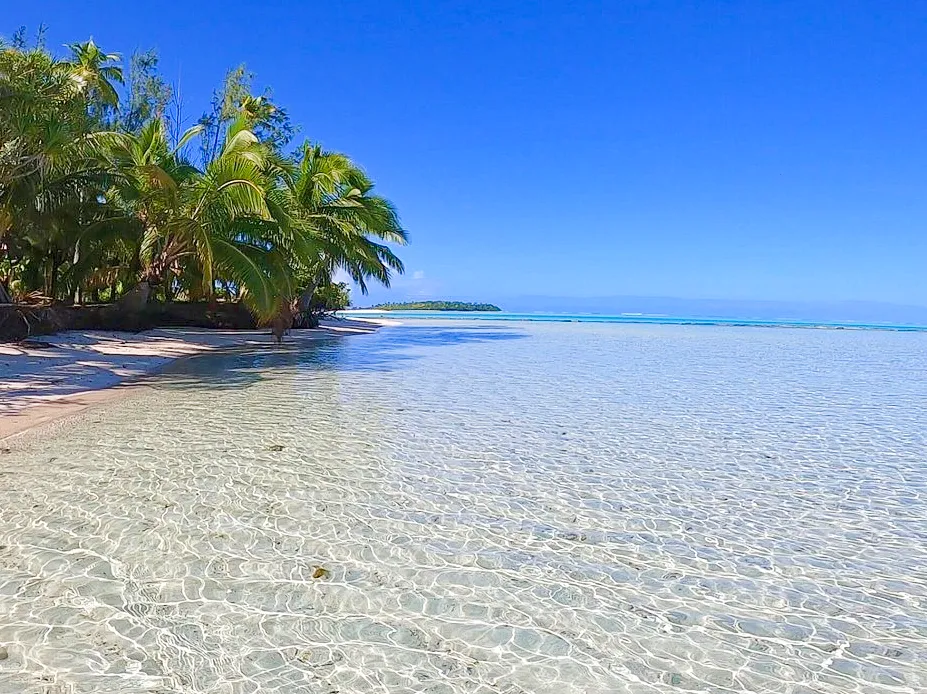 One Foot Island
One Foot Island is one of the southernmost motus in Aitutaki. It lies about 6.3 miles (10.2 km) south of Ootu Beach. You can hire a water taxi to get there or join a lagoon tour.
The island is home to the smallest post office in the world and a lot of tourists come here to get their passports stamped.
One Foot Island used to be called Tapuaetui. Here is how it got today's name:
The Legend of One Foot Island
A long time ago, the people of Aitutaki were starving because of overfishing of the lagoon. One of the chiefs created a fishing reserve where nobody was allowed to fish.
Nga was one of the fishermen on Aitutaki. Unfortunately, he and his family were hungry and, even though he respected the decision of his chief, he had to provide food for his family. At night, during a big dance festival of his village, Nga and his son Taongo slipped out of the village unnoticed and paddled through the lagoon to the reserve.
Navigating the lagoon in complete darkness was difficult and hard work, but they made it. Once in the reserve, they caught as many fish as they could and then started their return trip to the mainland.
They did, however, not make it home before dawn and when the sun began to rise, villagers that were coming home from the festival saw an outrigger vaka in the reserve. The chief was notified and he then sent a war party to capture whoever dared to fish in the reserve. The warriors launched their vakas and started pursuing Nga and his son who tried to escape to the motu of Tapuaetui. As they arrived at Tapuaetui, Nga instructed Taongo to run to the center of the motu. Nga then followed and carefully stepped into his son's footprints.
Before the warriors arrived, Nga hid his son high inside a bandana tree and told him to not come down until dark. Nga then continued to run to the other side of the motu where he was captured by the warriors.
They asked Nga who else was with him to which Nga replied: "No, it was just me". Seeing no other footprints, the warriors believed him and brought him back to the village on the mainland, leaving Nga's vaka behind. Nga was killed at the village, because he violated the chief's orders.
After sunset, Taongo climbed down from the tree and paddled back home. His mother was overjoyed that at least he was alive. Taongo told her the story of what happened and how his father saved him. Over time, the story was told and spread and motu Tapuaetai was renamed to One Foot Island.
We visited One Foot Island on a lagoon tour.
Kayaking in the Aitutaki Lagoon
Besides sunbathing, swimming and snorkeling, we enjoyed kayaking in the lagoon. Many hotels rent kayaks, our hotel provided single and double seater kayaks for free.
The water in the lagoon is typically calm and there are usually no strong currents, so kayaking is normally a pretty safe activity if you don't paddle too far out. We took the kayak to a sandbank and paddled along the coast.
Kayak rentals should tell you where it is safe to go and where they do not allow you to go for your own safety.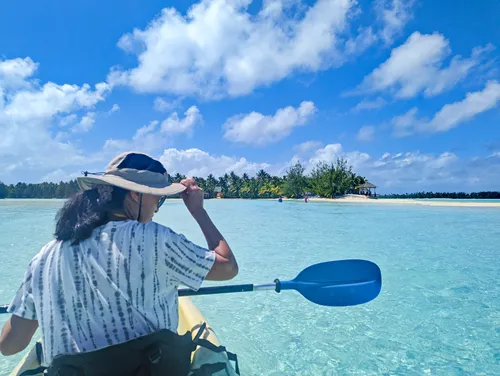 Learn more about the best things to see and do in Aitutaki by going back to the Aitutaki Purple Travel Guide.
What part of the Cook Islands do you want to expolore now?
Other popular Purple Travel Guides you may be interested in:
Like this Backpack and Snorkel Purple Travel Guide? Pin these for later: