Backpack and Snorkel Travel Guide for the 3 Best Snorkeling Spots in Aitutaki - Aitutaki Snorkeling Purple Guide
This Aitutaki Best 3 Snorkeling Spots in Aitutaki Travel Guide tells you what the best beaches in Aitutaki are and what the best snorkeling beaches in Aitutaki are and we show you photos of what you will see.
Aitutaki has beautiful white sand beaches with wonderfully turquoise waters and often good swimming and snorkeling.
We advise you to wear water shoes when you get into the water as you may need to walk over have quite a few rocks or coral pieces on many beaches and, to make matters worse, there is a possibility of stepping on a stonefish. Stonefish are one of the most venomous fish in the world. When you step on them, they can inject you with toxic venom that can cause excruciating pain or even death.
We have made a video about Aitutaki in the Cook Islands which shows you in depth what you will see. Please check it out.
Table of contents
Marine Research Centre Beach
The Marine Research Centre Beach is often described as the best place to snorkel on Aitutaki's main land. There is a lot of truth in this statement. The water is mostly crystal clear and the reef is fairly healthy and has lots of colorful fish.
The beautifully turquoise water is not very deep and ideal for snorkeling but not so for swimming.
The beach is unmaintained and you will find a mix of sand and stones and coral pieces.
We advise to use water shoes to make it easier get over the rocks and coral pieces into the water, but mostly to avoid stepping on dangerous stonefish that may hide in the water.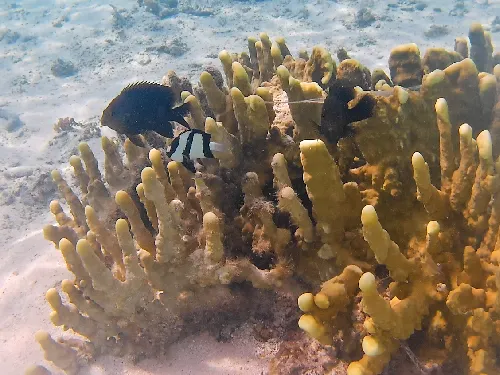 Beach near The Boat Shed
Probably the second best snorkeling on the Aitutaki mainland can be found in the channel that divides the Ootu Peninsula and the privately owned Motu Akitua where the Aitutaki Lagoon Private Island Resort is located. A good access point is by the parking lot of The Boat Shed. The reef here is mostly healthy and has lots of fish. The water here is crystal clear to slightly hazy. Be advised that there is a current going into the lagoon and my advice is to get in the water near the beginning of the channel, let the water carry you into the lagoon while you enjoy snorkeling. You can then either swim back against the current if you are a good swimmer or just walk back on the beach.
Again, please wear water shoes for your own comfort (walking over stones and coral pieces) and safety (avoid stonefish stings).
Please be advised that there is a small ferry that frequently crosses the channel to bring passengers from and to the Aitutaki Lagoon Private Island Resort. Make sure that the ferry operator sees you and stay away from the ferry.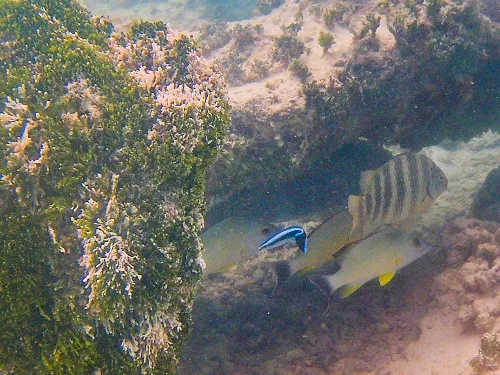 Aitutaki Lagoon Tour
As far as we know, there are four companies that offer lagoon tours. The Vaka Cruise appears to be the most popular tour company. We selected Teking Tours and could not have been happier.
The full day lagoon tours bring you to 3 snorkeling spots and 3 or 4 motus and sandbanks. Lunch is served on a motu and it seems that One Foot Island is on each company's schedule.
The companies that offer lagoon cruises in alphabetical order are:
Aitutaki Adventures
Bishop's Cruises
Teking Lagoon Cruises
The Vaka Cruise
Teking picked us up at our hotel at 8:45am and the cruise started around 9:20am and ended at around 4pm when we were brought back to our hotel.
The cruise went through incredibly beautiful turquoise waters to different motus and sandbanks. One motu was a popular kitesurfing spot.
Lunch was served buffet-style on a motu where Teking has a barbeque place with covered seating. The food included fish and chicken and many different tropical vegetables and fruits.
Interestingly, they offered to drop us off on a submerged sandbank and have us walk from there to One Foot Island.
Snorkeling was at three different spots with lots of colorful fish and healthy corals that shine in many different colors.
This lagoon cruise was the highlight of our Aitutaki trip.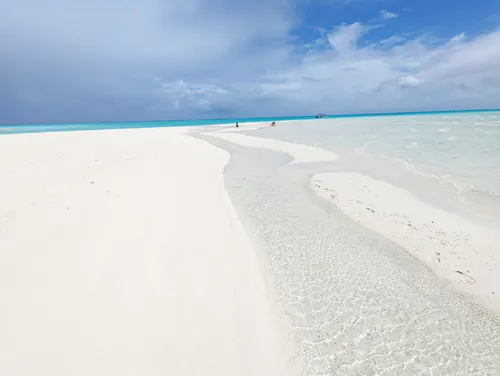 What part of the Cook Islands do you want to expolore now?
Other popular Purple Guides you may be interested in:
Like this Backpack and Snorkel Purple Guide? Pin these for later: