Travel Guide for the best beaches on Crooked Island, Bahamas - Crooked Island Purple Travel Guide
There is no shortage of beautiful white sand beaches on Crooked Island. The ocean shines in any imaginable shade of turquoise and one word comes to mind: Paradise! We show what the best beaches are and we have lots of photos so you know what you will see.
In Crooked Island you will experience crystal clear ocean water. In fact, it is some of the clearest water in the Caribbean. This makes for excellent snorkeling and diving. The fact that the beaches to the west and north have very little current makes them good for swimming.
Chances are that you will be the only one on whatever beach you choose.
There is typically only a 3-4ft difference in sea level between high and low tide and the part of the beach covered at high tide is not significantly bigger than at low tide.
You can find the tide chart here.
Please be advised that Crooked Island, like the rest of the Caribbean and Florida, is shark territory. Shark attacks are rare, but they happen.
One day when I was snorkeling near the beach I suddenly saw a maybe 4ft (1m) long shark maybe 30ft (10m) away from me minding it's own business. The shark was brown indicating that it was a nurse shark. Nurse sharks are harmless and they are the sharks that you encounter when you book a "swimming with the sharks" excursion anywhere in the Caribbean.
Even though it was likely a nurse shark, I left the water, walked maybe 200ft, kept snorkeling and saw no other shark while snorkeling.
Please see some tips to avoid shark encounters here and what to do when you are attacked by a shark here.
Table of contents
Beaches in the west of Crooked Island
Seahorse Shores Beach on Crooked Island
This 1.75 mile (2.8 km) long beach goes from Landrail Point to Pitts Town in the north west of Crooked Island.
It is one of the best beaches on Crooked Island. It features white sand and fantastic turquoise water and very little current.
Except for the northern part, where there is all sand, much of the transition from the beach into the water has flat rocks that you can walk over, even without water shoes, to get into the water. Alternatively, there are sandy breaks between the rocks that allow you to enter the water without walking over the rocks.
As the rocks provide good hiding places for fish, you will see plenty of colorful fish just a few feet into the water.
I found one fantastic snorkeling spot by the lonely palm tree about 150ft (50m) south of the abandoned shipwreck which lies on the shore south of Casuarina Pines Villas.
This is an area that is partially enclosed by volcanic rocks. It is excellent for snorkeling at low and high tide and there are plenty of colorful and not-so-colorful fish.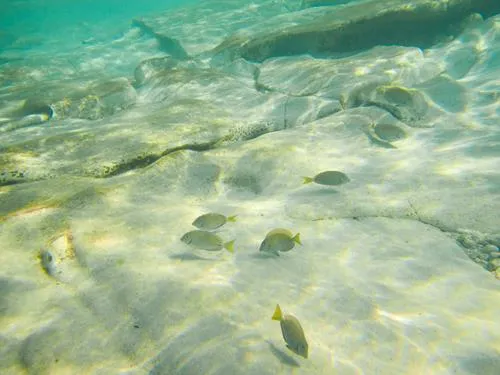 Bathing Beach on Crooked Island
Sometimes also called "Swim Beach", this is probably the best beach on Crooked Island. It starts at French Wells, the most southwestern point of Crooked Island, and then goes north for almost 6 miles (10 km).
It is all white sand with very few rocky areas and the water is shallow and perfect for swimming and bathing as there is very little current.
The only way to get here is by boat and that means solitude. It will most likely only be you and your boat operator on this beach.
The word "Paradise" comes to mind.
Occasional Beaches on Crooked Island
From the northernmost point of bathing beach to Landrail Point, the terrain is all rocky and you will only see occasional sand patches.
Kayaking there can be particularly interesting as there are many caves and, for the lack of a better word, "splatter caves". Splatter caves are somewhat similar to blow holes, but unlike in a blowhole there is no hole and the water gets pushed out horizontally, making a similar sound to a blowhole.
Beaches in the north of Crooked Island
Pitts Town to Gun Bluff beaches
At the north-eastern most point where the Crooked Island Lodge is located, there are some sandy patches with lots of rocks in the turquoise water.
Snorkeling here is very good. There are not as many fish, but lots of healthy and colorful soft and hard corals.
East of the Pitts Town harbor is a long beach with a couple of private residences. Google maps shows that the road meets the beach at the very eastern point of the beach. Please be advised that the 2015 hurricane washed this part of the road away and that you will now need a 4x4 to get there. Instead, you can drive to the last driveway that you see on google maps, park your car and then walk.
Alternatively, you can come to the beach by boat.
In general, the surf here is a bit rougher than at Seahorse Shores, but usually not too bad. The rougher surf, however, limits snorkeling very close to the beach and you will need to swim out a bit further for good snorkeling.
Like Seahorse Shores Beach, the beach is sandy with flat rocks at the transition between the beach and water.
As near Pitts Town, snorkeling for colorful and healthy soft- and hard corals is very good, but the amount and variety of fish is smaller than on Seahorse Shores beach.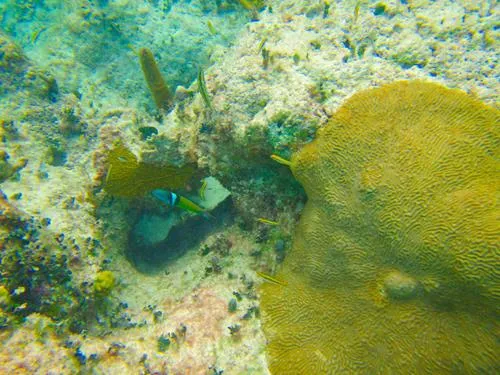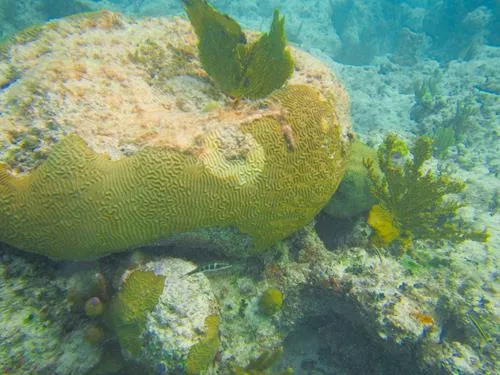 Beaches on the northeastern side of Crooked Island
Moss Town beaches
The beaches here are mostly deserted and there are only few houses near the beach. The water is turquoise and the strip of white sand is very narrow at high tide in some areas.
The water was hazy when we were there.
Colonel Hill Bay beach on Crooked Island
This is a beautiful mostly deserted bay with turquoise water and white sand. The strip of sand is completely flooded in several areas at high tide.
The water was hazy when we were there.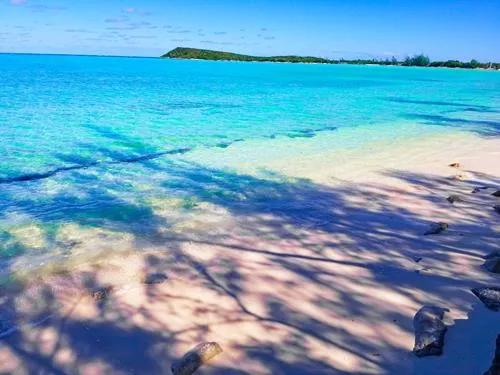 Major's Cay Bay beach on Crooked Island
This is a beautiful mostly deserted bay with some of the most beautiful turquoise water I have ever seen and a wider strip white sand compared to Colonel Hill Bay. We even saw 2 sea turtles swimming in the water.
The water was calm but much too hazy to snorkel.
Best snorkeling on Crooked Island
The best snorkeling spots I have found are in the west (Seahorse Shores), especially near Casuarina Pines Villas, and north (Crooked Island Lodge and North Beach).
Snorkeling is right off the beach as only few feet into the water there are rocks where colorful fish find plenty of hiding places.
The crystal clear water makes it easy to observe colorful fish and colorful hard and soft corals.
We have found that fish are more plentiful at Seahorse Shores, but the corals near the Crooked Island Lodge and the North Shore are way better.
Please use the links above to get more information about the three beaches.
Please see the video below for what you can expect to see:
How to minimize the risk of shark attacks
never get in the water when you are bleeding - if you bleed then get out of the water

stay away from fishing boats or other areas with dead or injured fish

stay close to the beach as sharks prefer deeper waters

avoid murky waters - sharks can sense you, but you may not be able to see them

only swim in daylight - in low light conditions your silhouette may look more like a seal which are a preferred shark food

swim without splashing too much - splashing sounds like injured fish to a shark

swim in a group as sharks prefer to attack lone individuals

not scientifically proven: avoid dark clothes as you may look like a seal to a shark and sharks love to eat seals

if you see a shark, get out of the water without too much splashing and warn others

ask locals where you can swim, which precautions to take and what areas to avoid
How to survive a shark attack
punching a shark hard on its nose can lead a shark to temporarily abort an attack. Chances are that it will attack again shortly after and that it will now pay less attention to you hitting its nose. The shark's nose is close to its mouth and if you miss the nose then you may get your hand and arm directly in its mouth

the best chances to survive are to viciously go after the shark's eyes and gills. Punch the eyes as hard as you can and rip the gills as ferociously as you can. Sharks are not used to having their dinner fight back and a single shark may retreat if you are savage enough. Remember: your life may depend on it, so be as brutal and merciless as you can

what saves most lives after a shark attack is immediate medical attention. This may be difficult on Crooked Island's deserted beaches. So, it pays to have someone on the beach who can get help or who has access to a car
What part of Crooked Island do you want to explore now?
Other popular Purple Travel Guides you may be interested in:
Like this Backpack and Snorkel Purple Travel Guide? Pin these for later: