Self-Guided Walking Tour of Tikal - Tikal Purple Guide
We provides a Self-Guided Walking Tour of Tikal in our Backpack and Snorkel Tikal Travel Guide. It contains detailed explanations and lots of photos of the monuments that you will see and saves you at least $60 for a tour guide.
Tikal is a large park that requires lots of walking. Be prepared and have a large map at hand (you can buy that at the park entrance) and this travel guide or hire a guide in the park.
Please make sure to have enough water as there are very few opportunities to buy refreshments in the park. Also, bring an umbrella to either protect you from the blazing sun or rain as there are almost no shelters that can protect you from a thunderstorm.
Afternoon of Day 1 in Tikal
I strongly suggest that you enter the park after 3:30pm on your first day to explore the Central Plaza and watch the sunset from Temple II.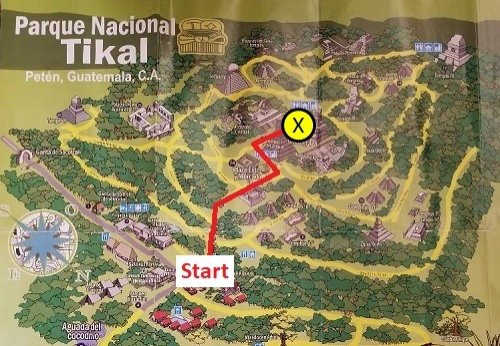 Source: Parque Nacional Tikal map, © Gran Jaguar Society
If you have lots of time before sunset, then you can visit some other structures on your way (East Plaza and Group F).
Day 2 in Tikal
Much will depend on how much time you have. In the list below, I have marked some places as optional in case you need to rush or do not plan on walking for much of the day.
Source: Parque Nacional Tikal map, © Gran Jaguar Society
What do you want to explore now?
Other popular Purple Guides you may be interested in:
Like this Backpack and Snorkel Purple Guide? Pin these for later: