Backpack and Snorkel Travel Guide for Quito, Ecuador and its environs - Quito Purple Guide
This Backpack and Snorkel Travel Guide for Quito and its environs (Quito Purple Guide) provides information about the best things to do in Quito and its environs and ensures that you will be Making Memorable Moments on a relaxing vacation in Ecuador and the Galapagos Islands.
In this Ecuador & Galapagos Purple Guide, we provide a detailed 12-day itinerary that will allow you to experience the Galapagos Islands on a cruise and some of the major highlights of Ecuador.
We tell you why we chose these spots and will help you plan for the best things to see and do in Ecuador and Galapagos. To help you find out what best fits you, we have added lots of photos and links to additional reviews.
Due to its compactness, it can be combined with other South American countries or act as a starting point to a more in-depth 3 or 4 week Ecuador experience.
Table of contents
Wonderful 12-Day Itinerary of Ecuador and the Galapagos Islands
This 12 day itinerary allows enough time to explore the absolute highlights of Ecuador. Due to its compactness, it can be combined with other South American countries or act as a starting point to a more in-depth 3 or 4 week Ecuador experience.
Day 1 of the Ecuador Tour: Arriving in Quito, Ecuador
If you come from the US, chances are that you will arrive in Quito at night.
The good thing is that getting through immigration at this time of day will likely be a breeze.
Mariscal Sucre Quito International Airport lies about 25 miles (40km) outside of downtown Quito and this is a 40-60min drive depending on traffic.
At the airport, you can either rent a car, hire a taxi or uber or take bus 207 to downtown.
Day 2 of the Ecuador Tour: Exploring Quitsato Mitad del Mundo, Otavalo and Laguna de Cuicocha outside Quito, Ecuador
We advise to take it slow on your first full day in Ecuador. The long flight and the high altitude of Quito take their toll. At an elevation of 9,350 ft (2850 m), Quito is the second-highest capital city in the world.
We asked our hotel to get us a taxi to the airport where we got our rental car. Luckily, the person at the rental car counter spoke some English and after less than 20min in the counter we were on our way and google maps was leading the way.
Quitsato Mitad del Mundo – Ecuador's only Equator Monument on the Equator
Ecuador got its name from being on the equator - República del Ecuador is Spanish for "Republic of the Equator".
Over the years, several monuments were erected that claim to be on the equator, but most of them are off by a few feet to hundreds of yards/meters. Only Quitsato Mitad del Mundo lies directly on the equator.
There is nothing fancy or monumental about Quitsato Mitad del Mundo and it is actually somewhat hidden, so we accidentally drove by it at first. It was only after Google Maps complained that we turned around and found the entrance.
Upon arrival at the ticket booth, we were asked if we wanted a guide explain to us the monument and the significance of this site and we agreed. I am so happy that we did, otherwise this would have just been a fairly boring 5min photo and bathroom stop. Our guide spoke real good English and he was able to answer most of our questions.
At the time of writing, admission was $2 per adult, $0.50 per child and was from 8:30am to 5:30pm.
Quitsato Mitad del Mundo consists of a large circular sundial platform that is 173ft (52 m) in diameter. On it are various lines made from stones in particular colors that indicate the different lines of the solstices and equinoxes. A 33 ft (10 m) tall tower, which is located exactly in the center of the sundial, projects a shadow on the sundial which then indicates the hour of the day.
We found this a very worthwhile stop and we spent about 45min here. Since we arrived early, we had the sundial for ourselves for the first 30min or so.
South America's largest outdoor market in Otavalo
Otavalo is known for South America's largest outdoor market which takes place daily at Plaza de Ponchos.
Saturday is the busiest day at the Otavalo Market
Saturdays are busiest as there are life stock auctions in the morning. From Sunday through Friday, the Otavalo market is takes place at Plaza de Ponchos, but on Saturdays, it spreads out to the adjacent blocks. We counted 5 x 5 city blocks where the streets were full with vendor stalls.
Our recommendation is definitely to come on Saturdays. If you want to avoid large crowds and prefer a more leisurely stroll through the central plaza, you may want to come on any other day.
Street parking is available, but you may need to walk a bit
Since we visited on a busy Saturday, it took us a while to find a parking spot that was 3 or 4 blocks away from the market. We saw plenty of parking farther away, so be prepared to walk a bit.
If they don't sell it in Otavalo, it does not exist
Somebody jokingly said if they don't sell it in Otavalo, it does not exist. Well, that may not be the case but we can confirm the market is huge. On Saturdays expect about 5 x 5 city blocks filled with hundreds of artisan stalls. You will see artists, jewelry makers, potters, weavers, woodworkers, etc. and, of course, food stalls. Besides the stalls, there are many brick and mortar stores selling similar items, but also restaurants and regular grocery stores, convenience stores and even supermarkets, furniture stores and even realtors. So, maybe the statement "if they don't sell it in Otavalo, it does not exist" is indeed true.
If you are looking for Ecuadorian souvenirs, chances are that you will find what you are looking for in Otavalo.
What we found incredibly impressive is how colorful everything is. The merchandize, the clothes that some vendors and some visitors wear – we even saw quite a few visitors in colorful traditional Ecuadorian clothes.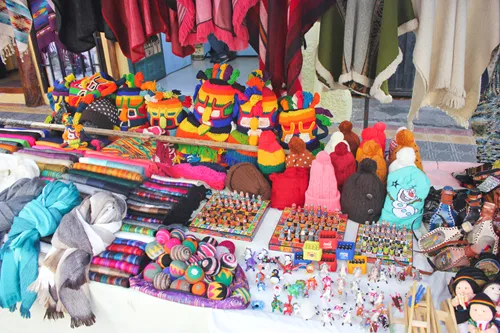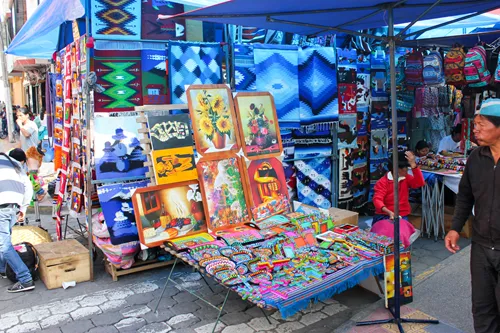 Set your expectations
Please set your expectations. The Otavalo market is a tourist attraction and not a traditional Ecuadorian market. Many of the "traditional" items that are for sale are mass-produced elsewhere in Ecuador and overseas.
Prices are cheaper than in Quito, but most importantly: All prices are negotiable and you should definitely haggle. If can't agree on a price with a vendor, just walk a few more feet and haggle with the next vendor who will likely have the same item.
Don't forget to explore downtown Otavalo
Once you are all souvenired out, make sure to leave the outdoor market and just walk around town as there are other interesting things to see. We especially liked the traditional and beautifully decorated doors in many houses.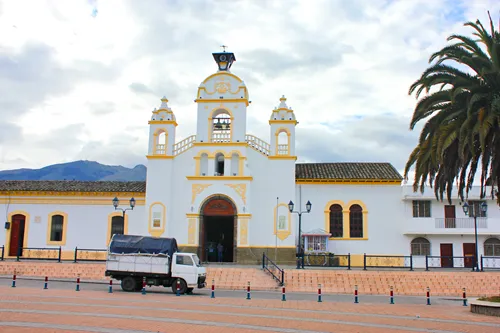 Side trip to Las Cascadas de Peguche – the Peguche Waterfall
If you have time, you can visit Las Cascadas de Peguche – the Peguche Waterfall.
The Peguche Waterfall is 58ft (18m) tall and it is located in the Bosque Protector Cascada de Peguche park that has a spiritual meaning to the indigenous people. Some people also call it the most beautiful forest in northern Ecuador.
Peguche's Legend
There are several legends about this waterfall. The main legend says that a golden bowl is located in the interior of the waterfall. It is escorted by the devil and his two black dogs. The devil is holding a small plate filled with sand in his hand. Every day, the falling water washes the sand in the plate away, little by little, until the plate is empty. When the plate is empty, the Devil will take away the soul of whoever enters the waterfall at that moment.
Peguche Waterfall Ritual Inti Raymi
During the summer solstice, the indigenous people of nearby communities come to the Peguche waterfall at night for the Inti Raymi ritual where they take a ritual bath in the waters of the waterfall. They are thanking mother earth and the sun for the year that passed.
Getting to Las Cascadas de Peguche
We took our rental car, but you can take a taxi ($3), walk from Plaza de Ponches (45-60min), rent a bike or take a red bus from the Imbaburapac cooperative at the Otavalo bus terminal (15-20min, $0.35 per person).
The drive from Plaza de Poncho to the parking lot near the trail that leads to the falls only takes 10 min. From the parking lot you follow Via a Peguche and the signs south to the trail that leads to the falls. Right before the park entrance is an ancient sundial, Calendario Solar, that is worth a short visit.
The Solar Calendar - Calendario Solar in Peguche
Right before the entrance you can visit the Calendario Solar which is a solar calendar. It is still functional if you know how to use it.
If you happen to be the only one there, walk to the center while talking. It is said that you will then hear a reversed echo and sound vibration that only you can hear.
Cascadas de Peguche
Admission to the park is free, but they ask for a small voluntary contribution, like $1 or $2 per person.
The walk is downhill and beautiful and you pass through a eucalyptus tree forest.
Be advised that you will need mosquito spray in the forest.
Cascadas de Peguche.
When you reach the falls after about 10min, take the first viewpoint before the falls.
Then cross the bridge and proceed to the 2nd viewpoint for a closer view.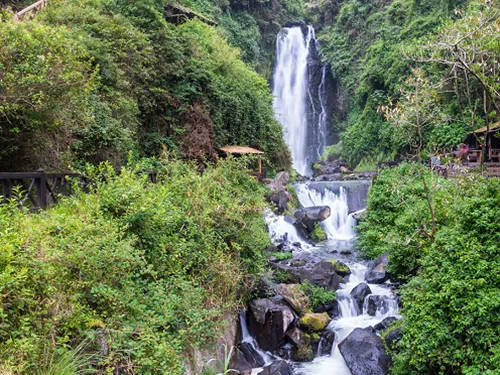 You can either go back to the entrance from here or continue on the trail to the top of the falls where there is a small cave.
On your way back, stop at the pool fed by hot springs.
Laguna de Cuicocha
Laguna de Cuicocha is about a 30min drive from the Otavalo Market. There is free parking and admission to the park is free, too.
What is Laguna de Cuicocha
Cuicocha is a caldera lake at the foot of the Cotacachi volcano. It is 2 miles (3 km) wide and 493 ft (148 m) deep and was formed when a massive eruption occurred about 3100 years ago. The last eruption was at around the year 650 AD and the volcano is now dormant.
What does Laguna de Cuicocha mean?
The name "Laguna de Cuicocha" has two possible meanings. In the native Kichwa language, Kuykucha means "Guinea Pig Lake" and Kuychikucha means "rainbow lake". Guinea Pig Lake is most often used as the translation, because the shape of the largest island looks like a guinea pig.
Guinea Pigs were important in the everyday life of native Ecuadorians, as they reproduce fast, only need little food and care to survive and provide high protein meals.
What to do at Laguna de Cuicocha
There are two things that you can do at Laguna de Cuicocha:
Take a boat tour on the lake

Hike around the lake

Boat tour on Laguna de Cuicocha

The boat tour on this alkaline lake takes 20min and cost $4 per person at the time of writing. You will see bubbles coming up in the water in some areas which is a sign of volcanically heated water entering the lake at the bottom. Due to this, the lake temperature is increasing by about 0.1°C per year.
This volcanic exposure is a reminder that the volcano is currently dormant but may awaken thousands of years in the future.

Hike around Laguna de Cuicocha

There is a moderately difficult 7.8 mile (12.5 km) trail that leads around Laguna de Cuicocha on the rim of the caldera. It is recommended to take it clockwise, unless you prefer a seamlessly endless ascent in the beginning. The trail will take 4 - 6h depending on your level of fitness.
Important: There are no services on the trail, so bring sun lotion, plenty of water and snacks.
Even if you don't do the whole trail, hike at least parts of it so that you can experience some of the spectacular views.
trail) on the eastern side of the lake.

After hiking and picnicking at Laguna de Cuicocha, drive back to your hotel near the Quito airport where you will arrive after dark.

This concludes Day 2 in Ecuador.

Days 3 to 9 of the Ecuador Tour: Six Perfect Days in the Galapagos Islands

Please click on the Galapagos Islands Purple Guide below to get to the Galapagos Islands portion of the Wonderful 12-day Ecuador tour.

Day 9 of the Ecuador Tour: Self-Guided Tour of New Town Quito, Ecuador

Take a taxi or drive your rental car into Quito and find a parking at the Quicentro Shopping mall.
The map below shows the self-guided walking tour:

Quicentro

Quicentro Sur is the largest shopping mall Ecuador. It occupies 23 acres (9 ha) and has more than 210 commercial premises with many featuring international brands on three floors and three underground parking levels which fits 1,500 vehicles.
There is a large food court with many international and Ecuadorian fast food restaurants.

One block away, across busy Avenida Naciones Unidas is your next destination: Parque La Carolina

Parque La Carolina

Parque La Carolina is a 166acre (67 ha) park that is located on expropriated land from the farm La Carolina in 1939.
Located in the Quito central business district, this park gets crowded with families on weekends for all kinds of relaxation, entertainment (artist performances) and sportive activities like playing soccer, basketball, and ecua-volley.
At Laguna Parque La Carolina, in the southern part of the park, paddle boats can be rented.

Bordering Parque La Carolina is your next destination: CCI Centro Comercial Iñaquito

CCI Centro Comercial Iñaquito

Located just a few feet away from the huge Quicentro shopping mall, lies Centro Comercial Iñaquito (CCI). While Quicentro focuses on big brands and is therefore on the expensive side, CCI is more of a mid-level shopping mall with more Ecuadorian stores. Everything here seems a bit smaller and cozier. CCI has 180 shops, 30 restaurants, a food court and enough parking spaces for more than 1,000 vehicles.
We actually liked CCI a lot.

Now get back to your car and drive to your next destination: Museo Etnohistórico de Artesanías del Ecuador Mindalae

Museo Etnohistórico de Artesanías del Ecuador Mindalae

The Ethnohistoric Museum of Crafts of Ecuador attempts to preserve and promote the richness of Ecuador's Cultural Heritage on 5 floors.
There is also a shop in which you can buy artisan artefacts.
Many of the inscriptions are in both Spanish and English.

Day 10 of the Ecuador Tour: Self-Guided Walking Tour of Old Town Quito, Ecuador

Take a taxi or drive your rental car into Quito and find a parking spot near Plaza Grade.
The maps below show the self-guided walking tour:

Plaza Grande in Quito

Plaza Grade is sometimes also called Plaza de la Independencia. It is the main plaza in Quito since the 17th century, when the Spanish built their own protected well in this plaza as they feared that the Incas may poison their water supply. Soon this plaza became the social center of town and later served as a market place.
In the 18th century, the plaza was turned into a garden of the nearby Carondelet Palace.
From the late 19th century until the mid-20th century, was a French-style garden.
In 1903, the current monument was built to honor the heroes of the Ecuadorian Independence, hence the name Plaza de la Independencia.
Today, Plaza Grande is a busy place, but it is perfect to sit down and relax and to watch people going about their business or relax.

The square is surrounded by four large buildings:

Around the plaza are many stores and restaurants and it seems that nobody speaks English. As almost everywhere in Ecuador, cash is king in stores and restaurants.

Palacio de Carondelet in Quito

Palacio de Carondelet was constructed from 1790-1801. After Ecuador became independent in 1822, the palace became the headquarters of the South Department of Gran Colombia. Military and political leader Simón Bolívar visited sometimes was astounded by the elegance and austerity of the building that Baron of Carondelet created and thus named the building Carondelet Palace.
Today, Palacio de Carondelet houses administrative offices and the presidential residence which is a luxurious colonial-style apartment.

Things to do at Palacio de Carondelet:

Every Monday at 11 am you can watch the changing of the guard at the palace.

Take a free guided tour of the palace which is available in Spanish and English. The tour is, of course, limited to rooms not in use by the president at the time of the tour. There is a small booth on the south end of the palace where you can register and where they will assign a tour to you. You will need to bring your passport to register.

Palacio Arzobispal in Quito

Built in the 1500s, the building that you see today is the result of a complete renovation in 1970 and 2002. The publicly accessible part is now a food court and small shopping mall, but the Archbishop of Quito still resides here.

Catedral Metropolitana de Quito

Construction of the cathedral lasted from 1535 to 1799. In 1545, the building became the cathedral of Quito. In 1660, a volcanic eruption of Mount Pichincha damaged the building and the cathedral was redesigned and rebuilt. After an earthquake in 1797, major repairs and design changes were made. Earthquakes damaged the cathedral several more times in the following centuries, but the emphasis of the repairs was on restoration rather than redesign.
In 1995, the Cathedral of Quito was elevated to the Cathedral of Ecuador, making it the highest ranking catholic church in Ecuador.

Municipal Palace in Quito

The Municipal Palace, Municipal Palace (Municipio del Distrito Metropolitano de Quito, is the seat of the Municipality of the Metropolitan District of Quito.
The original buildings were demolished in 1962 and replaced by the current structure in 1973.

Now that you have seen the major sites around Plaza Grande, take a short walk to one of the highlights of our Self-Guided Walking Tour of Quito's Old Town: Iglesia de la Compañía de Jesús

Iglesia de la Compañía de Jesús in Quito

Iglesia de la Compañía de Jesús is also known under these names:

Church of La Compañía

Church and Convent of San Ignacio de Loyola de la Compañía de Jesús de Quito

La Compañía

Temple of Solomon of South America

Built from 1605 until 1765, Iglesia de la Compañía de Jesús with its golden interior ornamentation is probably the most beautifully decorated church in Quito.
Being built over the course of 160 years, the church incorporates 4 styles, but the majority is in Baroque style which manifests itself by the symmetry inside the church, the movement which gives the impression that the church moves while walking inside the church and the luminosity in which the upper windows of the main nave are placed with such precision that the entire church is illuminated with sunlight.

The exterior façade is carved entirely from Ecuadorian andesite stone. Work on the façade started in 1722, suspended from 1725 to 1760, and then finished in 1765.
The main entrance door is flanked by six Solomonic columns, each is 16.6 ft (5m) tall, resembling those from the altar of the Confession of Saint Peter's Basilica in Rome.

What impressed us the most is the interior decoration of the church with its Baroque forms in carved in cedar wood and bathed in 23 carat gold leaf on a red background.
Carving the wooden alter piece took from 1735 – 1745 and finishing it with sheets of gold leaf took until 1755.

The side naves contain eight square and vaulted chapels and are interconnected by large arches. The last two chapels have two immense paintings called The Hell and The final judgement, painted in 1620.
The others have altarpieces in Churrigueresque style which are completely covered with ornamental work.
Overall, the church has more than 100 paintings of different sizes.

Around the corner from the church is your next stop: Casa Museo María Augusta Urrutia

Casa Museo María Augusta Urrutia in Quito

This museum showcases the life of María Augusta Urrutia Barba (1901-1987). She was born into one of Quito's most influential families. After her father's death, she traveled to Europe where she spent much of her childhood and early adolescent life.
Shortly after returning to Quito in 1921, she married her fiancée whom she had met in Paris.
After her husband's death, she dedicated her life to charitable work for the benefit of those most in need.
After her death, she was enshrined in the crypt of the nearby Iglesia de la Compañía.

Our tour guide spoke excellent English and was very knowledgeable – she was able to answer all of our questions.

One block away is Plaza San Francisco with Iglesia de San Francisco.

Iglesia de San Francisco in Quito

The Basilica and Convent of San Francisco is, in our opinion, the 3rd most beautifully decorated church in Quito after Iglesia de la Compañía de Jesús.
It is a Catholic basilica and the largest architectural complex within the historic centers of all of South America. It occupies 8.6 acres (3.5 ha), has 13 cloisters, 3 temples, and 3,500 works of colonial art.

Phase 1 of the construction lasted from 1535 to 1650 and was carried out on land that used to house the royal palace of the Inca Huayna Cápac, which was completely destroyed by the defending Incas before the Spanish took control of the city.
Various later construction phases altered the interior and exterior looks of Iglesia de San Francisco and repaired earthquake damages.

In front of the church is Plaza de San Francisco. In the past, the plaza had a central water fountain which supplied the city with water and it was also a popular market place.

One very long block away is Iglesia de Nuestra Señora de La Merced.

Iglesia de Nuestra Señora de La Merced in Quito

You may be churched out by now, but our advice is to absolutely go and see the Basilica of Our Lady of Mercy as we think it is the 2nd most beautiful church in Quito.
Construction lasted from 1701 to 1736 and the basilica was consecrated in 1747.
The whitewashed plain-looking building has five domes, a square tower and is decorated with Inca and Arabic inscriptions.
The inside is, however, stunningly beautiful decorated.
With 22,000 volumes and more than 40,000 bibliographic records, the Basilica maintains one of the most important historical libraries in Quito.

From here, walk back to Plaza Grande or take a taxi to El Panecillo – the taxi driver will wait at the monument for you and then bring you back. Do not attempt walk to El Panecillo, it is not unheard of that tourists get robbed crossing some bad neighborhoods.

El Panecillo in Quito

Panecillo in Spanish means small piece of bread and El Panecillo is a 665 ft (200 m) hill of volcanic origin which peaks at an elevation of 9,895 ft (3016 m) above sea level.
When people say El Panecillo, they often mean the Virgen de El Panecillo (Virgin of El Panecillo), which is a 150 ft (45 m) tall monument made from aluminum pieces on top of El Panecillo.
This monument was erected in 1975 and depicts the virgin standing on top of a snake and a globe. She has 12 stars in her crown representing the 12 apostles of Christ; the globe depicts the moon which stands for fertility and the snake is a serpent representing the devil.
This is classic Madonna iconography that was inspired by the famous 'Virgen de Quito' (Quito's Madonna) by Bernardo de Legarda in 1734, which now decorates the main altar at the Church of St. Francis. In contrast to the classic Madonna iconography, the Virgen de El Panecillo is said to be the only one in the world with wings like an angel.
A bronze placard at the monument claims that the woman represented by the statue is the Woman of the Apocalypse, as described in the Book of Revelation (12:1–17).

El Panecillo is one of the most-visited tourist attractions in Quito. People come here to see the monument and for the great views of Quito. We were overwhelmed by the views and the myriads of colorful houses that are built anywhere on the many wavy hills, their slopes and the valleys – Quito seems to be flat absolutely nowhere.
We found that view truly spectacular.

Day 11 of the Ecuador Tour: Parque Nacional Cotopaxi

Parque Nacional Cotopaxi protects the Cotopaxi volcano, the dormant Rumiñawi volcano to its north-west and the Sincholagua volcano which had its last major eruption in 1877.
At a maximum elevation of 19,347 ft (5897 m), Cotopaxi is the second highest mountain in Ecuador and one of the highest active stratovolcanoes on the planet.
Since its first recorded eruption in 1534, almost 90 eruptions have been recorded – the last one was from August 2015 until January 2016.

On a clear day, Cotopaxi is visible from Quito.

In the local Quechua dialect, coto means neck and paxi means moon – put together, Cotopaxi means smooth neck of the moon and is a reference to the crater which looks like a crescent moon.

Local Andean people considered it a "Sacred Mountain" and believed that the gods lived at its summit. They worshiped Cotopaxi as "rain sender" ensuring the fertility of the land.

We entered the park through the South entrance and drove towards Laguna De Limpiopungo and eventually exited through the North entrance.
On the way we stopped for a short hike to see an otherworldly canyon landscape and many colorful flowers.

Laguna De Limpiopungo in Parque Nacional Cotopaxi

Laguna De Limpiopungo is a lake formed by glacial waters. Around the lake is a 1.6 mile (2.6 km) trail that showcases beautiful flowers and scenery and we saw lots of birds.
On a clear day, you can see the Cotopaxi volcano mirroring in the lagoon.

Day 12 of the Ecuador Tour: TelefériQo and flight home

The word TelefériQo is formed by combining teleférico and Quito and the full name of this attraction is TelefériQo Cruz Loma.
Opened in 2005, TelefériQo is one of the highest gondola lifts in the world, starting at an elevation of 10,226 ft (3117 m) and ending at 12,943 ft (3945 m). The gondola ride takes 18-20 min.
Here are some tips:

Due to the high altitude of almost 13,000 ft (4000 m), you may develop altitude sickness and it is therefore not advisable to take the gondola ride up in the first 1 or 2 days after arriving in Quito

Up on the mountain it is cooler and there is often stronger wind than the city, so bring a warm jacket

Take the gondola ride up on a clear day, otherwise you may be disappointed as you may have a very obstructed view

The gondola ride up TelefériQo is popular with locals too and especially during weekends, the wait can be 1-3h, so your best bet is to come during the week and to come early in the day

Hotels in Quito

Quito Airport Suites Hotel in Quito

We stayed at this bed & breakfast style hotel for 2 nights. It is an easy 10min drive from the airport and, taxis at the airport charge a flat rate of $10 for the trip to the hotel.
Be aware that some taxis don't know where the hotel is, so bring the address, a map and/or directions.
The hotel has an entrance gate which may be locked when you arrive. Ring the bell and someone will open it for you. Cars can be parked in the backyard.
If you have a rental car, look for the hotel sign or use a GPS, otherwise you may miss it as the hotel blends in with the other houses around it.
You will likely be greeted by the owner when you arrive. Only the owner seems to speak English.
We had room 3 in block 2. The full room rent was due in cash at check-in. You will need to carry your luggage up 1 set of stairs as the hotel has no elevator. The suite has 2 bedrooms, each with a double bed, and 1 bathroom. One bedroom has a TV mounted to the wall, a desk, a small night stand and a small cabinet. There is no A/C. The bathroom has a shower, a small sink and toilet. Two towels, a small bar of soap and a dispenser with blue shampoo (I guess) were provided. There are English signs telling you which way to turn the shower valve to get hot water and another sign reminding you that, like everywhere else in Ecuador, all toilet paper must go into the plastic bag in the trash can next to the toilet as the waste water system cannot handle toilet paper.
The suite was clean, but there were some flies in the suite – luckily, a fly swatter was provided. Some of the windows have mosquito nets, but the flies still got in there somehow.
The rooms have plenty of grounded US-style power outlets.
Water, ice cream, cookies and even some paintings can be purchased in the lobby. No bottled water was provided for free. Tap water can be used to brush your teeth, but it is generally advised not to drink it even though some people do. It may therefore be a good idea to either buy water in the airport of fill up on water at the US-style drinking fountains in the airport.
Breakfast was from 7-9am in the hotel lobby; it consisted of unlimited coffee, 1 fruit drink, 1 pineapple slice and 1 dish from a selection of 8 (all listed in English; sandwiches with eggs, omelets). In the small kitchen adjacent to the lobby, one employee prepared all dishes. This took a while, especially there were many guests.
The second day we had asked the hotel to call a cab. It took maybe 5min until the taxi arrived. The driver charged $5 for a trip to the airport. Unfortunately, only licensed and therefore more expensive taxis are allowed to pick up passengers at the airport.
Trips to and from Quito are $25. Make sure to have a map and directions handy as taxis in Quito will likely not know how to get to the hotel.

Long story short: If you are looking for a clean and inexpensive hotel near the airport and you don't mind a B&B atmosphere and no A/C, then this hotel may be for you.

Hosteria Airport Garden hotel in Quito

We stayed in room 9 in this hosteria for 2 nights. The room was clean and came with 2 beds which had soft innerspring mattresses.
The cabin had hardwood floors and the lights were on motion sensors - that could be turned off if there was a need.
The room had no A/C or heating. I liked the shower which had the best water pressure in all hotels we stayed at in Ecuador. The room had only one closet (that was open at the top), no other storage was there.
The owners spoke fairly good English and were always willing to call us a taxi when we needed one. Should you need to print a boarding pass, then you had to email it to the hotel email so that they could print it for you.
Be aware that most taxis did not know where the hotel is, so bring a map and directions and/or the business card from the front desk.
Taxi prices were: trip to airport is $8 (when the hosteria called the taxi).
A taxi trip from airport was $10 and a taxi ride to and from Quito was $25.
We arrived at noon and the owner offered to fix lunch for us.
Breakfast was included in the price. Is consisted of 2 slices of toast, 1 piece of cheese, 1 slice of ham and fruits and coffee/tea/milk/water and sometimes a freshly prepared glass of fruit juice.
They did not make our beds when we were there.
When you arrive, the gate will likely be closed. Just ring the doorbell; they were very good responding. I was pleasantly surprised to always find the owners when we needed them even if they were not in the office.

Long story short: We liked the hotel for its modern design, proximity to the airport, affordable rate and availability of the owners. I can recommend it but you need to be aware that there is no A/C or heating in the rooms.

Other popular Purple Guides you may be interested in:

Like this Backpack and Snorkel Purple Guide? Pin these for later: